This article was first published on 9 May 2023.
Finger hearts up! Various brands are lining up to get South Korean celebrities as their brand ambassadors in 2023.

2022 saw actress Jun Ji Hyun as the new face of Burberry, K-pop girl group NMIXX for Loewe, and more. Now, we've rounded up the latest Korean brand ambassadors making headlines and are on their way to dominating the fashion, food, and beauty industries.
Latest Korean brand ambassadors


1. NCT's Jeno for Ferragamo
23-year-old K-pop artist Lee Jeno (or simply Jeno) makes history as the first male globa ambassador for the Italian luxury brand Ferragamo. You can check out more photos of Jeno wearing the brand's Pre-Fall 23 looks here.
In February 2023, Jeno attended the brand's 2023-2024 Fall/Winter fashion show and has since been spotted wearing the brand's apparel in his various performances and magazine photoshoots.
Jeno is the main rapper, lead dancer, and sub-vocalist of the K-pop group NCT.
2. Song Joong Ki for Louis Vuitton
Reborn Rich actor Song Joong Ki has joined French luxury house Louis Vuitton as its new house ambassador. He just made his Cannes Film Festival debut with his noir film Hopeless and wore a classy black suit from the brand on the red carpet.
This K-celebrity has been dominating headlines in 2023 not only for fashion and acting but for his love life too. He recently broke the internet with his dating and marriage news to British actress Katy Louise Saunders.
3. NCT's Doyoung for Dolce & Gabbana
Doyoung, one of NCT's main vocalists, is the new ambassador of Italian luxury fashion house Dolce & Gabbana. He will be promoting the brand in Korea and Japan.
Aside from being a part of NCT, Doyoung has also dabbled in acting, K-drama soundtracks, musical plays, and K-variety shows.

4. Han So Hee for CHARLES & KEITH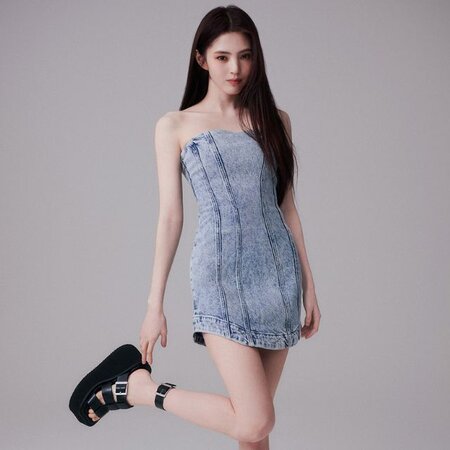 Actress and model Han So Hee is CHARLES & KEITH's new ambassador! The brand praised her authentic individuality, confidence, and creativity and has announced that she will be fronting the upcoming Fall Winter 2023 campaign, which will be unveiled in the third quarter of 2023.
Aside from being known for her mesmerising looks, Han So Hee is also beloved for her acting prowess. Action, historical, romance — it's like she could do it all. Han So Hee has starred in My Name, 100 Days My Prince, Soundtrack #1, Nevertheless, The World of the Married, and more. She also has an upcoming mystery thriller with Song Hye Kyo.
5. New Jeans Haerin for Dior
16-year-old Haerin is the new Dior ambassador, which makes her the fifth and final member of the rising K-pop group NewJeans to land a luxury brand deal. She will serve as the new ambassador for jewellery, fashion, and beauty at Dior.
NewJeans hails from ADOR, a sublabel owned by the same agency as BTS. They're growing in popularity for their Y2K-inspired fashion as well as their fresh and addictive hits such as Ditto, Hype Boy, and OMG.
6. BTS' RM for Bottega Veneta


There's nothing holding them back. BTS continues to make history even while on hiatus. The K-pop group's leader RM is the new face of Bottega Veneta. For the first time in the Italian luxury brand's history, it has selected a Korean celebrity as its brand ambassador. ARMYs have long been speculating about the partnership, and it has finally come true.
7. NewJeans for

Coca-Cola Korea, McDonald's Korea, and Levi's



It seems like the sky's the limit for these girls. The quintet who debuted last year are about to take over the food and beverage industry as they are now the brand ambassadors for Coca-Cola Korea and McDonald's Korea.
They have also landed another deal as the brand ambassador for Levi's this time after four of the members individually bagged partnerships with luxury fashion houses. Aside from these, they have modelled for companies such as Nike, LG Electronics, and more.


8. BTS' Jungkook for Calvin Klein


The maknae (youngest member) of BTS made fans go wild in his first campaign with Calvin Klein Jeans and Calvin Klein Underwear. Speaking of the partnership, Jonathan Bottomley, Global Chief Marketing Officer of Calvin Klein, said, "Jung Kook possesses a rare ability to connect with international audiences through both his music and his style. We're fortunate and excited to have him join the Calvin Klein team."
9. BTS' V for CELINE
There's a new "CELINE boy" in town. After months of speculation, it's confirmed that BTS' V is the new ambassador of CELINE after he posted the three different covers Elle Korea made in collaboration with the luxury brand. He'll be joining brand ambassadors Lisa from BLACKPINK and actor Park Bo Gum. All three had made headlines for their stunning visuals back in June 2022, when they attended the CELINE Paris Fashion Week show.
Aside from being a vocalist, dancer, and visual of the ever-popular K-pop group BTS, V or Kim Taehyung is a part of the Wooga Squad, a celebrity friendship group consisting of Park Seo Joon, Choi Woo Shik, and more. He is also one of the cast members of the currently ongoing K-show Jinny's Kitchen which you can stream via Amazon Prime Video.
10. NewJeans' Danielle for Burberry and YSL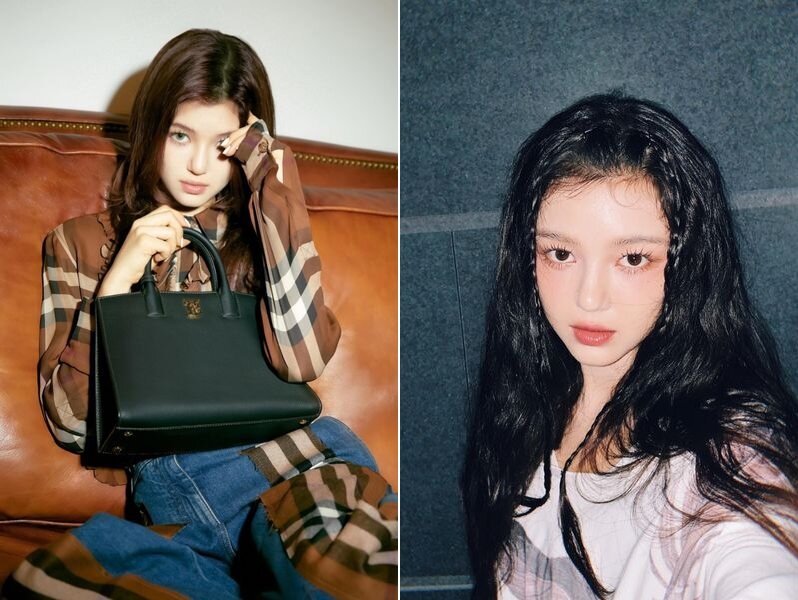 Left - NewJeans just made their debut in August 2022 but are already winning deals with luxury brands. (Photo from: @newjeans_official) Right - Rising star Danielle for YSL Beauty. (Photo from @newjeans_official).
Danielle from NewJeans is a South Korean-Australian singer who's known for her doll-like visuals and seems to rock any hairstyle she tries out. When she was selected by Burberry in January, she became the third member of the K-pop group to front a luxury brand. Hanni was chosen by Gucci in October 2022 while Hyein was chosen by Louis Vuitton in December 2022.
Aside from fashion, Danielle has also scored a partnership with YSL Beauty. Following the announcement, Danielle appeared in the new campaign for YSL's Candy Glaze lipstick.
11. Jisoo for Dunst
Jisoo is the new ambassador for Dunst! When you think of the global K-pop phenomenon BLACKPINK, glitter and bling would immediately come to mind. Dunst's latest campaign shows that Jisoo can also pull off the cool, schoolgirl aesthetic.

12. LE SSERAFIM's Kazuha for Calvin Klein
It's a great time to be a FEARNOT (LE SSERAFIM fan) because you'll see more of Kazuha's stunning visuals as the new brand ambassador for Calvin Klein.

Kazuha is one of the Japanese members of LE SSERAFIM. The K-pop girl group debuted last year and is popular for songs such as ANTIFRAGILE and FEARLESS.
13. BTS' Jimin for Dior and Tiffany & Co.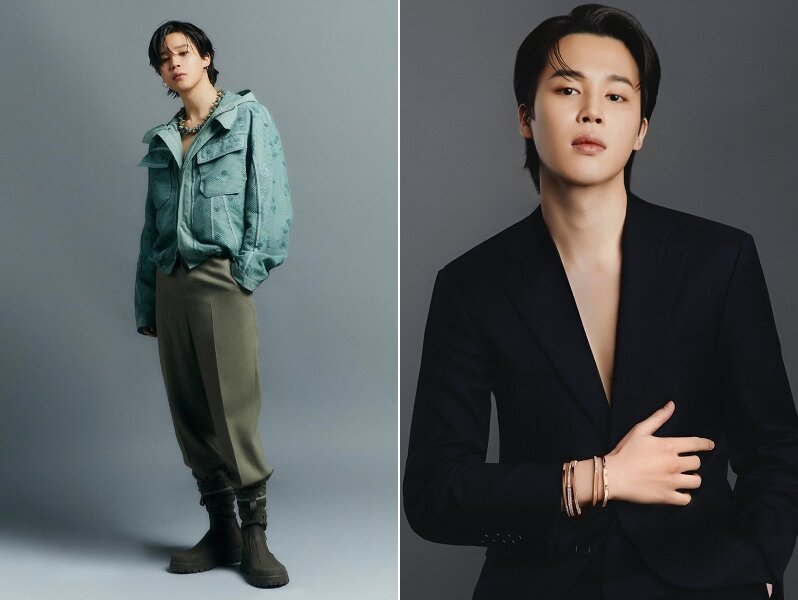 Left - Jimin dominated the trends and drew in thousands when he attended a Dior Fashion Show. (Photo from: @dior) Right - He recently joined Tiffany & Co.'s star-studded list of active ambassadors. (Photo from: Hyeawon Kang via Tiffany & Co.)
2023 has been a jam-packed year for for BTS' Park Jimin so far. In January, the artist launched a collab titled Vibe with BIGBANG's Taeyang that's currently taking over the charts thanks to the duo's mesmerising vocals. A few weeks later, Jimin's thrilled his fans once again as he shows more of his charms as French luxury house Dior's global ambassador. The brand has released several photos of the K-celeb "lending his image to creations from Artistic Director of Dior men's collections, Mr. Kim Jones."
Now in March, he was tapped by luxury jewellery brand Tiffany & Co. to be its newest global House ambassador. In the role, Jimin will showcase his unique approach to jewellery styling as he wears iconic designs from the brand in upcoming campaigns which are set to come out later this year.
He has also just released his first solo album, Face. We can't wait to see other surprises he has in store this year!
14. LE SSERAFIM's Kim Chae-won for MAKE UP FOR EVER
The singer-songwriter lends her visuals for MAKE UP FOR EVER. (Photo from: @makeupforever)
We're feeling anti-fragile with the news of LE SSERAFIM's Chae-won's appointment as the new ambassador for the beauty brand MAKE UP FOR EVER. According to the brand, the singer and LE SSERAFIM leader is both "daring and creative" and therefore embodies the brand's values.
15. SEVENTEEN'S Kim Mingyu for INNISFREE
Carats, this one's for you! SEVENTEEN's visual and lead rapper will be representing the popular K-beauty skincare brand INNISFREE. The brand plans to work with Mingyu to introduce its products to customers around the world with his "chic, urban look as well as an unexpected charm of confidence and energy".
16. BTS' j-hope for Louis Vuitton

j-hope is Louis Vuitton's new brand ambassador! 2023's looking good for our Bangtan boys because j-hope is the third member to land a deal with a luxury brand this year after Jimin and Suga.
In 2021, all the members of the group were ambassadors for Louis Vuitton, but the contract ended last year. For this year, j-hope will be endorsing the brand as a solo artist.
j-hope has been thrilling fans with the LV news and a hip-hop single titled on the street. However, the artist is also currently breaking hearts as his agency BIGHIT MUSIC announced that he has started his mandatory military enlistment process.
Wanna get to know more about the charming multi-hyphenate? He recently released a documentary which gave us a front-row seat to his creative process and incredible talents titled j-hope IN A BOX on Disney+. Check out our review about it right here.
17. Jung Hoyeon for Lancôme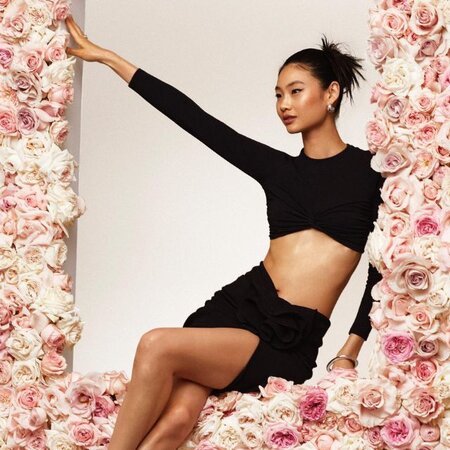 Jung Hoyeon
is the new global brand ambassador for the French luxury beauty brand Lancôme! The 28-year-old actress who captured our hearts in the hit series
Squid Game
is on her way to becoming a household name in the modelling world. She has walked the runway for Louis Vuitton in 2017 and then became its global ambassador in 2021. She has also worked with adidas, Chanel, and Calvin Klein.
18. NewJeans' Minji for Chanel

NewJeans members just keep slaying. (Photo from: @newjeans_official)
Chanel came through! NewJeans' Minji is Chanel's official ambassador in the fashion, watches and beauty categories. She's the fourth member of the group to land a deal with a luxury brand following Hyein for Louis Vuitton, Danielle for Burberry, and Hanni for Gucci and Armani Beauty.
Minji is an 18-year-old vocalist and dancer in the group. Fun fact: she had a cameo in BTS' Permission To Dance music video.
19. TXT for Clio


We're on a sugar rush ride and thrilled with the news that TXT members are the new ambassadors for the K-beauty brand Clio!
TXT has grown outside of simply being known as the "brothers" of BTS since they were the first group that their agency debuted after the sensational boy group. TXT has become popular worldwide for its addictive and relatable hits such as 0X1=LOVESONG (I Know I Love You) and Sugar Rush Ride alongside their youthful and sometimes fantasy-themed music videos.
20. NewJeans' Hanni for Armani Beauty
Hanni has been making waves in the K-pop world for her vocal range. (Photo from: @newjeans_official)
At 18, NewJeans' Hanni is the new face of the luxury Italian brand Armani Beauty. Back in October 2022, the Vietnamese-Australian artist also landed a deal with Gucci, and we've got a feeling that she's only getting started.
Speaking of Hanni's appointment, Giorgio Armani said, "Hanni is a very young artist with a great expressive power and an irresistible and captivating individuality: a contrast that I find interesting. She has personality, which for me is the most fascinating trait, always."
Hanni has a jam-packed schedule for the brand as she has just shot her debut campaign visual, wearing the My Armani Go To Cushion on her face and the Lip Maestro in shade 214. She will then begin with a campaign for Armani Beauty's new Power Fabric+ Foundation in April and the Lip Maestro Satin lipstick in May.


21. Sejeong for Longchamp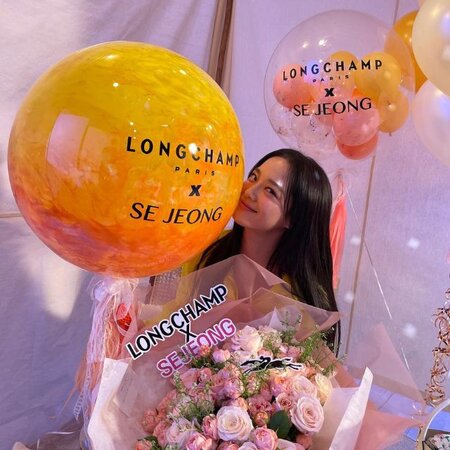 Singing, songwriting, acting, modelling… what can't this girl do? (Photo from: @clean_0828)
Top star and rom-com queen Kim Se-jeong is now the brand ambassador of the French luxury brand Longchamp! We loved the joy and energy she radiated in and outside the 2022 K-drama Business Proposal, and this also captured the attention of the brand's creative director Sophie Delafontaine. She said, "As for modelling, she was a complete natural — genuinely at ease in front of the camera and amazingly photogenic."
Se-jeong will be starring in the brand's spring-summer 2023 campaign in the region. It will feature "Glamping" ready-to-wear pieces that are infused with bold colours, prints, and materials that will perfectly match the singer slash actress' personality.
22. TWICE's Nayeon for Givenchy
Im Nayeon from the K-pop girl group TWICE is the new face of Givenchy Beauty. She's also the first in her group to launch a solo album, and she's known for taking over the trends in 2022 during the time of the release of her track titled POP! Through the magazine Dazed Korea, Givenchy Beauty shared that Nayeon's confident and sophisticated look on stage matches with the brand's direction. The star will be involved in the brand's makeup and perfume campaigns in the future.
23. Jackson Wang for Louis Vuitton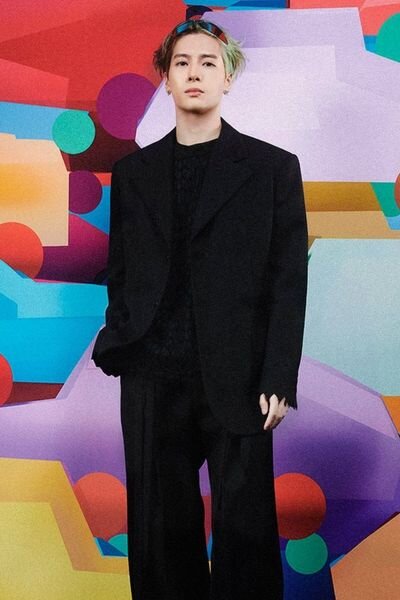 The Magic Man at Louis Vuitton's show during Paris Fashion week. (Photo from: @LouisVuitton)

If luxury brands were infinity stones, Jackson Wang has added another one to his gauntlet. He's just been announced as the latest House Ambassador of Louis Vuitton. The artist, who was born in Hong Kong and rose to fame as a member of the K-pop group GOT7, is no stranger to the world of fashion and beauty. In the past, he became the face of Fendi, Cartier, and Armani Beauty. He's also the founder and creative director of the luxury streetwear label
TEAM WANG design.
24. Cha Eun Woo for Dior Beauty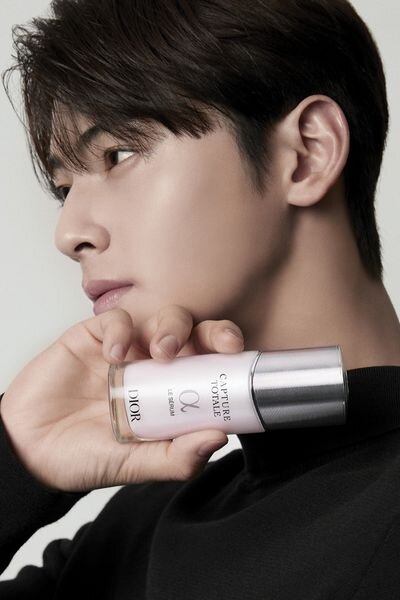 -drama heartthrob and K-pop idol
Cha Eun Woo
— known for his roles in
My ID Is Gangnam Beauty,
True Beauty,
and more — who seems to have taken a drink from the fountain of youth is now the first global ambassador for luxury brand Dior Beauty's anti-ageing Capture Totale Le Sérum. It's a product that claims to transform the skin and leave it visibly firmer and smoother. It's made with fermented longoza extract, a patented floral extract that stimulates the revitalising potential of the skin's mother cells to reveal youthfulness.
25. BTS' Suga for Valentino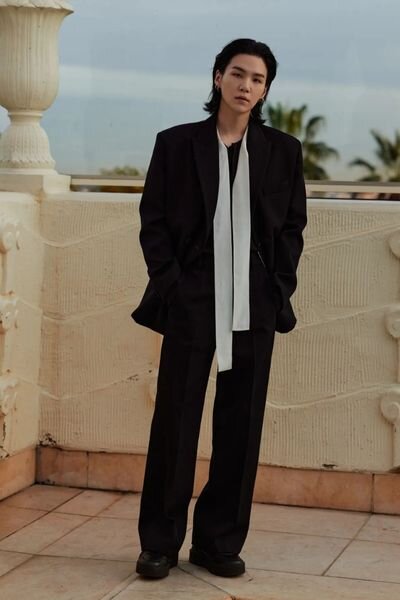 Min Yoongi (more popularly known as Suga) from BTS seems to have it all — he's a rapper, songwriter, producer, and performer. And now, his passion and creativity led him to become one of Rome-based Maison Valentino's brand ambassadors called 'DI.VA.s'.
D.I.VA.s is an acronym for 'Different Values', which refers to Valentino Creative Director Pierpaolo Piccioli's advocacy for inclusivity and diversity. According to Pierpaolo, Suga uses his talent and his work to express himself with energy and authenticity and is able to embody what DI.Va.s stand for.
Suga also believes that his values align with the brand's and is delighted to be a part of the Maison Valentino Essentials campaign. In its behind-the-scenes preview, the artist is presented as a symbol of empathy and connection.
Suga will be joining other Valentino DI.VA.s such as Crash Landing on You actress Son Ye-jin and Euphoria star Zendaya.
26. BIGBANG's Taeyang
Givenchy is pleased to announce the appointment of @Realtaeyang as 2023 global ambassador. pic.twitter.com/0VjsHhzro4

— Givenchy (@givenchy) January 17, 2023
Taeyang is the vocalist of BIGBANG, an iconic K-pop group that debuted in 2006 and whose members have gone on to launch their solo careers. Taeyang is popularly known for his song 'Eyes, Nose, Lips' and his recently released single ' Vibe' featuring BTS' Jimin.
He has joined the global ambassador family of the French luxury brand Givenchy. He's the first Korean male artist to do so and follows the K-pop girl group aespa, who landed the deal back in 2021.
27. IVE's Yujin for Fendi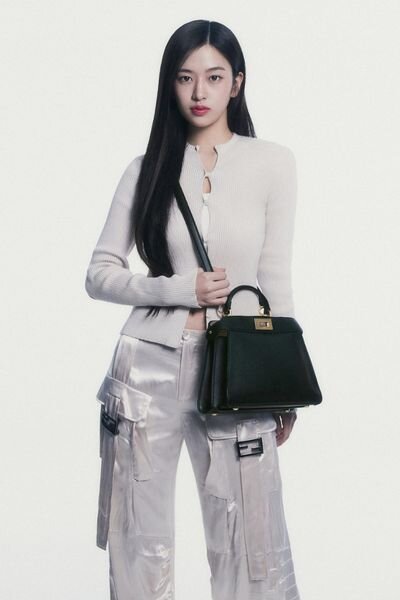 Ahn Yujin is the vocalist and leader of the K-pop girl group
IVE
, which is popularly known for songs such as '
ELEVEN
', '
LOVE DIVE
', and '
After LIKE
'.
The artist just revealed that she's the newest ambassador for the Italian luxury house Fendi. Yujin is known for the strong presence and fierce looks that she brings to the table, and you'll see this in her latest photoshoot with Harper's Bazaar Korea, where she can be seen wearing pieces from Fendi's latest collection.
Which K-pop artist or group would you like to see as brand ambassadors next?

(Cover photos from: @dior, @_yujin_an, Dolce & Gabbana)
Comments, questions or feedback? Email us at [email protected].