Twenty Five, Twenty One (2521) is one of this season's most buzz-worthy K-dramas. It stars Kim Tae-ri as Na Hee-Do, Nam Joo-Hyuk as Back Yijin, and idol group WSJN's Bona as Ko Yu-Rim.
The story is set in two timelines, 1998 and 2022, capturing parallels between South Korea's International Monetary Fund (IMF) Crisis and the present-day's COVID-19 situation.
It wrapped up with 16 episodes, which are currently available to watch (or rewatch) on Netflix.
Because of the warm reception for the drama both by local and international K-drama fans, we decided to check out the drama ourselves. Below is our review of Twenty Five, Twenty One (2521).
Warning: spoilers ahead — including finale details!


Twenty Five Twenty One plot
The story started with 40-year-old Na Hee-Do (Kim So-Hyun) taking her daughter Kim Min-Chae (Choi Myung-Bin) to a ballet competition. Hee-Do reminded Min-Chae that winning isn't everything and what's important is for Min-Chae to give her all to the competition. Min-Chae thought differently, saying that there was no point in being there if she was not competing to win. Still, Hee-Do tried to convince her otherwise.
While waiting for her turn to compete, Min-Chae felt defeated after seeing her 'rival' perform the number flawlessly. Min-Chae walked out of the competition and got disqualified. Hee-Do confronted Min-Chae but Min-Chae said she'll quit ballet because she's not good at it anyway.
The scene cut to Min-Chae going to Hee-Do's childhood home where Hee-Do's grandmother (Shin Hyun-Sook) lives. Min-Chae said she ran away from home and will live in that house temporarily, to which her grandma agreed. Min-Chae started to rummage through her mother's old possessions and found Hee-Do's old journal. Min-Chae read through it and started learning about her mother's 19-year-old self (Kim Tae-Ri), including Hee-Do's youthful aspirations, frustrations, and relationships.
Twenty Five Twenty One ending
Ko Yu-rim (Bona), Hee-Do's fencing-rival-turned-friend, also retired from the sport and opened her own fencing school. She gets engaged to her boyfriend Moon Ji-Woong (Choi Hyun-wook). Ji-Woong is now a known fashion blogger who runs his own online fashion store. Finally, Ji Seung-Wan (Lee Joo-Myoung), another of Hee-Do's friends, becomes a successful variety show producer.
As for our two leads, Na Hee-Do and Back Yijin (Nam Joo-Hyuk) grew from friends to lovers. From two lost souls trying to follow their passions amid many challenges brought by the times, they were able to overcome their problems with the help of each other and their friends.
Eventually, Hee-Do became a professional fencer who competed globally. Yijin, on the other hand, became a successful New York correspondent after he covered the 9-11 tragedy. All the travelling ended up causing a strain between Hee-Do and Yijin's relationship, though, with both of them feeling like they were losing touch with each other. In the end, the two exchanged heartbreaking statements and mutually decided that it was best to break up. As the drama's title hinted, they were ages 25 and 21 when this happened.
Fast forward to 2022, Min-chae returned the diary to Hee-Do. Hee-Do fondly flips through the pages and finds an entry from Yijin. Earlier scenes suggest that Yijin received Hee-Do's diary via post from a certain Kim Eunsu (remember this name for later!) after Hee-Do lost her diary on the bus.
The diary revealed what Yijin and Hee-Do really wanted to tell each other the day they broke up. Yijin said he didn't mean any of the things he said during their breakup and that he actually wanted to thank Hee-Do for everything that they've been through together. Hee-Do also saw her own entry saying how grateful she is for Yijin despite how badly they ended. This brought Hee-Do the comfort and closure she needed after all these years.

Hee-Do returned to the place where she and Yijin broke up, reminiscing that chapter in her life when "only friendship and love mattered."
Is Back Yijin alive at the end of 2521?
A lot of people speculated (yes, including us!) that Yijin passed away at some point in the story, which explains his absence in the present-day narrative. Actor Nam Joo-Hyuk, who plays Back Yijin in the drama, even addressed the rumours about Yijin's fate because it was one of the most popular theories prior to the series finale.
The ending revealed through a short epilogue that Yijin was, in fact, alive though we never really saw his face and it's quite unclear if he's still working as a news correspondent. He's trying to access UBS' online portal to "get data" but couldn't remember his password since he "hasn't logged on to the account for more than 15 years". He ends up retrieving the password using a security question that asked "what is the name of your first love?" to which he answers "Na Hee-Do."
Twenty Five Twenty One review: The good
1. It uses the power of nostalgia to appeal to different audience groups
It effectively creates a parallel between the lifestyle and the technology changes from 1998 to today through the use of nostalgia-inducing props like cassette tapes, VHS tapes, and bulky computers that can be juxtaposed to their present-day versions like smartphones and laptops with high-speed internet. It's an approach that's very relatable to millennials and Gen-Zs (who are undoubtedly the main target audience of the drama) considering that people who belong to these generations experienced these transitions in tech – and the lifestyle changes that came with them – firsthand.
Meanwhile, the witty dialogue, usually from Min-Chae, on how 'ancient' some of the things are when she was going through Hee-Do's old stuff, definitely captures Generation Alpha (those born in the 2010s to the present).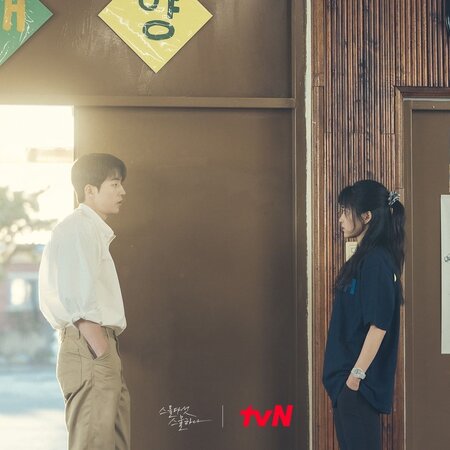 2. It presents a conflict that relates to both timelines
Thankfully, this drama doesn't bank on just 90s references to capture the attention of its audience. Instead, it connects 1998 and 2022 through a common conflict: the IMF Crisis and COVID-19 pandemic.
The two events significantly vary in nature (one being financial and the other health-related) but the economic impact of these situations are almost identical. People are being laid off, schools are forced to make drastic adjustments to continue operations, businesses that were previously thriving are closing down.
By giving these two timelines a commonality, the series removes the 'generation and timeline divide' of the story and presses on an important message that transcends generation and age: powering through adversity, no matter what crisis you and the rest of the world face.


3. Kim Tae-Ri is a compelling lead
Kim Tae-Ri is best known for her role as Nam Soo-Hee a.k.a. The Maid in the 2016 erotic psychological thriller
The Handmaiden
. She was picked among 1,500 candidates vying for the role. The film received critical acclaim in the 2016 Cannes Film Festival and won Best Film Not in the English Language in the 71st British Academy Film Awards held that same year.
Twenty Five Twenty One (2521) is worlds away from The Handmaiden plot-wise, but Kim Tae-Ri proves that she has the versatility to bring any character to life in this K-drama. The 31-year-old actress plays 19-year-old Na Hee-Do convincingly not just because of her youthful face but also because of her multifaceted performance.
Tae-Ri's portrayal perfectly balances the happy-go-lucky and childish facade Hee-Do usually puts up for her peers with the resilience and straightforward attitude the character has for life and her passion, fencing. It's sometimes easy to forget that the series is a romance drama, considering that Tae-Ri's Hee-Do has the makings of a good solo heroine.


4. Nam Joo-Hyuk, Bona, and the rest of the Twenty Five Twenty One cast's performance complement Kim Tae-Ri's beautifully
K-drama fans have already witnessed Nam Joo-Hyuk play the handsome male protagonist with a sad secret in the 2016 hit
Weightlifting Fairy Kim Bok Joo
. But we're glad his portrayal of Back Yijin is nuanced enough to separate him from the popular role. His chemistry with Kim Tae-Ri feels natural despite the relationship of their roles being questionable (more on this later), which makes each scene between them always interesting to watch.
Meanwhile, WSJN's Bona plays Na Hee-Do's fencing-rival-turned-friend Ko Yu-Rim. Bona portrays the complexities of her character, a flawless and fresh-faced ace fencing player on the outside, but a struggling 19-year-old on the inside, with ease.
The rivalry between Yu-Rim and Hee-Do is one of the central storylines of the drama and both Bona and Kim Tae-Ri succeed in creating an onscreen atmosphere that makes you root for their characters despite them being rivals at first.
Seo Jae-Hee's portrayal of Hee-Do's mum Shin Jae-Kyung is also worth noting. Seo Jae-Hee and Kim Tae-Ri's emotional scenes as mother and daughter are some of the drama's best moments for sure.


There are also other characters like Choi Hyun-Wook's Moon Ji-Woong and Lee Joo-Myoung's Ji Seung-Wan, who complete Hee-Do's friendship circle. They provide the plot interesting side stories that are as heartfelt as the main storyline.
5. The cinematography deserves recognition
Most K-dramas have good cinematography but we're still adding this detail as one of the best things about
Twenty Five Twenty One
. Typically, dramas use different colour filters to contrast two (or more) different timelines. However, for this drama, the scenes use filters based on the emotions of the characters. This adds to how the narrative tries to connect the two timelines together, showing that certain emotions and experiences transcend from one generation to another.
6. The story portrays adults and teenagers as humans
Aside from its romance and coming-of-age themes, this drama also effectively shows different relationships between adults and teenagers, especially between parent and child. We think Asian dramas shine in these narratives because Asian dramas don't antagonise either the adults or the teenagers for having faults. We're glad
Twenty Five Twenty One
also followed this format, especially since many subplots focus on parent-child relationships.
7. It portrayed love and loss beautifully
We usually expect happy endings from romance dramas, especially when our main leads go through many hardships before and as they get together. However, Twenty Five Twenty One decided to end things by breaking our hearts a little (okay, maybe a lot) when we learn that Hee-Do and Yijin broke up not because of any exaggerated reason but simply because they grew apart.
It portrays relationships very realistically — be it romantic or not — reminding us that some people come and go into our lives because we're just meant to learn from them and that we have to continue to grow without them. And yes, even then, it doesn't make their role in our lives any less meaningful.
Twenty Five Twenty One review: The bad (sort of)
1. Min-Chae reading 19-year-old Hee-Do's diary
While it was fun at first to see Min-Chae discovering her mum's old diary, we wish adult Hee-Do was the one who saw it instead after watching the recent episodes.
Episodes 11 and 12 provided parallels between Hee-Do and her mum's relationship in both the past and the present. and it would've been great to see adult Hee-Do looking back at her teenage thoughts from the perspective of a mother who also has a strained relationship with her daughter. We think it would've followed the drama's theme of tying the past and the present together using a common element better.



2. Na Hee-Do and Back Yijin's age gap
Age gap romances are common in a lot of K-dramas (and Asian dramas, in general) and they're usually met with a lot of raised eyebrows (as they should be) especially if one of the pair is a minor.
Twenty Five Twenty One is no different. Na Hee-Do was 19 and Back Yijin was 23 when they met.
K-netizens expressed their concern over this age gap since the story is obviously setting Hee-Do and Yijin up as the main couple of the story. Thankfully, their relationship is portrayed more as friendly and platonic in Episodes 1 to 8, with little to no romantic connotations, as well as no creepy 'grooming' undertones from Yijin's character.
Still, because this is a romance drama, feelings for each other started to be revealed on Episode 9, after Yijin comes to Hee-Do's aid when she gets injured preparing to compete. Yijin realised that he is in love with Hee-Do and eventually confessed to her. Hee-Do admitted that while her friendship with Yijin stirs her heart from time to time, she was still unsure if she has romantic feelings for him. Hee-Do politely rejected Yijin and Yijin accepted her rejection. The two remained friends.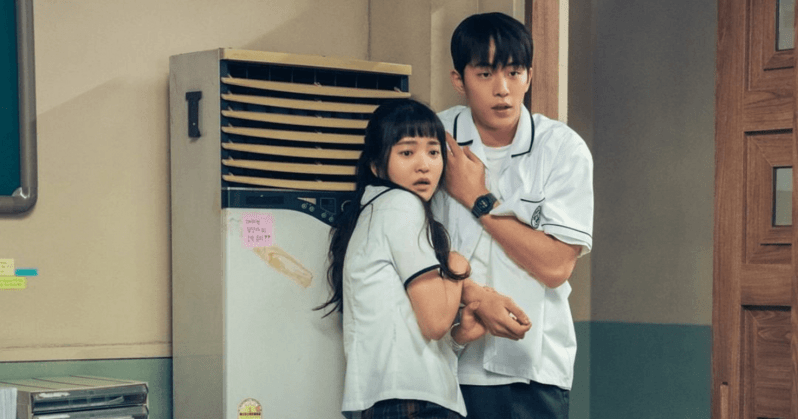 The succeeding episodes focused more on the two characters' growth. Hee-Do continued her fencing training and dealing with her shaky relationship with her mum, and Yijin continued to struggle in his career as a news anchor trainee.
Fast forward to Episode 12. Everyone was worried about Y2K and the Millennium Bug, where many people all over the world thought that an apocalypse would happen (a phenomenon that happened IRL). Hee-Do, Yijin, and a bunch of their friends gathered to have an intimate end-of-the-world New Year celebration. At 11:55PM, Yijin and Hee-Do found themselves alone after the celebration. Thinking of doomsday, Hee-Do kissed Yijin.


This launched the romantic relationship between the two leads that continued as Hee-Do officially entered 'adulthood' later in the story. Their relationship is definitely heartwarming, sure, but it's still uncomfortable how the love story started given the characters' initial age gap in the story.
In real life, Kim Tae-Ri (31) is actually three years older than Nam Joo-Hyuk (28) which is close to their characters' four-year age gap. But it's still a different conversation since the two actors are portraying a minor (20 years old is the legal age in South Korea) and a grown man in the drama.
The identity of Min-Chae's father and Hee-Do and Yijin reunion: Our Twenty Five Twenty One season 2 predictions

One of the biggest mysteries on Twenty Five Twenty One is if Yijin is, in fact, Min-Chae's father — but in the end, the drama never revealed it. This sparked the interest in a possible season 2 among fans of the show.
Note that the drama never disclosed Min-Chae's age, but it seems fair to assume that she would find her mum's diary when she was 19 when she's around the same age to create an effective parallel between the two of them. It perfectly aligns with the timeframe of Yijin and Hee-Do's relationship.
However, another potential candidate for Min-chae's father was revealed after the series finale. It's none other than the mysterious Kim Eunsu who mailed Hee-Do's diary to Yijin.
While there's not a lot to work with if we follow this theory, the mystery surrounding the name Kim Eunsu — from how he found the diary, why he mailed it to Yijin instead of Hee-Do despite Hee-Do clearly owning the diary, and the fact that Min-chae found it in Hee-Do's old room — suggests that this may be someone who has a deeper connection to these characters more than we think. Plus, there's Min-chae's surname 'Kim'. Kim is a popular South Korean surname, sure, but following the Chevon's gun rule, every detail should serve a purpose in the story if it's added glaringly.
Of course, our predictions wouldn't be complete if we wouldn't mention a Hee-Do and Yijin reunion. Now that Yijin is confirmed to be alive, it would be great if him and Hee-Do were to meet each other again. We're not expecting them to get together, but just like the diary entries that showed us what their 25- and 21-year-old selves left unsaid, it would be great closure for the audience to see them crossing paths again in the present timeline.
Verdict: Season 2 or not, Twenty Five Twenty One will remain to be one of 2022's best heartwarming K-dramas so far and we hope another series delivers the same feels soon ASAP.
Next, check out the details on Han So-Hee's latest drama Soundtrack #1 here.
Comments, questions or feedback? Email us at [email protected].