This article was first published on 19 May 2023.
XO, Kitty — the spin-off to the teen romance hit To All The Boys I've Loved Before (TATBILB) trilogy — is now streaming on Netflix. It has also been officially renewed for a second-
Anna Cathcart reprises her role as Kitty Song Covey, who now takes us through her own love story after successfully playing cupid for her older sister, Lara Jean (Lana Condor).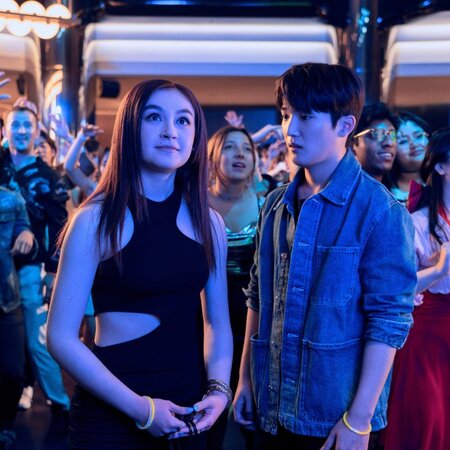 Kitty was a
TATBILB
crowd favourite because of her spunky personality, so people were curious about what her story would be like. Now that the series has aired its first season, is Kitty's 10-episode spin-off worth the hype and does it deserve a second season?
XO, Kitty plot and cast
Biracial Kitty Song Covey (Anna Cathcart) wants to know more about her Korean mum's roots. She decides to leave behind her home in Portland and enrol at her mum's alma mater, the Korean Independent School of Seoul (KISS). KISS also happens to be the school her long-distance boyfriend Dae (Minyeong Choi) attends. Dae has no clue that Kitty was arriving in Seoul and had plans to stay long-term, so their reunion results in not-so-pleasant events.
Other characters in the series include Min Ho (Sang Heon Lee), Dae's playboy best friend; half-Iranian, half-Filipino Q (Anthony Keyvan) who later becomes Kitty's friend; Yuri (Gia Kim) a teen hotel heiress who gets entangled with Kitty and Dae; and Jin (Yunjin Kim) the principal of KISS and Yuri's mother.
Jenny Han, the author of the TATBILB book series and producer of the series, also made a cameo in the pilot episode of the show.
XO, Kitty review: Is it worth watching and plot predictions for Season 2
Alyana, Senior Features Writer
"I like how it touches on a lot of coming-of-age topics like sexuality, identity, and personal growth. Maybe the pacing was a little too fast — five more episodes would have helped flesh out the storyline even more — but it was a light, enjoyable watch that's perfect for an evening of relaxation.
It's also nice that the show didn't just use English in the dialogue and there's a healthy amount of Korean language in the script too. It's very fitting since it's supposed to be set in a Korean international school in Seoul.
The trendy K-pop songs were a welcome surprise, too, though I probably should have expected it following TATBILB's example.
As for season 2, I think it should get its chance to redeem itself to give more depth to each character's storyline. Kitty also had a pretty big realisation by the end of Season 1 so she should have the chance to explore it."


Amanda, Senior Features Writer
"
XO, Kitty
, to me, feels like a K-drama 'Y/N' fanfiction ('your name' is a type of fanfiction where the reader is the protagonist of the story). That doesn't make it bad, but that doesn't mean it's good either. The tropes and plot twists are very predictable, but it's still entertaining if you're looking for a lighthearted watch and just feel like going with the flow with cliche teen drama.
One thing I highly commend about this series, though, is its soundtrack. Many moments in the series were enhanced by the amazing choice of K-pop beats to set the mood and you'll surely have a new song or two added to your playlist after finishing an episode.
Does it deserve a second season? At the end of the day, it's all about entertainment value. While I think many other Netflix shows deserve to be renewed than this, I still can't deny that it's fun, fresh, and popular."


Sheryl, Senior Features Writer
"I'm close to 30 years old already so I thought it was a lighthearted take on young love, friendships, and family.
I also think it's very timely to be doing a 'Korea x Western' kind of series when K-wave's really popular right now.
I would've preferred for the series to delve a little deeper into each of the character's stories, but that's my own wish having watched more K-dramas than Western shows.
Kitty seems super friendly and open to trying new things so it'll always be an adventure for her. That's something to look forward to for Season 2."


Where to watch XO, Kitty in Singapore
You can now stream all 10 episodes of
XO, Kitty
Season 1 on
Netflix
.
Next, reasons why you should add K-drama Doctor Cha to your Netflix queue here.
Comments, questions or feedback? Email us at [email protected].