K-dramas focused on more mature characters such as Queenmaker, Crash Course In Romance, and The Glory seem to be getting quite popular recently. Another title in this category is Doctor Cha, a medical dramedy starring Uhm Jung-Hwa.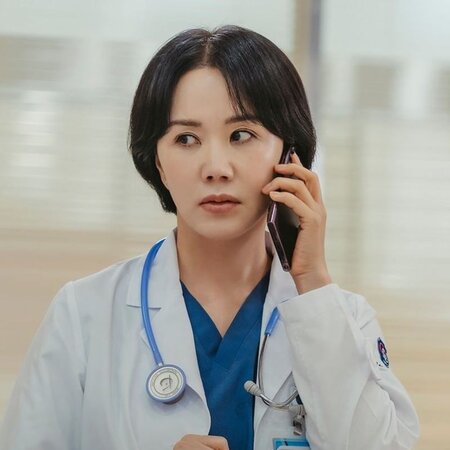 Doctor Cha plot and cast
Cha Jeong-Suk (Uhm Jung-Hwa) is a licensed doctor. However, she hasn't practised medicine in 20 years because she decided to be a stay-at-home mum. Her husband, Seo In-Ho (Kim Byung-Chul), is a respected chief surgeon at a university hospital. Their relationship is cold and distant, but Jeong-Suk tries to make their marriage work. Little does she know that In-Ho is having an affair with his former sweetheart and now colleague, Choi Seung-Hi (Myung Se-Bin).
Jeong-Suk is also very filial towards In-Ho's mother, Kwak Ae-Sim (Park Jun-Keum), who is very involved with their family. Ae-Sim always tells Jeong-Suk that it was right for Jeong-Suk to give up her former career.
One day, Jeong-Suk accidentally crosses paths with Roy Kim (Min Wook-Hyuk), a promising surgeon from another hospital. They keep meeting each other by chance and Roy Kim eventually becomes Jeong-Suk's doctor after she was discovered to be suffering from acute hepatitis.
Due to her illness, Jeong-Suk starts contemplating about many things involving her life choices, her relationship with her husband and mother-in-law, and her overall well-being. After undergoing surgery and getting better, Jeong-Suk decides to get her life back and restart her medical residency.
3 reasons to watch Doctor Cha
1. It comments on the societal pressure on women to choose family over career or vice-versa
As early as its pilot episode, this drama already highlights society's expectations on women regarding their career and family. Cha Jeong-Suk gets a little envious of her friend Baek Mi-Hee (Baek Joo-Hee) who is currently a decorated dermatologist, but is constantly reminded that Mi-Hee's singlehood means Mi-Hee is "alone" and "lonely".
On the other hand, Choi Seung-Hi gets told by a fortune-teller that her career would've flourished more if she were a man. She's also told that she simply has to accept that she was "meant to be a mistress".
Oftentimes, women are told to be just one thing because becoming another means losing focus on what's deemed by society as more important. This drama tries to address that by showing that these characters have the power to be everything all at once.


2. It reminds us that dreams have no age limit
It wasn't long ago when characters in their 40s or 50s were reserved for
ahjumma
(auntie) roles in K-dramas. Thankfully, recent works like Doctor Cha put the spotlight on women within this age range and focused on relatable narratives that make them the star.
Taking the titular character as the main example, Cha Jeong-Suk has faced many challenges and criticisms for choosing to start anew in her medical career in her 40s. She endured many statements saying she "wasted her youth" and should just "stick to [her] life now". Still, these hurdles didn't stop her from finally taking command of her life, while still being a supportive and caring mum to her two children.


3. It teaches us that every experience matters
Medical dramas often take the viewers to many routes, with each patient in an episode getting a subplot related to the main story. In this K-drama, these detours teach Cha Jeong-Suk that her experiences in the past 20 years, bundled with her newfound passion for curing others, continue to shape her not just as a professional but also as a person.
Where to watch Doctor Cha in Singapore

Doctor Cha
is currently streaming on
Netflix
, with new episodes every Saturday and Sunday.
Comments, questions or feedback? Email us at [email protected].