What can BTS's music genius bring to the table as a solo act? The answer: a lot.
BTS's SUGA, whose real name is Min Yoongi and who also goes by Agust D for his solo work, has dropped his first official solo album titled 'D-Day'. To accompany the new release, he also recorded a music documentary called SUGA: Road to D-DAY on Disney+.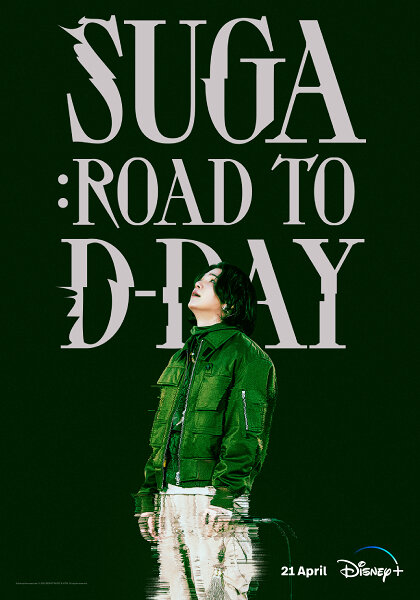 Below, we give a brief and spoiler-free review of the music documentary and what fans and non-fans can expect before watching it.
1. It's also a mini travel vlog
While the documentary chronicles SUGA's two-year journey in producing his 'D-Day' album, it also covers his first personal trip since debuting in BTS.
In the process of making the album, he travelled all over the United States to meet with the likes of Anderson Paak and his friend, singer Halsey (who he previously worked with for BTS's song 'Boy With Luv'). Watching these musicians and producers bond over each other's music felt like being invited into a private club. We also get to see their personal studios, which is almost as intimate an experience as inviting people into your home.
He also made a brief stop in Tokyo and camped out in the mountains of Korea to make music.
He also shared his thoughts about travelling, which he says is "fun". Will we get more travel content from SUGA in the future? We certainly hope so!
2. Discover SUGA's music journey
In the documentary, SUGA shares how his two previous mixtapes ('AGUST D' and 'D-2') covered his late teens and 20s, respectively. Now in his thirties, SUGA explores what he thinks life will be like in the future — and the stories and life lessons he can share through his music — with a deeply introspective approach to creating his album.
We're also treated to performances of songs from 'D-Day' like PEOPLE Pt. 2, AMYGDALA, and more.
As a fan of BTS, the experience of watching clips of SUGA sharing his thoughts is especially poignant when you consider his upcoming military service. In case you didn't know, Korean men are required to serve at least one-and-a-half years in the military by their 28th birthday. SUGA's team members, Jin and j-hope, have already started their service while SUGA is expected to start his community service (due to a previous shoulder injury) this year as well. These introspective moments in the documentary relay SUGA's feelings of uncertainty, as well as hopefulness, which we think BTS members and ARMYs can relate to. But even as a casual listener, you'll still be able to appreciate SUGA's perspective about growing up, getting hurt, feeling lost, and persevering.
3. A look into his creative process
ARMYs know that SUGA also has a special nickname, the Hand of Midas, because all the songs he touches — by producing, featuring, or writing — become hits and record-makers on the music charts. It all boils down to his passion for music and willingness to explore different genres.
But even creative geniuses like SUGA can experience creative blocks. Remember that we mentioned he went to a mountain in Korea? It was his way of clearing his mind and trying to get new inspiration after his album "hit a dead end". We can all take notes from him: if we find ourselves stuck in a rut, take a breather and give ourselves the space to just have fun.
Will you be tuning in to SUGA: Road to D-DAY? It's now available for streaming on Disney+.
(Cover photo from: @agustd)
Can't get enough of BTS? We also reviewed BTS j-hope's own music documentary, j-hope IN THE BOX.
Comments, questions or feedback? Email us at [email protected].