If all you knew about TOMORROW X TOGETHER (pronounced "tomorrow by together") or simply TXT is that they're BTS' "brothers" because they all come from the same agency, this documentary will prove they're more than that. TXT's Our Lost Summer is now on Disney+ Singapore, and we're letting you in on our thoughts about the film.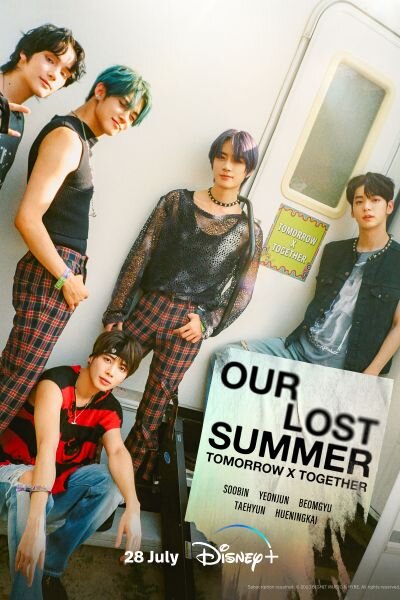 TOMORROW X TOGETHER: Our Lost Summer: trailer and plot
TXT is composed of five members, namely, Soobin, Yeonjun, Beomgyu, Taehyun, and Hueningkai.
They became known as the "super rookies" in Korea when they debuted in 2019.
But just when it felt like they were only getting started, the pandemic came, and an uncertain future loomed before them.
When the restrictions were lifted and the effects of the pandemic slowed down, the group had the opportunity to kick off their first world tour in Seoul and perform in seven cities in the US.
It wasn't as smooth sailing as they thought it would be, and you'll see up close the bumps on the road that they had to overcome.
If you're having second thoughts if you should add this to your watchlist, come along with us as we'll take you through what you can expect in the music documentary.


TOMORROW X TOGETHER: Our Lost Summer review
1. It's made for fans and non-fans of TXT
You'll get to see TXT's inspiring growth and passion for the work they do whether you're a MOA (TXT fan) or not.
They would always give it their best shot as they hope to repay the love that their fans shower upon them.
You would see the blood (yes, blood), sweat, and tears that they had to pay to get to where they were.
Watching the documentary as a fan will be a moving experience, and we bet that you'll sing along to their hits such as Blue Hour, 0X1=LOVESONG (I Know I Love You) feat. Seori, and MOA Diary. But if you're not a fan, you can still appreciate the song's catchy melodies and the meaning of the lyrics through the English subtitles included in the film.


2. You'll get to see life from a performer's POV
During the pandemic, they held concerts and fan meetings only online.
In the documentary, you'll get to hear about the members' apprehensions and worries about performing in front of thousands of their fans in person.
There were bigger stages that they had to conquer (their fanbase definitely multiplied during the pandemic).
You can't help but root for their success (and feel relieved after they overcome certain obstacles too).
You'll also get a clear picture of the pressure they faced as one of the acts in Lollapalooza in 2022. They had to get out of their comfort zone and perform for thousands of people who might not even know who they were.


3. You'll wish there was more after finishing it
Our Lost Summer covers just the group's US leg of their world tour, so you can't help but wish other stops of their tour were featured too.
Who knows?
We're crossing our fingers that this won't be their first and last documentary.
TXT has shown in the film that they've only just begun, and they're ready to make more magical moments with their fans in the future.
TOMORROW X TOGETHER: Our Lost Summer: release date and where to watch in Singapore
You can now watch the film right here on Disney+.
(Cover photo from: @txt_bighit)


Comments, questions or feedback? Email us at [email protected].