ASTRO's Cha Eunwoo (real name, Lee Dong-Min), a.k.a. Korea's 'face genius', is slated to return to the small screen soon for his latest drama, A Good Day To Be A Dog. The actor-slash-idol will play the lead Jin Seo-Woo, a man afraid of dogs. The drama's hook? Seo-Woo will fall in love with a girl who turns into a dog when hugged by someone of the opposite sex. Sounds interesting, right?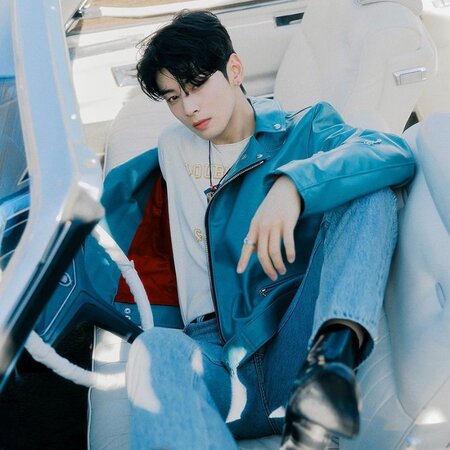 The drama is scheduled to air in 2023, which isn't that far away considering we're just a couple of months away from the new year. Still, here are five Cha Eunwoo dramas to watch to keep us occupied while we wait.
1. Hit The Top/The Best Hit
Hit The Top
(also known as
The Best Hit
) is set in 2017 and is about Lee Ji-Hoon (Kim Min-Jae), an aspiring idol. He secretly works as an idol trainee despite his parents wanting him to become a civil servant. One day, he meets Hyun-Jae (Yoon Si-Yoon), a popular idol in the 90s who was thought to be dead due to an unexplained accident. Cha Eunwoo joins the cast as MJ, a popular idol managed by the same company Lee Ji-Hoon is training in.
Why you should watch it: Hit The Top is fun and quirky on the surface but actually talks about a lot of realities about Korea's idol culture. It focuses on hard work, the pros and cons of fame, and how easily people disregard privilege and opportunities handed to them. It gives hard-hitting lessons while still being entertaining. It's also interesting to see ASTRO's Cha Eunwoo portray an idol in the drama while being an actual idol in real life since it shows a more nuanced performance.
Watch it here.


2. My ID Is Gangnam Beauty

My ID Is Gangnam Beauty
stars Lim Soo-Hyang as Kang Mi-Rae, a woman who got her entire appearance changed through plastic surgery. As she enters her freshman year in college, she retains her timid personality but her new look catches the attention of many. Mi-Rae becomes one of the most popular girls in school, making her 'secret' of getting plastic surgery in danger of being revealed even more.
She meets Do Kyung-Seok (Cha Eunwoo), a handsome but cold student who goes to the same university and takes up the same course as her. Mi-Rae realises that Kyung-Seok is someone who knows her from her past, back when she still had her 'old face'. Mi-Rae later finds out that Kyung-Seok doesn't really care about appearances and was confused why she needed to get surgery. What starts as a weird encounter blossom into a friendship.
Why you should watch it: Aside from addressing stigmas surrounding plastic surgery, this drama also zooms in on people's tendency to fixate on superficial beauty at the expense of real kindness and friendship. It leans more towards a serious romance, coming-of-age story than a rom-com, but it's nothing too melodramatic so even those looking for a light watch can enjoy it.
Watch it here.
3. True Beauty
True Beauty
and
My ID Is Gangnam Beauty
has the same vibe, with the whole 'rich, handsome guy falls for the ugly-duckling-turned-swan' trope. However, unlike
Gangnam Beauty
with plastic surgery,
True Beauty
's lead character Im Ju-Kyeong (Mun Ka-Yeong) uses makeup instead to change her appearance. She captures the attention of the school's most handsome students, Lee Suho (Cha Eunwoo) and Han Seo-Jun (
Hwang In-Hyeop
). Suho and Seo-Jun used to be friends but have become hostile to one another due to a tragic incident.
Why you should watch it: This drama seems like your usual teen rom-com at first, but it actually covers themes on mental health, socio-economic privilege, 'success' pressure, and more, which makes it relatable even to an adult audience. ASTRO's Cha Eunwoo seems to have been typecast to play the rich, handsome lead similar to Gangnam Beauty because of the similar nature of his role in this drama, but it's quite surprising that he was able to deliver a stronger and more emotional take on this role as the series progressed.
Watch it here.


4. Rookie Historian Goo Hae-Ryung
ASTRO's Cha Eunwoo also proved that he can be versatile with his role as Prince Lee Rim in this
historical drama
. He is the love interest of the titular Goo Hae-Ryung (Shin Se-Kyung), a headstrong woman who ends up being a female historian in the palace. The two form a friendship that takes them deeper into the politics of the Inner Court, which leads them to learn secrets about the line of succession that put both their lives in danger.
Why you should watch it: While this drama is highly fictionalised since there were no female historians during the Joseon period, it still effectively highlights the importance of historical accuracy in building a nation's legacy. It also has many empowering themes, like breaking away from stereotypical gender roles placed on both men and women. ASTRO's Cha Eunwoo was also able to show his versatility as an actor through his role in this drama, showing that he can also play bright, clumsy, yet emotionally gripping characters.
Watch it here.
5. My Brilliant Life
Last on our list of Cha Eunwoo dramas is a tearjerker starring Song Hye-Kyo as Mi-Ra and Gang Dong-Won as Dae-Soo. Mi-Ra and Dae-Soo are a teenage couple who realises that they are having a baby. Nervous but excited, they are filled with joy when their baby boy, A-Reum (played by Cha Eunwoo, then later, Jo Mung-Seok) is born. A-Reum grows up joyful and healthy, but after a while, his parents learn that he has Progeria Syndrome, a rare genetic disorder that causes him to physically age faster than his actual age.
Why you should watch it: Eunwoo may not be the main star of this project, but it's definitely one of his works that's worth looking into. It's a family drama and a coming-of-age story in one, giving a heartwarming narrative that will leave you both smiling and teary-eyed. We won't spoil it further, but trust us when we say that this is deeply underrated and definitely deserves more attention.
Watch it here.
Comments, questions or feedback? Email us at [email protected].