We're guessing that you clicked on this story for one of these things: (1) you're a fan of the True Beauty webtoon where this K-drama is based on; (2) you're a K-drama fan who's excited about the series because of the cast; or (3) you saw the trailer, got captivated and need to find out more. Whatever the reason may be, we're here to give you some answers.

But before we get to the details, let's sum up what True Beauty is about. This new tvN drama, which started airing this December (replacing the timeslot of Tale Of The Nine-Tailed), is about Im Ju-Kyeong (Mun Ka-Yeong), a high school student who uses her makeup skills to hide her issues about her appearance. Like any other typical K-drama rom-com, her life gets more complicated when she meets two handsome guys, Lee Suho (ASTRO's Cha Eun-Woo) and Han Seojun (Hwang In-Yeop).
It's safe to say that this drama isn't exactly the most unique out there. In fact, it resembles Cha Eun-Woo's previous K-drama
My ID Is A Gangnam Beauty
which starts off as a lighthearted rom-com but dives deep into overcoming insecurities when it comes to perceptions of 'ideal beauty'. That said, we won't tap into that aspect much. Instead, we're focusing on one of the dilemmas both webtoon readers and viewers are experiencing: are you Team Suho or Team Seojun?
While we're still not sure if the drama will follow the same direction as its source material, join us below in making a case for either based on the original webtoon.
Visuals: Team Both
Starting with the basics: it's no wonder why Mun Ka-Yeong's Ju-Kyeong will have a hard time picking between these two. Cha Eun-Woo has been dubbed Korea's Face Genius in real life — a nickname he shares with his character Suho. Hwang In-Yeop, on the other hand — despite being a newcomer in the K-drama scene — immediately stole hearts as soon as he was shown in the series' teaser. It's only fair to give this category to both of them.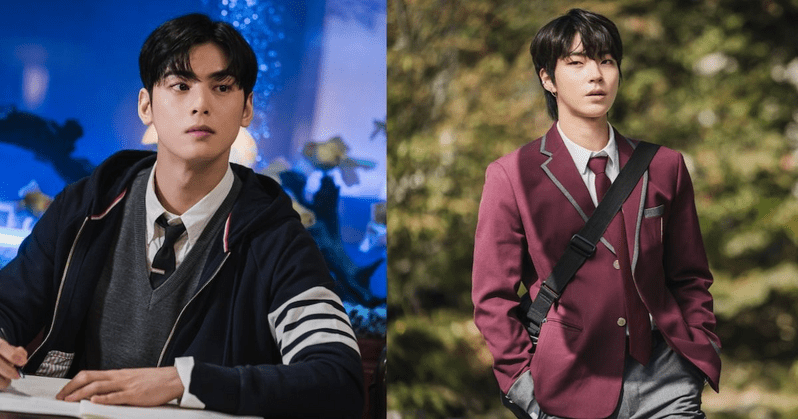 Personality: Team Suho
Both male leads show a cold personality at first. This is interesting because there's usually a difference in attitude between the first and second leads in a series. However, while they both end up showing a softer side to those they care about, we prefer Suho's curt bluntness from Seojun's rude and condescending attitude to those outside of his circle.
On the flip side, Seojun's ability to be more social and outgoing (perhaps due to his past as an idol trainee) is definitely admirable. This makes it easier for him to constantly talk and interact with Ju-Kyeong as their relationship developed. However, Suho's efforts to open up and be more generous towards Ju-Kyeong, especially since he started as repressive and socially inept, definitely makes him win this round.
Passion: Team Seojun
One of the best things about Suho and Seojun is that they both have things they are very passionate about.
For Suho, it's his academics, in which he excels not just because he's born a genius but because of hard work. In the webtoon, he's described as someone who enjoys studying even in his free time.
Meanwhile, Seojun's love for music is one of the main highlights of the original story. While we won't spill much, we're here to share that seeing him return to his love for singing and playing music in the series will definitely be a lot more intriguing than Suho's storyline. That said, we give this point to Seojun.
Backstory: Team Both
Our heroine may be the star of the story, but what's interesting about
True Beauty
's source material is that it also allowed both male leads to have their own in-depth backgrounds.
Again, we won't spill much but both leads go through their fair share of mental and emotional challenges that they slowly overcame. This makes their characters' development quite a treat to watch — but harder to choose which one to want to root for in the end.
Who should end up with Ju-Kyeong: Team Undecided
The biggest thing that fans of the webtoon are looking forward to in this drama is who Ju-Kyeong will really end up with. The source material is still ongoing with no clear winner (spoiler alert: Ju-Kyeong admits to having feelings for both leads). So we're hanging our gloves for this round and leaving it to
True Beauty
viewers to decide.
If you're looking for more K-dramas to add to your queue, why not try Bae Suzy's filmography next?
Comments, questions or feedback? Email us at [email protected].