You may know Hwang In Youp for his roles as Han Seo-Jun in True Beauty (2020) and the highly contested ending for his character. But did you know that True Beauty wasn't his first acting role? With just three years since his debut, his list of supporting roles — which never fail to deliver second lead syndrome — is already quite impressive. If you've been wanting to see more of him on the small screen, here are several shows you need to check out.
W.H.Y: What Happened To Your Relationship (2018)
Hwang In Youp's acting debut was on the web series W.H.Y, where he played Gi Jae-young, the main male character's best friend. It walks us through the trials and tribulations of 20-year-old Cha Yeon Woo (Jung Gun Joo) who was dumped by his girlfriend on their 100th day anniversary — a very significant milestone in Korean culture to signify wholeness. To distract him from his obsession trying to figure out why his relationship ended, his friends take him on a holiday to Jeju Island. There they meet two girls who help Yeon Woo move on from his breakup with humour and friendship.
Why you need to tune in: The web series is a short 10-episode show that you can binge-watch in one afternoon. It's just a simple, fun show where we see the sprout of In Youp's budding talent that we know today.
Freshman (2018)
In this drama, Hwang In Youp steps into the shoes of Seo Kyo-won, the cool popular guy who befriends the nerdy main character Cha Do-jin (played by Lee Jung Ha). Not only are they roommates sharing the same dorm room, but they're also in the school's drama club called "Freshman". Actors playing actors on a web series? We love to see it.
Why you need to tune in: The show's two male leads have a special friendship and interesting dynamic that's a refreshing change from love triangle rivalries we see often. The way we see it, it's the perfect example of a bromance!
The Tale of Nokdu (2019)
The historical K-drama The Tale of Nokdu was Hwang In Youp's official television debut. Here he played Park Dan-ho, a skilled and loyal swordsman to Cha Yool-moo (Kang Tae-oh) a.k.a the show's second male lead. It's set in the Joseon dynasty period, a popular trope in Korean television, and is based on a popular 2014 webtoon of the same title. It's about a man named Jeon Nok-du (Jang Dong-yoon) who disguised himself as a woman so he can enter a widows' village and discover his true roots.
Why you need to tune in: If you like historical romcoms, this show is a good one. You're also treated to a lighthearted performance by Kim So-hyun — who played the lead role in the drama Moon Embracing The Sun (2012) — as the hot-tempered Dong Dong-joo.
18 Again (2020)
ICYDK, In Youp's role as Goo Ja-sung in 18 Again was his last before he rose to fame in True Beauty. The show was the remake of Zac Efron's 2009 film, 17 Again. We watch Hong Dae-young (Yoon Sang-hyun), a middle-aged man having a mid-life crisis, as he's transformed back into his 17-year-old body and forced to go through high school again. Goo Ja-sung is the school bully and basketball captain who antagonises Dae-young's teenaged son. In Youp's character gets to show off his athleticism and bad boy vibes once again.
Why you need to tune in: Even if you're not a fan of the original film, the TV remake adds more lighthearted comedy and nuance to the characters. Give it a chance if you want a laugh!
The Sound of Magic (2021)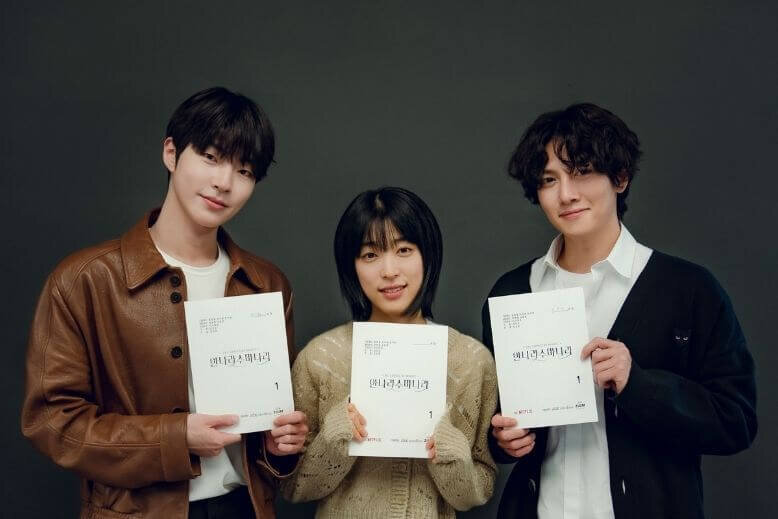 After True Beauty, In Youp's current project is the show The Sound of Magic, which is set to air on Netflix this year. Though it was just confirmed back in April, we can already surmise that this drama will explore magic and the value of enjoying your childhood while you can. It's based on the magical surrealist webtoon Annarasumanara, or the Korean equivalent for the magic word "abracadabra". It will star Ji Chang-wook (Lovestruck In The City) as the mysterious magician Rieul and Choi Sung-eun (Beyond Evil) as the normal schoolgirl Yoon Ah-yi. In Youp will play the smart but socially awkward student Na Il-deung, whose life changes as he gets to know the world of magic.
Why you need to tune in: We're used to seeing In Youp in charming, handsome, yet coldly distant characters, but hopefully this character will be a deviation from that.
Will we be seeing Hwang In Youp as the main lead role on television soon? We can only hope. But until then, these dramas will surely tide us over.
(Cover photo from: @hi_high_hiy)
Loved the K-drama The World of the Married? Here are other shows starring its talented cast.
Comments, questions or feedback? Email us at [email protected].