This article was first published on 1 April 2022.
One might think that a square face shape can be challenging to work with since it's characterised by strong and sharp features; its main features are a tall forehead and an angular jawline. But did you know that it's a versatile face shape that works well with many hairstyles?


Softening the look or emphasising your square face features
People with a square face shape are often told to choose between wanting to soften your look (specifically your jaw) or to embrace your angular features. But you don't really have to choose. Square-shaped faces have some of the most enviable angles that are worthy of flaunting – and yes, this applies to your strong jawline too.
Still, it's all about a look that makes you feel your best. So when choosing a look, think about whether you want to soften the jaw area and focus more on your other features or if you want to work all those angular features to reach their peak fierce potential.

Celebrities with a square face shape
Zendaya
, Margot Robbie, and Natalie Portman, Sandra Bullock, Rosario Dawson, and Gwyneth Paltrow are just some of the many celebrities who have a square face shape. They are all known for their beautiful facial features that look exquisitely fierce both on print and on the red carpet.
Do you have the same face shape as these ladies? Showcase your features best by checking out these 10 hairstyles that perfectly complement a square face shape.


If you want to soften the look of your jawline and highlight your cheekbones:
1. Loose waves + loose fringe
Loose waves combined with a loose fringe will perfectly frame your features, balancing the 'width' of your forehead with your jawline. The texture of the waves will also soften the look of the contours of your cheeks.
2. Long layered locks
The curtain effect of long layered tresses helps hide the sharp edges of the jaw and helps put the focus more on the upper portion of the face like the eyes and the cheeks. It's chic and easy to manage.
3. Voluminous waves
Voluminous waves at shoulder length or longer remove the focus from your angular jawline and complements your strong features effortlessly. This hairstyle also has a timeless, romantic appeal that fits almost every occasion and look.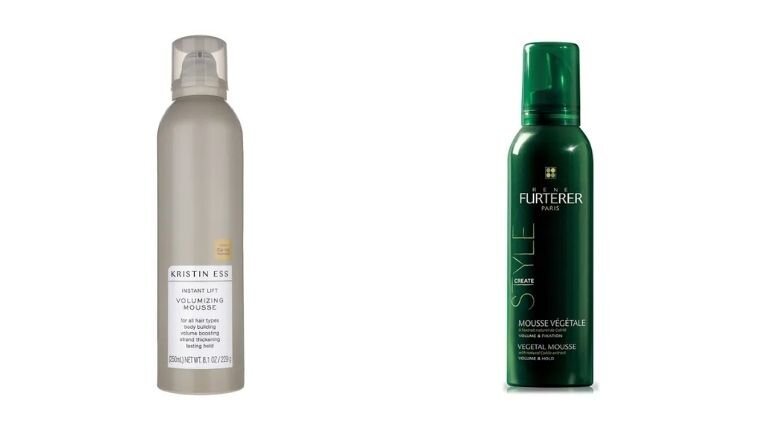 Left - Kristin Ess Instagran Lift Volumising Mousse. (Photo from: Sephora) Right - Rene Furterer Hair Style Vegetal Mousse (Photo from: Watsons.sg)
Give your hair texture and volume that will last all day with the Kristin Ess Instant Lift Volumising Mousse or the Rene Furterer Hair Style Vetegal Mousse. These both help the hair retain its body with an extra lift, keeping it looking its best without any sticky or tacky residue.
Get Kristin Ess on Sephora for SGD27 per 229g and Rene Furterer on Watsons for SGD29.60 per 200ml.


4. Short textured bob + dramatic side fringe
Short bobs aren't usually recommended for those with square-shaped faces because hair stopping at the jawline means the attention is directed to that specific feature. However, a great turnaround for this is by going for a textured bob. Texture is always perfect for creating soft frames around your strong features, while the dramatic side fringe adds a level of sophistication to the entire look.
5. Textured lob
This is another classic square face haircut to consider. It helps highlight your cheekbones and elongates the chin. It's also a chic and effortless look that can work for both casual and formal occasions.
6. Long apple bob
This simple yet sophisticated hairstyle works well for both casual and formal looks and is oh-so-easy to style. The apple shape also gives the jawline a softer, more rounded appearance, giving a youthful, overall vibe.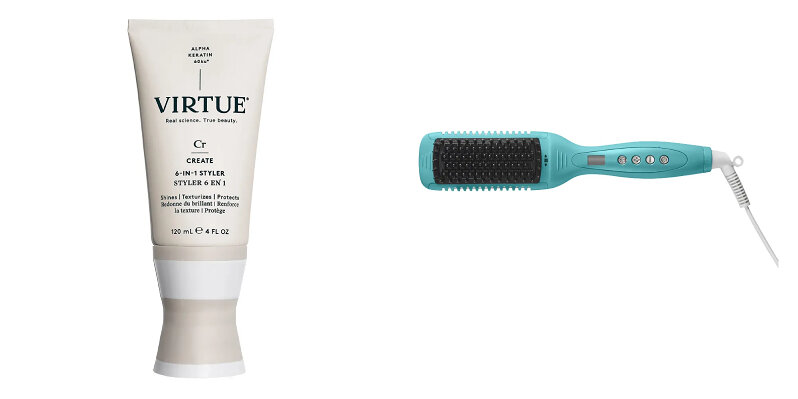 Nail the sleek and frizz-free hairstyle with a styling cream like the Virtue Labs Create 6-In-1 Styler and a heated brush like the Moroccanoil Smooth Style Ceramic Heated Brush that tame any flyaways!
Get the Virtue Labs Create 6-In-1 Styler for SGD59 per 150ML at Sephora. The Moroccanoil Smooth Style Ceramic Heated Brush is priced at SGD202 at Sephora.
If you want to accentuate your angular features and put the focus on your eyes:
7. Polished updo
Not everyone who has a square face shape prefers to soften their facial features. Sometimes, it's all about playing to these strengths, making a polished updo a great hairstyle to sport. The cleanliness of this hairstyle highlights all the strong points of your face and would work well for those who love strong eye makeup looks and sharp cheek contouring.
8. Sleek half-do
This hairstyle gives your square face shape a nice lift, almost similar to the effects of the
fox makeup trend
. The chin also looks pointier since the focus is more on the forehead and the eyes, with the loose lower ends creating a nice curtain effect for the lower part of the face.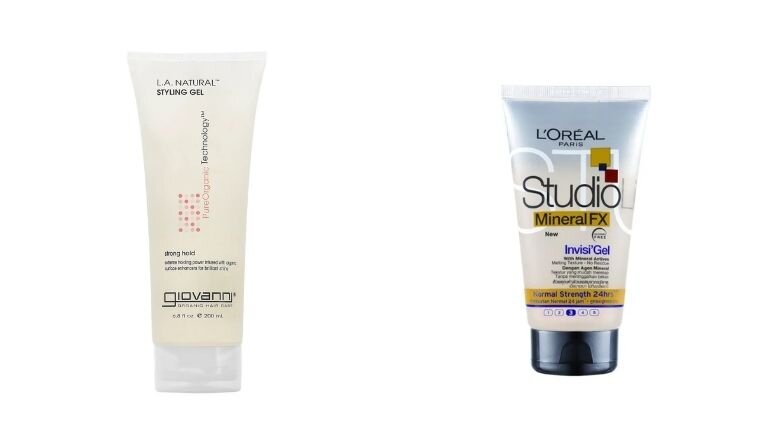 Ace that sleek look with a strong hold and high shine with the help of a hair gel like the Giovanni L.A. Natural Styling Gel or the L'Oreal Paris Mineral FX Gel Normal Strength.
Get the Giovanni L.A. Gel on Lookfantastic for SGD13 per 200ml and the L'Oreal Paris Gel on Watsons for SGD12.90 per 150ml.


9. Textured updo with a side-swept fringe
Loose, wispy strands always give any look that playful yet elegant appeal which is what can be said for this hairstyle. The loose locks on the sides soften the cheekbones while the side-swept fringe directs the attention to your brows and eyes without making things appear too striking.
10. Straight lob
A lob is another classic haircut to look into if you have a square-shaped face. This hairstyle elongates your face but still highlights your strong jaw and cheekbones. It's also clean and chic and the length allows for versatility when styling.
11. Textured pixie cut
A pixie cut is not something many people are too keen on because it's a bold hairstyle to pull off. However, if you want to bring out the fierceness of your angles, this is the look to go for. The corners of the jaw are softened because the attention is focused more on the eyes and the cheekbones. Meanwhile, the texture also adds height to the face, creating the illusion of an elongated face.
12. A high top knot
Accentuate your cheekbones, fierce eyes, and stunning jawline with this hairstyle. The clean look perfectly shows off your sharp angles in a chic and elegant manner while the position of the top knot gives the illusion of an elongated face.
(Cover photo from: @zendaya)
Comments, questions or feedback? Email us at [email protected].