This article was first published on 25 March 2022.
Blessed with long straight locks? Others are envious of how sleek and shiny they look, but there may be moments where you wished you could switch things up and create more volume and texture for your 'do. Hoping for tips on how you can style your long straight hair? Here are 11 fuss-free hairstyle ideas for you to try.
How to care for long straight hair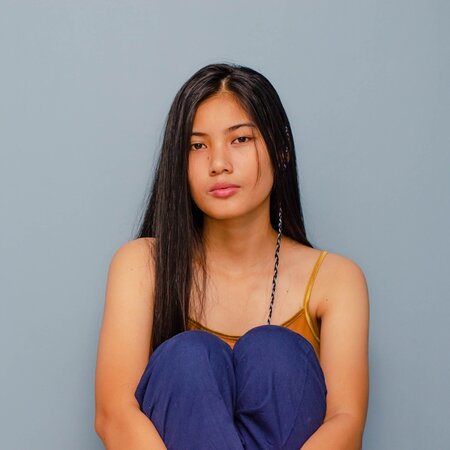 Your hair is prone to looking limp and flat when it gets greasy or weighed down by heavier hairstyling products. As such, focus on building volume with a lightweight texturising spray and a hairdryer.
Consider opting for a paddle hairbrush as well — it gently detangles your tresses and keeps your hair static- and frizz-free. Finally, make time to visit the hair salon every eight to 12 weeks. Your hairstylist should take care of your split ends and trim your tresses to keep them healthy and happy.
1. Ponytail wrap
Hide that hairband, stat. This wrapped ponytail hairstyle will take your look from casual to chic in an instant. Jazz up the look further by wearing your favourite accessory, such as a tortoiseshell barrette or a floral hairpin if you wish to.
Style it: Tie your hair into a ponytail using a thin elastic band and tuck a bobby pin underneath it. Grab a small section of your ponytail and wrap it around the elastic band to cover it. With a second pin, feed that section through and loop it across the first pin. Pull the first pin through and you're done! (Swipe the Instagram post above for a step-by-step tutorial.)
2. '00s braided strands
Love rocking a braided strand? Make it two. This hairstyle is a nod to the popular Y2K aesthetic and pairs well with pop-punk clothing, such as short pleated skirts and corsets. Throw in a handful of colourful elastic hairbands and you're good to go.
Style it: Part your hair down the centre and divide it into three sections on each side. Leave the front and back sections as they are. Then, grab the small middle section on one side and tie an elastic hairband near the root. Leave around a 3CM gap before tying another hairband around the same section. Repeat till you've reached below your ears.
3. Double pony
Double the pony, double the style impact. This hairstyle puts less pressure on your scalp and is a lot more comfortable to wear compared to a regular ponytail. Plus, it gives the illusion of longer tresses.
Style it: Divide your hair into two sections as you normally would for a half-up, half-down hairdo. Apply hairspray onto the upper section of your hair before using a hairband to secure it into a ponytail. Repeat for the lower section and include the upper ponytail. Then, use the hairspray again to put stray hairs in place.
4. '90s bun
Spotted on the likes of Bella Hadid, Dua Lipa and Jennie from BLACKPINK, the '90s bun has made a major beauty comeback this year. The best part? It's easy to create too especially if your tresses are long and straight to begin with.
Style it: Part your hair down the centre and pull the front sections loose. Then, put the rest of the hair into a ponytail before twisting and securing it with a claw clip. You can also use a hairband to wrap it into a bun. Keep it effortless, a little messy and casual. (Watch the video above for more claw clip hairstyle ideas.)
5. Sleek side part
When in doubt, take the sleek route. The sleek side part is an elevated take on your usual hairstyle and it involves the blow dryer, hair oil and hairspray to help seal the shine.
Style it: Grab the top section of your hair with a brush and direct your hairdryer towards it to create a little more height around your crown. Then, use a fine-tooth comb to part your hair down one side.
Apply hairspray and comb through your tresses to keep them straight and sleek. Gently pull the small portion of your side strands behind both ears and secure them with bobby pins. Finish off with another round of hair spray to lock in your look for the rest of the day.
6. "Ari" high pony

Singer Ariana Grande is known for her chart-topping hits as she is for her sky-high pony. Channel her look but add your unique flavour to it by decorating it with an assortment of fashionable hairpins.
Style it: Pull the top half of your hair — sans fringe and the front section — into a high ponytail. Create a deep side part with your fringe and front section of your hair and pin it to the back of your head, and underneath your ponytail. Use a comb and hairspray to keep this section as sleek as possible. This is important as it reduces the stress you put on the front and side of your scalp.
Then, pull your remaining tresses to the back and combine it with your existing high ponytail. Complete with your favourite hair accessories.
7. Braided half updo
Tired of your long fringe getting in your way? This braided half updo will keep those pesky front tendrils away from your face while adding volume to your crown. This is also a gentler alternative to pulling your tresses back with a tight hairband or a high ponytail.
Style it: Grab your fringe or the front section of your hair and apply the French braid technique. Put the rest of your hair back in a ponytail. Continue to add sections of your hair to the braid until you're close to your hair ends. Secure the braid with a bobby pin or a thin elastic hairband. Finally, let your ponytail loose and conceal your bobby pin or hairband with the rest of your hair.
8. Braided headband
No fancy headband, no problem. Add a little texture to your 'do with this hairstyle, which requires you to use your own hair to create a thin pleated headband.
Style it: Separate your hair into three sections: the front; a small section just behind your ears and the rest of your hair. Grab the small section from above one side of your ears and tie it into a thin braid until it reaches your other ear. Repeat this on the other side. Secure the braid with a bobby pin once it reaches behind your other ear. Carefully comb through the rest of your hair such that it conceals the bobby pin.
9. Scarf ponytail
Having a bad hair day or simply feeling uninspired? Create a fun #throwback beauty moment by tying a silk patterned scarf over your hair. This also adds a touch of vibrancy to your get-up.
Style it: Apply texturising or volumising hairspray onto your crown, or tease it gently using a fine tooth to add more height to your roots. Then, tie your hair into a ponytail near the nape of your neck. Wrap a scarf around your head and secure it with a knot below your ponytail. Pull the front sections loose for that casual, effortless vibe. Check out the video above for more ways to style your hair with a silk scarf!
10. Low bun
This heat-friendly hairstyle looks great for both formal and casual occasions. Plus, it takes less than five minutes to re-create and works on medium to long hair.
Style it: Apply a texturising spray over your hair. Then, gather your hair into a low ponytail, secure it with a hairband and gently pull small sections from the front to frame your face. Pinch small sections from the top of your ponytail to create more volume at your crown.
Place your left hand underneath your ponytail; twist the ends, and put it over your hairband and underneath your ponytail again. Use bobby pins to tuck in any more stray ends. You can also use a curling iron to curl your face-framing layers for a more feminine, romantic look.
11. Elevated pull-through braid




'Graduate' from the classic braids that you wore in school and attempt this pull-through braid hairstyle instead! This not only pulls your hair back but also creates a lovely texture for your tresses. Consider this look when you're donning a top or a dress that highlights your neckline and back.
Style it: Put a small top section of your hair into a ponytail with an elastic hairband and clip it to the front of your face with a hairclip. Repeat this step from the top of your hair to the ends. You should have four to five small ponytails depending on your hair length.
Then, release the hair clips — starting from the top — and split each ponytail into two sections. Place the ponytail above the current one over your head; pin it with a hair clip and release the two sections. Combine the sections with the next ponytail and repeat the steps above. Gently tug at each ponytail to create an inverted heart-shaped effect.


Looking for more hair-spiration? Refresh your tresses with these 10 at-home hair dyes.

Comments, questions or feedback? Email us at [email protected].