Reborn Rich, a Viu Original K-drama made in collaboration with South Korean TV Network JTBC, has been thrilling its viewers with a story that keeps you on the edge of your seat. It centres on a chaebol family (typically a filthy rich family owning a business that has subsidiaries across diverse industries) and involves elements of reincarnation, time travel, and more. It might feel overwhelming at the start, but if family drama, politics, and nostalgia are your favourite ingredients in a K-drama, then tuning into Reborn Rich will be an enjoyable ride.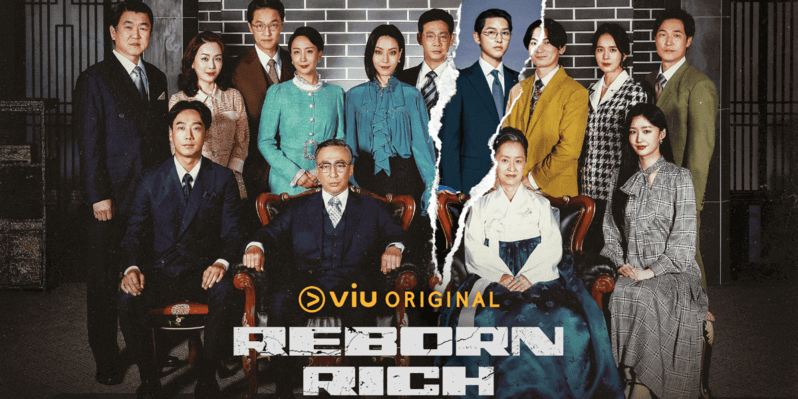 It premiered with the
highest ratings of any JTBC drama this year
and is the second K-drama to achieve this in JTBC history right after
The World of the Married
.
While waiting for the next episodes, watch the cast members of Reborn Rich shine in these other top-rated titles.


Song Joong Ki in Space Sweepers


Song Joong Ki has always been the dashing male heartthrob in titles such as
Descendants of the Sun
and
Vincenzo
.
Space Sweepers
gives him a new role as a father searching across the galaxy for his lost daughter, and he would do anything to earn money that will lead him to her. It's set in 2092 wherein space is littered with satellites and deserted spaceships. Song Joong Ki's character is one of the crew members aboard The Victory, which travels throughout space looking for saleable garbage while competing against other junk collector ships from various nations.
Here's a little fun fact: his 'Tae Ho' alias in Vincenzo came from this film.
Check it out if: you're on the lookout for a heartwarming space-themed film that everyone in your family will enjoy. Viewers have been impressed by its CGI, and it's also the first Korean work to be nominated for the prestigious Hugo Awards. Seeing how Kim Tae-Ri (from Twenty Five Twenty One) plays a badass captain is a huge plus too.
Watch Space Sweepers here.


Lee Sung Min in Misaeng: Incomplete Life
Before he was the towering CEO and patriarch in Reborn Rich, Lee Sung Min was the boss of Jang Geu Rae (played by Im Si Wan) in
Misaeng: Incomplete Life.
Lee Sung Min as the Section Chief Oh Sang Shik did not make life easy for Jang Geu Rae (a new intern who was lacking when it comes to his background and experience) at their workplace. He was sometimes protective of him at one moment and yelling at him the next. But after overcoming hurdles together, he grew to be a reliable father figure who truly cared for Jang Geu Rae.
Check it out if: you're in the mood for a realistic and relatable office drama. You'll root for the main character and love watching him grow as he navigates through the cold and brutal corporate world. If you're tired of the usual office rom-coms and you're a fan of the dark atmosphere and straightforward storytelling of My Mister, this one's for you.
Watch Misaeng here.


Kim Kang Hoon in When The Camellia Blooms

You would have to use up all your fingers when counting all the projects that Kim Kang Hoon has been in. While the 13-year-old actor may have a minor role in Reborn Rich as the younger version of Song Joong Ki's character, he has been capturing the attention of viewers with his impressive acting skills.
At such a young age, he's been in huge titles in the K-drama world such as Mr. Sunshine, Romance Is a Bonus Book, Hotel del Luna, 18 Again, and Start-Up. But he truly made his mark as Kang Pilgu in the award-winning drama When The Camellia Blooms. He played the loyal son of a single mother named Dongbaek who was ostracised in their neighbourhood.
Check it out if: you're looking for a unique rom-com that tackles the prejudices against a noona romance (being in a relationship with an older woman), being a single parent, and more head-on. Kim Kang Hoon's sincerity also simply oozes as he portrays his character.
Watch When The Camellia Blooms here.


Shin Hyun Been in Hospital Playlist

Before Shin Hyun Been was a tough prosecutor who seems to be out to take down the Soonyang Company in Reborn Rich, she played the role of Jang Gyeo-ul, a skilled general surgeon in Hospital Playlist.
Hospital Playlist is centred on five extraordinary doctors and their personal and professional struggles. While Shin Hyun Been plays a supporting role, her character as Jang Gyeo-ul was easy to sympathise with as she had a weakness when it came to social skills. Her chemistry with and storyline involving one of the leads, Ahn Jeong Won (played by Yoo Yeon Seok), also made audiences hungry for more.
Check it out if: you love themes of friendship, family, and a solid soundtrack. It was written and directed by the same people behind the Reply series and you'll find some parallelisms between the two, but Hospital Playlist offers a more mature take on life's difficulties, sicknesses, and joys. There's also no villainous character in this medical drama unlike its predecessors, so it's an easy and comforting watch too.
Watch Hospital Playlist here.


Where to watch Reborn Rich in Singapore

Reborn Rich is now available on Viu Singapore.
(Cover photo from: @jtbcdrama)
Comments, questions or feedback? Email us at [email protected].