Fifteen years after the 2007 fantasy-musical hit Enchanted came out, Disney globally releases its sequel Disenchanted today on Disney+.
Multi-award-winning actress Amy Adams reprises her role as the whimsical Giselle who has since adjusted to family life with Robert (Patrick Dempsey), Robert's daughter and Giselle's step-daughter Morgan (Gabriella Baldacchino), and her daughter with Robert, Sofia (Mila Jackson). However, things take a turn when Giselle's wish for a happily ever after goes wrong.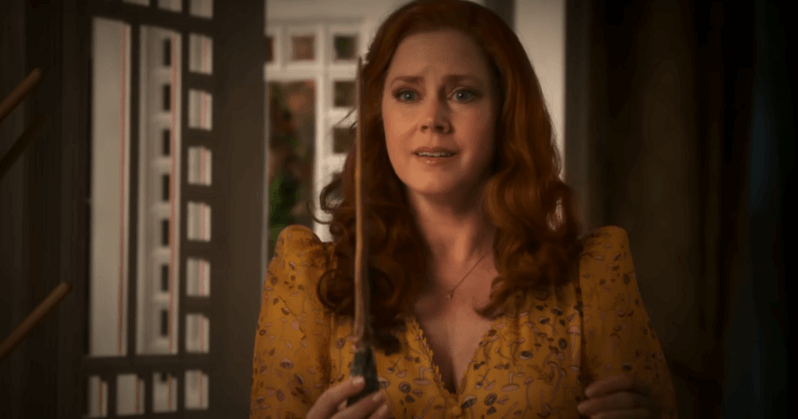 Curious about how this sequel performs compared to the original? We give you four spoiler-free reasons why we think it's just as good.
Disenchanted plot and cast
The movie starts with a recap of what
Enchanted
is all about. It re-narrates how Giselle, who was from the fairytale land of Andalasia, ended up in New York through a curse and eventually fell in love with Robert, a single dad raising his daughter Morgan. Giselle and Robert 'lived happily ever after'. On the other hand, their initial romantic interests, Prince Edward (James Marsden) and Nancy (Idina Menzel) ended up together. Giselle and Robert stayed in New York and started a family while Edward and Nancy became the king and queen of Andalasia.
After the recap, Disenchanted's story takes off with Giselle and Robert's decision to move to Monroeville. Monroeville is a quaint town away from New York's busy Fifth Avenue where they've been residing for the last 15 years. Morgan, who is now a teenager, isn't that happy with the decision, but her loving relationship with her parents, especially her step-mum Giselle, made her accept the situation as is.
Giselle was happy when they first arrived in town. We learn that she's still the same Giselle we loved in
Enchanted
. She still dresses a bit whimsically with patterned dresses and poufy sleeves and breaks into song every so often.
The movie also makes it evident that Morgan calls Giselle 'mum' instead of her first name, which is usually the Western norm when someone is referring to their step-parents.
Things aren't working out as Giselle had hoped, however, since her wish for a happy new start with her family seems to be making them even more miserable. She and Morgan also got into a fight, with Morgan saying that Giselle isn't really her "real mum" but just her "step-mum", hurting Giselle's feelings.
In the hopes of fixing things between her and her family, Giselle uses the wishing wand Edward and Nancy gifted Sofia to "turn [her] life into a fairytale."
While things started to get better at first, Giselle soon realises that her wish has consequences, including turning her into a villain in her own story.


Reasons to watch Disenchanted
1. It's made for the first movie's fans who are now adults
Disenchanted
focuses on the realities of what comes after the 'happily ever after' we'd seen promised in fairytales from we were younger. Even Giselle's sunny disposition couldn't escape the monotony and the dread that comes with dealing with lifestyle changes, problems within the family, dealing with clique-y neighbours, and the like. In the beginning, it even emphasised how marriage isn't the end goal, unlike how it is in books, but just the beginning for those who choose to venture into it. It effectively combines the fairytale with real-life knowledge that now-adult fans of the first film will appreciate.
2. While it covers real-life problems, it's still lighthearted and not a downer to watch
Now, we're sure you wouldn't want the sequel to have a really pessimistic plot that removes the magic and fun the first film delivered. . That's why we're so glad that this movie still ended up comedic and overall entertaining, despite tapping into serious themes about family, self-identity, and belongingness.
3. Idina Menzel has more songs this time
In
Enchanted
, Idina Menzel's participation was more like an easter egg for Broadway lovers (she's best known as Elphaba from Wicked) since the film is a musical. But since more people, especially Disney fans, have gotten to know her after she lent her voice to Elsa in Frozen, it would've been a wasted opportunity to not let her sing in
Disenchanted
. That's why Idina belting out more songs that showcased her powerful vocals is another plus about this movie.
4. Amy Adams is, as expected, still phenomenal as Giselle
The first movie worked so well because Amy Adams was able to make us believe that her character Giselle was really straight out of a fairytale. Her wide-eyed and overly optimistic persona that puts sunshine and daisies to shame is alluring and charming instead of cheesy and cringey.
Thankfully, her portrayal of the 'new' Giselle retained the sense of wonder and whimsy of the 'old' Giselle. But we're also glad to see that she's injected it with a sense of maturity and motherliness given Disenchanted's more current timeline.
And, of course, when her character started to transform into a different kind of fairytale stereotype, that's when her acting prowess really showed through. The way she flickered between 'good Giselle' and 'not-so-good Giselle' definitely contributed 90% of the film's greatness.


Where to watch Disenchanted in Singapore
Disenchanted
is now available to stream on
Disney+
.
Comments, questions or feedback? Email us at [email protected].