This article was first published on 20 June 2022.
Are you curious how K-beauty is doing lately? Trending Korean makeup looks are still constantly evolving, with so many celebrity looks emerging. If you haven't caught up on the latest, we're here to help you brush up on what's new and how to achieve them. From K-idol lashes to cool-toned smokey brown lids, here's how to do five trending Korean makeup looks inspired by our favourite K-celebrities.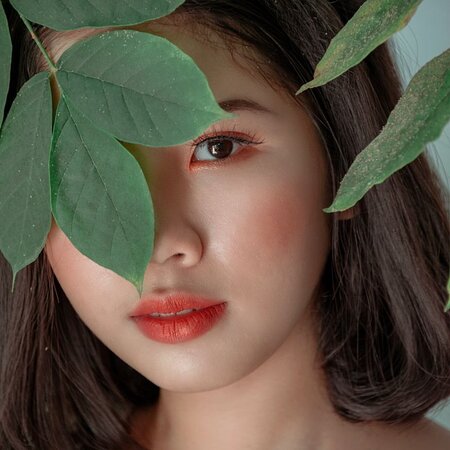 1. BLACKPINK Lisa's glossy orange-brown lips
BLACKPINK Lisa is always trending because of her stunning beauty looks be they from music videos or just her casual Instagram posts. The latest reason why she's the talk of the town is because of her attendance at the jewellery show.
Her gorgeous look at the brand's event, which was also attended by her fellow Bulgari ambassadors Anne Hathaway and Priyanka Chopra, featured a beautiful two-piece yellow dress and stunning jewels, complemented by a simple yet beautiful fresh makeup look.
It's not the first time we've seen glossy orange-brown lips from Lisa. The choice of the shade is a cross between just-bitten and levelled-up nude. We're glad she's worn the look with both casual and formal outfits to show off its versatility. (ICYMI, BLACKPINK Jisoo has her version of the look too.)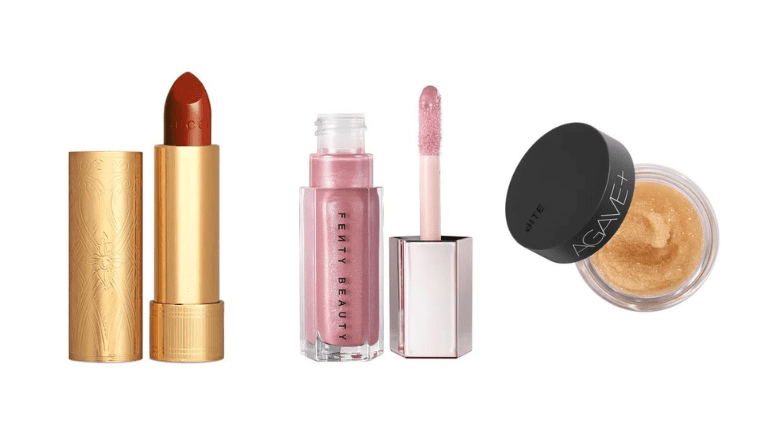 Suggested products: Gucci's Rouge à Lèvres Satin Lipstick in 505 Janet Rust (SGD59) and MAC Love Me Liquid Lipcolour in My Lips Are Insured (SGD43) are great options for the base.
Ofra Lip Gloss in Spicy (SGD29) and Fenty Beauty Gloss Bomb Universal Lip Luminizer in Sweet Mouth (SGD34) would make the perfect toppers. Plus, if you want to go the extra mile, Burt's Bees Lip Balm in Sweet Mandarin (SGD10) and Bite Beauty's Agave+ Lip Scrub (SGD36) are good choices for lip prep.

How to do this Korean trending makeup look:
1. This first step is optional but highly recommended. If you're totally committed to channelling Lisa's lush lips, prepping your puckers with a lip scrub or a lip balm is the way to go.
2. Once your lips are nicely prepped, take your lipstick or lip stain and dot the product around the inner centre of your lips. Using a Q-tip or your finger, gently spread the colour outward, creating a blurred gradient effect. Repeat this process until you're happy with the look.
3. Let the product set nicely and blot out the excess with a tissue to make sure the colour won't move.
4. Pack on that gloss, pucker up, and you're all set.


2. Cool-toned soft smokey eyes like Lee Sung-Kyung
K-beauty usually leans more on sweet and peachy looks but it's currently being overtaken by this sexier yet still very subtle smokey eye look seen on actress Lee Sung-Kyung. The cool-toned shadow gives the eyes a foxy lifted look that follows the skin's natural contour. It's completed with some tight-lining around the lashline, a soft highlight in the lower waterline, and feathered-out lashes, resulting in a fierce yet still casual vibe. South Korean dancer Hyejoon Jeong was also seen with this look.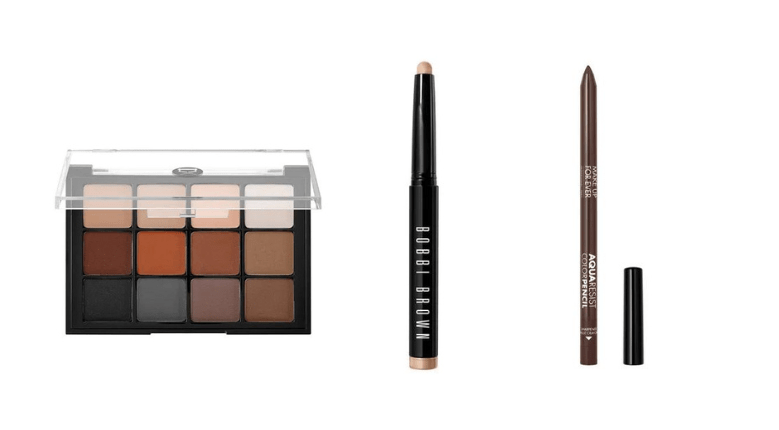 Suggested products: Charlotte Tilbury's The Super Nudes Easy Eye Palette (SGD100), Huda Beauty's Nude Obsessions Eyeshadow Palette Mini in Rich (SGD48), and Viseart's Eyeshadow Palette in 01 Neutral Mattes (SGD123) have the perfect cool-toned browns to serve as the base for the eye look.
Bobbi Brown's Long Wear Cream Eyeshadow Stick in Vanilla (SGD53) is an amazing choice for the inner waterline highlight. Get the Diorshow 24H Stylo Waterproof Eyeliner in 781 Matte Brown (SGD40) and Make Up For Ever's Aqua Resist Color Pencil Eyeliner in 2 Ebony (SGD36) for tightlining.
As for mascaras, we've got 10 options to choose from here.

How to do this trending Korean makeup look:
1. Using a fluffy eyeshadow brush, cover your lid with a cool-toned brown eyeshadow, following the natural curve of your crease. When you reach your outer V, softly drag the brush towards your temples to create a lifted illusion. With the same brush, diffuse the sharp edges of the shadow and drag the colour to your lower lashline.
2. Once you're satisfied with the shading, get a soft shimmery eyeshadow (preferably a stick) and lightly highlight your lower waterline (around your aegyosal). Blend, blend, blend to make sure it's not too harsh and that it mixes well with your smokey brown shadow. This will give the look a nice pop and a youthful appeal which is still the centre of many K-beauty looks.
3. Tightline your upper lashline to create the illusion of thicker lashes and to really complement your smokey eyes. Swipe on some mascara but don't go heavy-handed since you still want the look to appear light and wearable even during the day.


3. 'K-pop idol lashes' like (G)I-DLE's Miyeon
'K-pop idol lashes' are like the K-celeb version of
supermodel Twiggy's 60s lashes
minus the mascara clump. The look highlights separated doll-like lashes that give a wide-eyed effect but are still very nice and light to look at. (G)I-DLE's Miyeon perfectly nails this look, which is also seen in actress
Lee Se-Young
and Momoland's
Nancy
.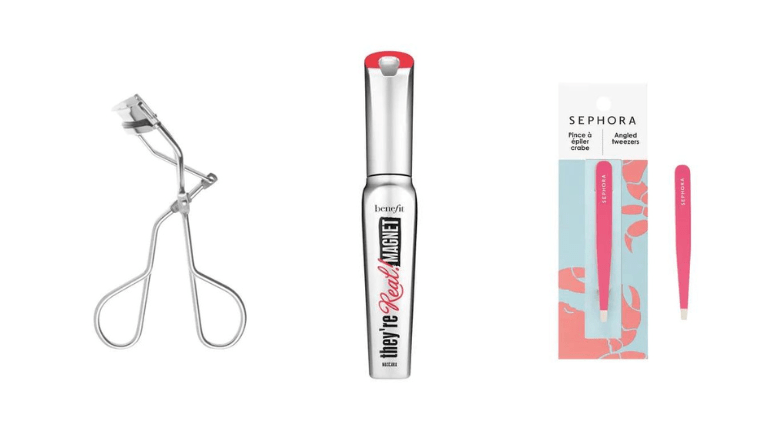 Suggested products: A trusty eyelash curler like the cult favourite from Shu Uemura (SGD30) or the Dior Backstage (SGD40) is needed to achieve this look.
Next, go for lengthening mascaras like Benefit's They're Real! Magnet Powerful Lifting & Lengthening Mascara (SGD47) or Pixi's Lengthy Fiber Mascara (SGD29).
Lastly, you'll also need tweezers. Anastasia Beverly Hills (SGD54), Benefit Cosmetics (SGD35), and Sephora Collection (SGD15) have some great choices for this beauty tool. You'd also need toothpicks or any thin wooden sticks, plus a lighter, for this trend.


How to do this trending Korean makeup look:
1. Curl your lashes to get them nice and lifted.
2. Apply lengthening mascara. Go for thin coats if you're doing more than two or three layers to avoid heavy-looking lashes.
3. Once you're done, use the tweezers to separate your lashes into doll-like segments.
4. Happy with how you've set your lashes? Take two toothpicks or any thin wooden sticks and carefully heat them. Gently clip your lashes between the two wooden sticks close to your lashline to 'iron' them out and keep them in place. Do this for a couple of seconds and remove the sticks after. That's it! Your K-pop idol lashes are ready for their close-up.
4. Apple cheeks like TWICE's Dahyun and Momo
While lifted eyes are entering K-beauty similar to its popularity in TikTok, blush trends remain the same. Since Korean makeup trends are still all about that youthful beauty, many celebs like TWICE's Momo and Dahyun still do theirs with the colour concentrated on the apples of the cheeks for that cheeky playful vibe.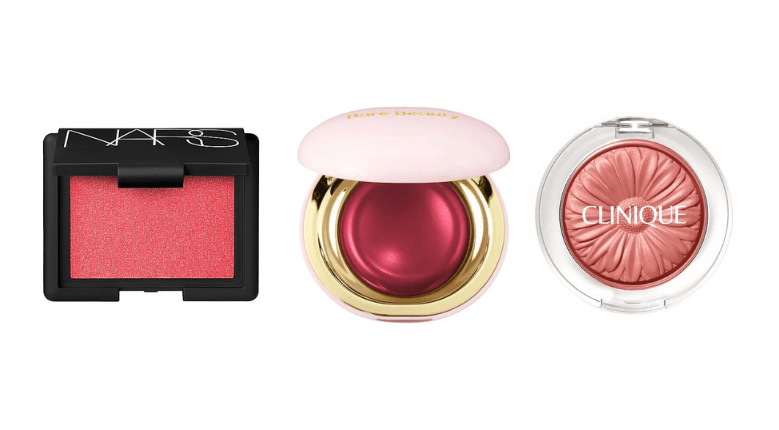 Suggested products: If we're talking pinched-on-the-cheek shaded blushes, there are tons of great options. There's the NARS Blush in Orgasm X (SGD52) which is a nice coral shade with hints of shimmer that works well with most skintones. There's also the Rare Beauty Stay Vulnerable Melting Blush in Nearly Berry (SGD34) if you love something in a cream formula. The Jill Stuart Bloom Mix Blush Compact (SGD61) and the Clinique Cheek Pop Blush in Ginger Pop (SGD40) are also amazing picks.


How to do this trending Korean makeup look:
1. Do your makeup as you usually do.
2. Once your base is beat and ready, smile and apply the blush on just the apples of your cheeks. Make sure you build the colour instead of immediately packing it on to make sure the colour turns out natural.
3. After applying the blush, look at the mirror with a straight face. If you used a powder product, get a clean fluffy brush and diffuse the blush in circular motions on the apples to deal with any harsh edges where the concentration of the blush stops. For cream products, let the product set for a bit before using your fingers to tap the product lightly onto the skin to achieve the same effect.
4. Finish your makeup like you usually do and set your makeup with a setting spray. Once the setting spray is dry, repeat Step 3. This will make the blush pop but still melt more naturally onto your skin.


5. Berry lips a la Jessica Jung
Pinks and nude lips are still much preferred by Korean celebrities, but when they choose to go bold, they go for a plump berry lip. K-Pop star Jessica Jung and Kim Se-Jeong love this trend. It's a good alternative to a red lip since it has a similar impact and yet the shade is more subdued. Berry lips are also versatile and easier to wear.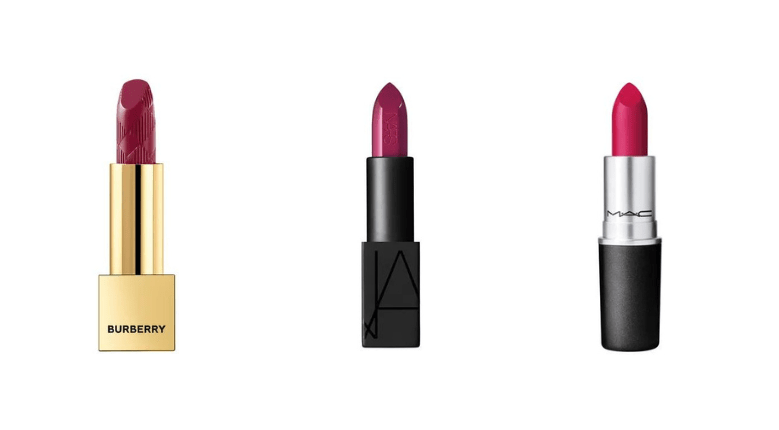 Suggested products: Burberry Beauty's Kisses Lipstick in 101 Bright Plum (SGD52), Bobbi Brown Crushed Lip Color Lipstick in Plum (SGD47), NARS Audacious Lipstick in Vera (SGD46) and MAC's Amplified Lipstick in Lovers Only (SGD33) are our top picks for this lip look.
If you love some added shine, here are non-sticky glosses you can choose from. A disposable lip product applicator or a Q-tip is optional.



How to do this trending Korean makeup look:
1. Similar to our first trend, prepping your lips as the first step is optional but recommended. Just like the rest of your face makeup, having a nice smooth base is key even for your lips.
2. Instead of applying the colour directly to your lips, tap on the lip colour using either a disposable lip colour applicator, a Q-tip or your middle finger. This will give you better control over the application and would give the lip look a powdery, diffused look. You'd like to concentrate the colour on the inner corners of your lips too and make the edges a lot softer. This will give the illusion of plumper lips without the need for overlining.
3. Once you're happy with your lip colour, it's time to add the gloss. However, don't swipe the product all over your lips. Dot the product on your lower lip then gently smack your lips together to give the lips a more natural shine. This also ensures that your base lip colour doesn't move around and simply melts onto your gloss for a more natural-looking finish.


6. Plump, glossy lips like NewJeans' Danielle
Like a nod to the Clean Girl aesthetic, Danielle sported this simple but stunning look for her video singing the Korean version of The Little Mermaid's Part Of Your World. We're totally loving the eye-catching shine on her lips that fits the mermaidcore vibe of the video.
Suggested products: Find lip glosses that pack on the shine without the sticky feel here.
How to do this trending Korean makeup look:
1. The key to a gorgeous lip look is to prep. Use a lip scrub or put on a lip treatment a couple of minutes before applying your desired lip look.
2. Then, apply the gloss to your lips. Our suggested picks already have some subtle tint to them to give your lips a touch of colour so you wouldn't look too pale wearing them. You may also use a lip liner before applying the gloss to give your lips more dimension.
7. Monochromatic rosy look inspired by BLACKPINK Jisoo's Flower
Jisoo's first solo release, Flower, is one of this year's most anticipated tracks. The song immediately went viral on TikTok and Reels, along with Jisoo's gorgeous rosy look in the song's earliest teaser photos.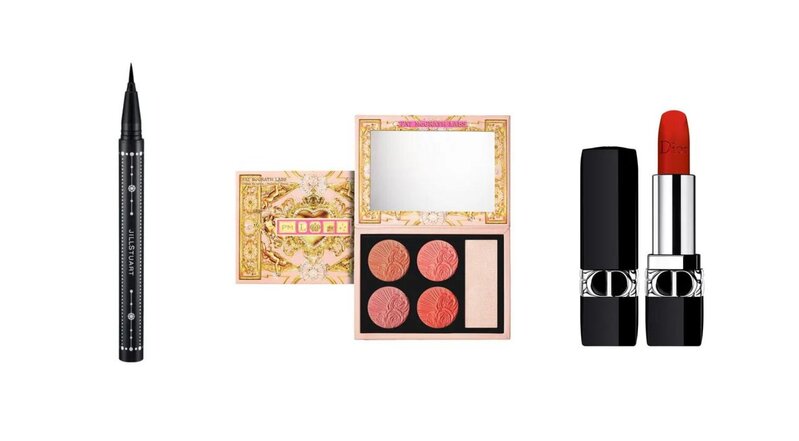 Suggested products:
The Jill Stuart Nuance Look Liquid Eyeliner in Sheer Black (
SGD32
) is great for getting a precise, but not too heavy-looking liner. Next, the Pat McGrath Labs Blush + Glow Palette in Nude Venus (
SGD95
) has a buildable and long-lasting formula that works well for both the eyes and cheeks, perfect for achieving a monochromatic look. And for the lips, our top pick is the Dior Rouge Dior Couture Finish Refillable Lipstick in 999 Velvet (
SGD62
) which has a great colour payoff that will surely result in an irresistible-looking pout.
How to do this trending Korean makeup look:
1. Do your base and brows as you usually do.
2. Once your base and brows are ready, proceed with the eye look. Get a transition colour to even out your lid before applying the Divine Blush 'Paradise Venus' all over the lid and the lower lash line. Make sure to build the pigment gradually and blend out any harsh lines.
3. Using the same shade, apply the colour on your cheeks, just right below the eyes for a drunk blush effect.
4. Finish the eye look by adding a winged liner and mascara.
5. For the lips, instead of putting the product directly, use a brush or your fingers to apply the colour to create a more diffused look.
6. Like Jisoo, you can switch up the colours to something bolder or subtler depending on your mood for the day. Top tip: go for floral colours like pink, red, and even purple to really channel her vibe.
Looking like your fave K-celebs doesn't have to be complicated. After you're done having fun with recreating these Korean makeup trends, don't forget to pop on an extra dose of confidence to pull the looks even better.

(Cover photo from: @sooyaaa___)
Next, channel your inner celebrity even more by getting hair tinsels! Here's how.
Comments, questions or feedback? Email us at [email protected].