As much as we love a classic winged eyeliner, it doesn't really suit everyone's eye shape. For example, it can pretty much disappear on monolid eyes once you relax your eyelid. If you have a downturned eye shape, you'd want your eyeliner to add some lift à la fox eye trend. Sounds intimidating? Don't worry if you don't know where to start. Read on for an in-depth guide on how to apply your eyeliner depending on your eye shape.
How to figure out your eye shape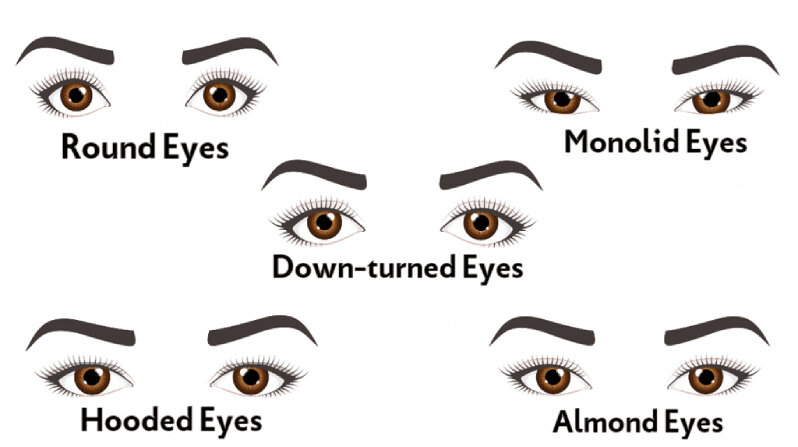 Before we get into the nitty-gritty of applying your eyeliner, you need to know the exact eye shape you have. In general, there are five types of eye shapes that people have: almond, round, monolid, downturned, and hooded.
Here's how you can know which one you have. First, pick up a mirror and look straight into it. Keep your eye area relaxed — no squinting, lifting brows, or frowning, please!
Almond eyes are longer than they are wide and narrower closer to the nose. Round eyes, on the other hand, are notably wider when open and even show more of the whites in your eyes. Downturned eyes have their outer edge pointing down and end lower than the inner corner of your eye, which creates a naturally "sad" and puppy-like gaze.
Hooded eyes have some excess skin that covers their crease and lid, giving the appearance of deep-set eyes. Monolid eyes, on the other hand, don't have a defined crease and limited eyelid space — a very common eye shape among Asians.
For almond shape eyes
If you have almond-shaped eyes, any eyeliner look will look good on you. Case in point: Ariana Grande, Beyonce, Angelina Jolie, and Mila Kunis. Just remember to keep your lines thin in the inner half by sticking close to your lash line and thicker on the outer half by gradually building up the thickness after you reach your eye pupil. A perfect example of this is Ari's signature winged eyeliner where the wing follows the upward direction of her lower lashline. Use a fine tip liquid eyeliner so you have more control over how thin and thick your lines are.
Try using the Stila Stay All Day Waterproof Liquid Eye Liner - Micro-Tip, which is designed for precise eyeliner looks. The ultra-fine tip makes it easy to apply the waterproof formula along the lashline and achieve a sharp wing.
It's available at Sephora for SGD38.
For round eyes
For rounder eye shapes, you'd want to elongate your eyes by extending your eyeliner past your tear duct and applying a light-hued eyeshadow or white eyeliner to open up that area. A winged eyeliner with a thick base that goes along your entire lash line can also make your eyes pop. Keep the wing thin but precise for a retro-glam look. You can use a gel eyeliner so you have more time to fiddle around before it dries down completely.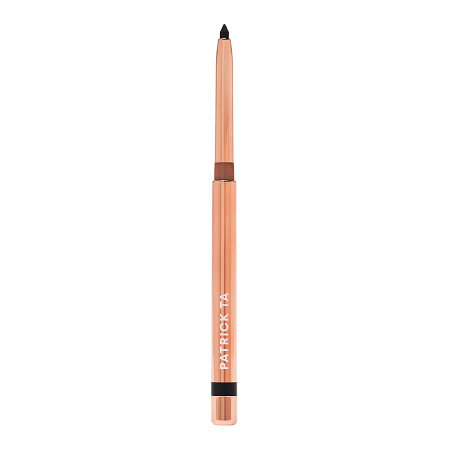 Try using the Patrick Ta Major Dimension Precision Gel Eye Liner. It glides on easily and lasts long on the eyes, plus its pencil form gives you a lot of control for precision. It comes in six shades, so you can play with colour too.
It's priced at SGD44 at Sephora.
For monolids
Monolid eyes, because of the limited lid space, need to apply thicker lines to be visible. Keep your eyeliner strokes close to your lash line and fill in any gaps. It's better if you can keep your eye open while applying the liner so you can see how it really looks, shared Fenty Beauty Global Makeup Artist Priscilla Ono with Glamour Magazine.
For a simple eyeliner look, you need to apply a thick line of eyeliner that will cover your lash line and the visible lid space when you open your eyes. If you want to do a cat-eye, you'd want to really extend the wing past where your crease should be. You can also make your eyes look rounder by keeping the outer edges thinly lined and focusing the heavy eyeliner to the middle, above your iris. It's also better to skip the undereye liner if you don't want your eyes to look smaller. Instead, you can apply a light coating of mascara to open up your eyes more.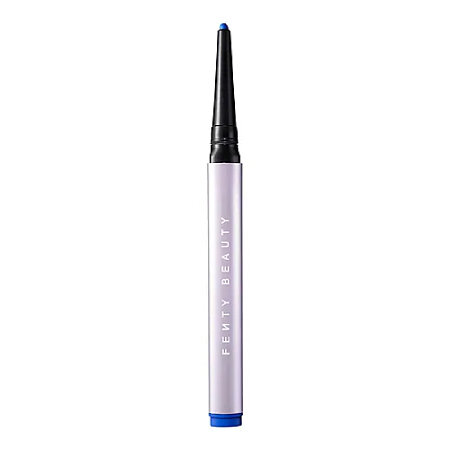 Try using the Fenty Beauty Flypencil Longwear Pencil Eyeliner. Its creamy and water-resistant formula is a perfect match for monolid eyes. The best part is it comes in multiple finishes and colours, so you don't have to stick with regular ol' black eyeliner which can make monolid eyes look smaller.
It's available at Sephora for SGD34.
For hooded eyes
Similar to those with monolid eyes, people with hooded eyes should focus on making their eyeliner visible with long, angled lines. Keep your eyeliner tight to your lash line, almost stamping it with your brush or pencil tip, before creating a sharp-angled wing. Don't let any product touch the overlapping skin to keep your eyes looking open and bright. You can apply a generous coating of mascara to help further brighten up your eyes too.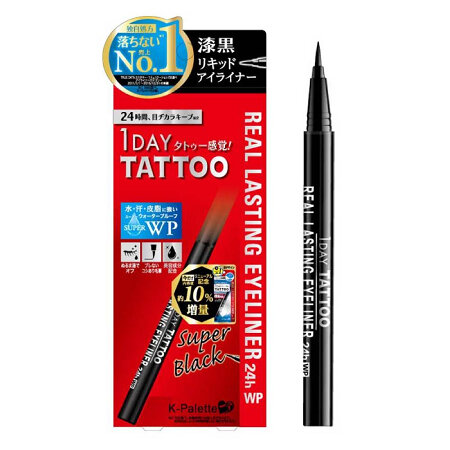 Try using the K-Palette 1 Day Tattoo Real Lasting 24H Eyeliner. It's well-known for its staying power and quick-drying waterproof formula, so you don't have to worry about developing panda eyes as the day goes on.
It's available at Watsons for SGD20.90.
For downturned eyes
If you have downturned eyes, you need to balance it out with a lifting eyeliner look. Keep the inner half of your eyelid thinly lined and gradually thicken it up towards the end. The "flick" or wing should be extending upwards at an angle to achieve a more lifted look. Instead of starting your eyeliner along your entire lash line, apply it just to the outer half of your eyelid. Pair it with some curled and wispy eyelashes to further accentuate your gaze.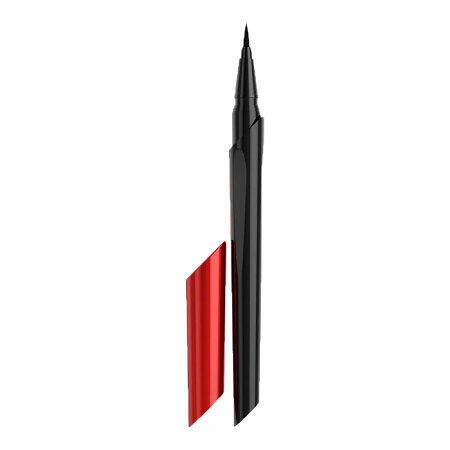 Try using the Smashbox Always On Liquid Eye Liner. It has a flexible felt tip that's perfect for creating both thin and thick eyeliner looks. The long-wearing, waterproof formula is designed to be sweat-, humidity- and transfer-resistant so your eyeliner stays sharp and lifted for hours.
It's available at Sephora for SGD37.
Now that you know how to apply your eyeliner according to your eye shape, you'll be acing your eye makeup looks in no time!
(Cover photo from: Anna Tarazevich via Pexels)
Ready to give these tips a try? Here are some smudge-proof eyeliners you can use.
Comments, questions or feedback? Email us at [email protected].