This article was first published on 14 June 2022.
ICYMI, hair tinsels (also known as 'fairy hair' or 'glitter extensions') are one of the latest hair trends today. They're perfect if you're in the mood to dress up your 'do in a more fun and noticeable way.
Unlike normal highlights or hair streaks, hair tinsels literally add shine and sparkle to your locks since you basically have multi-chrome foil strands mixed with your normal hair. Hilary Duff, Katy Perry, Megan Thee Stallion, Beyonce, and Kacey Musgraves are just a few of the celebrities seen donning this look.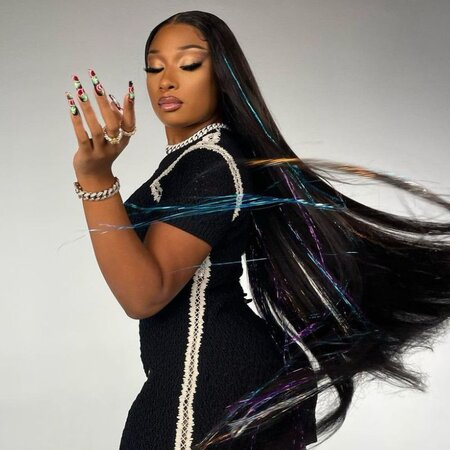 How do hair tinsels work?
Hair tinsels are attached to single strands of your natural hair by knotting the two together. There's also a microbead method where you put multiple tinsel strands in one bead and attach that to the hair.
After getting tinsels attached, maintenance is a breeze. In fact, there's really no special way of dealing with hair tinsels other than not tugging on your hair since you might yank out the strand the tinsel is attached to. Hair tinsels can also last for a week or even up to six months, depending on your haircare routine and natural hair loss patterns.
Ready to level up your current 'do with hair tinsels? Here are two ways to get them at salons in Singapore or at home.
Get them professionally done at a salon
There are many salons that offer glitter hair extension services. Here are some amazing options you can find in Singapore.
1. The Lash Chapter
The Lash Chapter allows you to select from a wide range of holographic tinsel colours to make sure that your chosen strands will match your vibe. They also have multiple branches.
Addresses: 402 Orchard Road, #03-20, Delfi Orchard, Singapore 238876; 1 Jalan Anak Bukit, Bukit Timah Plaza #01-26, Singapore 588996; 66 East Coast Road #03-06, Singapore 428778
Book an appointment via +65-9785-0439 or their website.


2. Glit AF
Glit AF was founded by content creator and entrepreneur Cleo Kim. The brand uses thin and lightweight tinsels to ensure that your natural strands won't be burdened even when you get these hair attachments on. The result? Healthy-looking strands revamped with some sparkles.
Address: 181 Orchard Road, #04-20/21, Dr.Lash @ Orchard Central, Singapore, 238896
Book an appointment via +65-9663-5940 or [email protected].

3. Shunji Matsuo Premier Hair Salon
Love styling your hair with heat? Shunji Matsuo's hair tinsels are the ones to check out. Their long-lasting and heat-resistant hair tinsels are said to last up to four to six months depending on your routine, including heavy styling. Awesome, right?
Address: Ngee Ann City, Tower B, #03-13A 391 Orchard Road, Singapore 238872
Book an appointment via this form or via +65-6238-1522 and +65-6258-1514

4. Black Hair Salon
Black Hair Salon is known for creating amazing hair transformations that range from pastel hair to rainbow locks. Top that with some glitter hair extensions and you're up for the whimsical hair makeover of your life.
Address: Capitol Singapore, 13 Stamford Road #B2-44, Singapore 178905
Book an appointment via +65-8893-9593 (WhatsApp) or +65-6835-9976 (Call).


5. Iconique Hair & Beauty Salon
Take your pick from multi-chromes or single-colour foil strands with Iconique's selection of hair tinsels. They also have special promos for removal or re-attaching a new set if you got your tinsels from them.
Address: Far East Plaza #03-51A, 14 Scotts Road, Singapore 228213
Book an appointment now via +65-9839-6506.
Do it at home
If you feel confident about your DIY skills, you can also try applying hair tinsels at home. Unlike bleach or hair colouring, glitter extensions are a lot less risky to work with, so it's also easy for beginners. However, it is still recommended to get someone to help you apply the strands at the back of your head.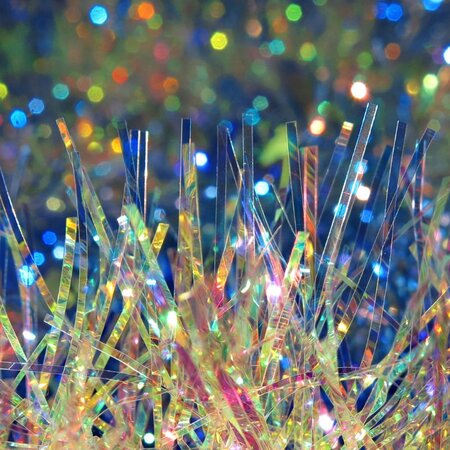 Hair tinsels are also achievable at home.

1. Get your supplies
The first thing you need to do is to buy your hair tinsels. You can get some from
Althea
(SGD8.80 per set),
LAZADA
(SGD2.49 per three pieces) or
Shopee
(SGD1.09 per strand).
2. Get a very small section of your hair and get a tinsel to tie around it
Select a portion where you want the tinsel to go. After that, wet the section with water to keep it sticking together as you prepare to attach the tinsel. Fold your tinsel strand in half. The folded side is now side A. From side A, move your fingers a couple of inches towards the middle of the folded tinsel and think of it as side B. Grab side B with your opposite hand to keep the loose tinsel sides in place. Using your other hand, stretch side A into a loop and grab the tinsel in the space between side A and B to create a loose knot.
3. With your loose knot, tie the tinsel on the hair and do three more knots to secure it in place
Once you have your knot, put it around the section of hair where you want to put the tinsel. Leave at least a quarter of an inch of space from your hair roots when tying it. Tighten the knot around the hair strand. You will now have two loose tinsel strands (side A and side B) on each side of the section of hair they're attached to.
Get side A and tie it around the section of hair in a knot. Do the same with side B. After you've tied both sides individually, get both sides A and B and tie them together to form one last knot around the section of hair they're attached to. Voila! You've got hair tinsel on. Just repeat the process as desired.
Hair tinsels may seem intimidating for daily wear but who's to say you shouldn't try it?
(Cover photo from: @lis.wall.cosmetology)
Comments, questions or feedback? Email us at [email protected].