This article was first published on 6 April 2022.
Business Proposal is one of the most hyped K-drama rom-coms streaming on Netflix right now. It stars Kim Se-Jeong as Shin Ha-Ri and Ahn Hyo-Seop as Kang Tae-Moo, strangers get into a messy fake relationship arrangement after a blind date gone wrong. The series finale aired on 5 April, completing a total of 12 episodes.


While the plot may seem cliche, the main leads and the rest of the cast definitely add to the charm of the drama. But where else can you watch them now that the series has ended? Below, find more TV shows to stream starring the
Business Proposal
cast.
Business Proposal
cast and who they play






Kim Se-Jeong leads the cast as the quirky food development researcher Shin Ha-Ri. Seol In-A plays Ha-Ri's best friend Jin Yeong-Seo, the happy-go-lucky daughter of a rich family. Meanwhile, Ahn Hyo-Seop takes the role of the drama's main male lead as the stern and workaholic CEO Kang Tae-Mu. He is assisted by his charming personal secretary Cha Sung-Hoo, played by Kim Min-Kyu. Veteran actor Lee Deok-Hwa also joins the cast as Kang Tae-Mu's grandfather, Kang Da-Koo.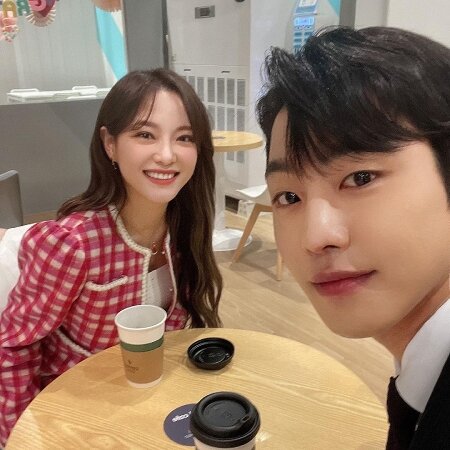 After watching them as these characters, enjoy seeing them in these series!
Ahn Hyo-Seop in
Lovers Of The Red Sky
Ahn Hyo-Seop joins the league of our favourite K-drama oppas by starring back-to-back in romance dramas. Prior to
Business Proposal
, he played Ha Ram in the historical drama
Lovers Of The Red Sky
opposite
Love In The Moonlight
's Kim Yoo-Jung. The story is set during the Joseon period and revolves around fine arts, as well as mystic arts. He also played Seo Woo-Jin in
Dr. Romantic 2
as the leading man of
Weightlifting Fairy
's Lee Sung-Kyung — which, BTW, is already filming its third season!
Why you should watch it: If you love historical K-dramas with a touch of romance and the supernatural, you'll definitely enjoy this TV show. Ahn Hyo-Seop's character in this drama is a 180-degree turn from his Business Proposal portrayal, proving that the actor can effectively act stern and cold or sweet and vulnerable depending on what the script calls for.
Read more about our thoughts on Lovers Of The Red Sky here and catch the series on Viu.
Kim Se-Jeong in
School 2017
Kim Se-Jeong recently appeared in 2019's
I Wanna Hear Your Song
and 2021's
The Uncanny Encounter
. But where she truly shone was in her first lead role in
School 2017
. She won Best New Actress at the 2017 KBS Drama Awards and Best Popular Actress in the 1st Seoul Awards for her portrayal of Ra Eun-Ho, a girl fighting along with her schoolmates against the corrupt school system.
School 2017
is part of the School anthology series which first started in 1999 and had its most recent iteration in 2021.
Why you should watch it: School 2017 is a good coming-of-age story that focuses on both the blissful moments and the challenging times students face before they enter young adulthood. It also gives adults in the story their own relatable arcs. Kim Se-Jeong's characters in Business Proposal and School 2017 are both charming and bubbly. However, she does well in shaping the unique personality of every character she portrays.
Stream the series on Netflix.
Kim Min-Kyu in
Snowdrop
and
Nevertheless,
Kim Min-Kyu already appeared in minor roles in buzzworthy dramas before he stole hearts as Cha Sung-Hoon (a.k.a. Ahn Hyo-Seop's dashing secretary in
Business Proposal
). He played one of the North Koreans in the controversial drama
Snowdrop
starring Jung Hae-In and BLACKPINK Jisoo and had a cameo in Han So-Hee and Song Kang's drama
Nevertheless,
(episode 8), only credited as 'the guy with the dimples'. After
Business Proposal
, he also had a starring role in
The Heavenly Idol
as Pontifex Rembrary (a high priest from another realm) and Woo Yeon-woo (a jaded K-pop idol).
Why you should watch these: Snowdrop and Nevertheless, are both compelling dramas despite their controversial storylines. Plus, they're still buzzworthy even months after airing. Kim Min-Kyu may not be onscreen a lot in both titles, but spotting his appearances after being charmed in Business Proposal will definitely add more fun to your viewing experience.
Check out Snowdrop on Disney+ and Nevertheless, on Netflix.

Seol In-A in
Beautiful Love, Wonderful Life
Before joining the Business Proposal cast, Seol In-A recently appeared in small roles in Mr. Queen (starring Shin Hye-Sun and Kim Jung-Hyun) and Record of Youth (starring Park Bo-Gum and Park So-Dam). However, she is most memorable in the 2019 drama Beautiful Love, Wonderful Life. Seol In-A played Jo Yoon-Hee, a former announcer who married a company CEO. The drama earned her the Excellent Actress Award in the 2019 KBS Drama Awards. After the success of Business Proposal, In-A went on to star as the female lead in Oasis, a coming-of-age K-drama set in the 80's and 90's. It follows the story of Oh Jung Shin, a beautiful young woman who gets caught in a love triangle between two ambitious male frenemies (played by Jang Dong Yoon and Chu Young Woo).
Why you should watch it: This drama is about four people finding their way back to love and happiness. The storytelling is straightforward and heartwarming, allowing the audience to truly immerse themselves in the story and relate to the narrative. Seol In-A's characters in both Business Proposal and this drama share the similarity of being a 'rich girl', but In-A's portrayal of the depths and complexities of their personalities give each character their own flair.
Stream it on Viki.
Lee Deok-Hwa in
The Red Sleeve
Veteran actor Lee Deok-Hwa joins the
Business Proposal
cast as Kae Tae-Moo's lovable grandfather Kang Da-Koo. He's known for his other roles in well-known dramas like
Suspicious Partner
(starring Ji Chang-Wook),
Hyde Jekyll Me
(starring Hyun Bin), and many others, but it's his recent role on the historical drama
The Red Sleeve
we're highlighting.
Lee Deok-Hwa plays the cruel King Youngjo, young prince Yi San's (Lee Jun Ho) grandfather. King Younjo is responsible for the death of Yi San's father and is the cause of Yi San's emotional trauma, which is one of the biggest plot points of the drama.
Why you should watch it: ICYMI, The Red Sleeve ended with magnificent ratings because of its compelling plot, amazing cast performance, and good balance between romance and politics (as needed in any good historical K-drama). We wouldn't spoil any more details but be warned: if you love Lee Deok-Hwa as a grandpa in Business Proposal, prepare to hate him in this drama. That's how good of an actor he is!
Check out The Red Sleeve on Viu.

(Cover photo from: @imhosyeop)
Comments, questions or feedback? Email us at [email protected].