K-pop fans, get ready to scream and sing your heart out at the upcoming HallyuPopFest Singapore 2023!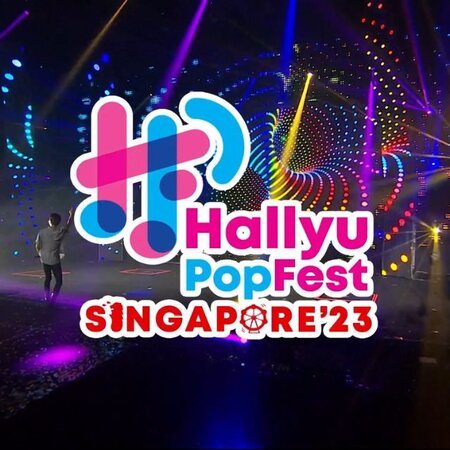 What is HallyuPopFest?
The last time HallyuPopFest was in Singapore was back in 2019. It debuted in the country in the previous year and became one of the biggest gatherings of K-pop artists in Asia (not counting South Korea and Japan).
In 2022, HallyuPopFest took it to the next level by going global with its London and Sydney shows and presented talented performers like EXO's Chen and Kai, ASTRO, (G)I-DLE, and more.


HallyuPopFest Singapore 2023 lineup
This year's lineup is an impressive one since it has
BIGBANG's Taeyang
as the headlining act. He just released his solo album this year, and you can expect him to perform his popular songs such as
VIBE
and
Shoong!
Sadly,
BTS' Jimin
or
BLACKPINK's LISA
won't be around though (they were featured on these tracks, respectively).
Aside from him, Kwon Eunbi will also be performing. She's a solo artist who was once the leader of the now-disbanded K-pop group IZ*ONE (fun fact: her fellow members in the past included Jang Wonyoung and Ahn Yujin). Eunbi's hits include catchy tracks like The Flash and Glitch.

Other than these solo acts, K-pop groups Kep1er, SF9, and DKZ are also part of the lineup.
Kep1er is an all-girl group consisting of nine members, namely, Choi Yujin, Mashiro, Xiaoting, Chaehyun, Dayeon, Hikaru, Huening Bahiyyih, Youngeun, and Yeseo. They debuted last year after becoming the finalists of Mnet's 2021 survival show Girls Planet 999. Their dance-worthy tracks include WA DA DA and Giddy.
SF9 is known for its well-loved idols slash actors like Rowoon and Chani. The other members of the seven-year-old group (they debuted in 2016) include Youngbin, Inseong, Jaeyoon, Dawon, Zuho, Yoo Taeyang, and Hwiyoung. Their latest song is Puzzle which showcases their elegant and classy vibes.
DKZ completes the lineup with its five-member group, namely, Sehyeon, Mingyu, Jaechan, Jonghyeong, and Giseok. While they might seem underrated, fans love them for their upbeat songs and unique concepts like Lupin and Cupid.


HallyuPopFest Singapore: tickets and location
The event is happening on 12 November at the Singapore Indoor Stadium. Mark your calendars because tickets will go on sale on 31 August at 10AM. They can be purchased via
Ticketmaster's website
. Some of the fan benefits for VIP ticketholders include a Hi-Wave session (which means that you can say "Hi" to your fave idols up close) and photo sessions.
(Cover photos from: @hallyupopfest, @sf9official, twitter.com/official_kep1er)

Comments, questions or feedback? Email us at [email protected].