This article was first published on 26 April 2022.
Is everything set for your wedding? Don't forget your hairstyle! Aside from holding your veil in place, your hairstyle during the big day also plays a huge role in framing your face and complementing everything about your look. That's why choosing the right 'do should also be part of your wedding planning.


How to pick the right hairstyle for your wedding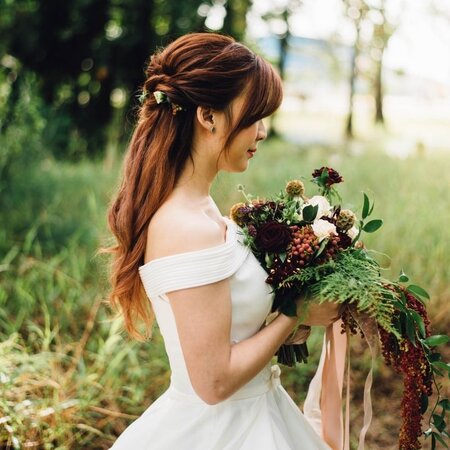 Are you going for an ethereal vibe? Something more playful? What does your dress' neckline look like? All of these have to be considered when thinking about your 'do for your wedding.
A classic option is an updo because it shows off the details of your dress' neck and backline, as well as the beautiful contours of your face. However, it tends to be more traditional and sharper, which may not fit more casual and laidback wedding setups.
While half-dos are a great alternative to full up-dos, stray hairs can end up looking frizzy and all over the place if your wedding is set outdoors or if you get a little carried away on the reception dance floor.
So many things to consider, right? But keep calm, bride-to-be! Below are 12 gorgeous wedding hairstyle ideas to choose from along with our top tips on how to sport the look best.


1. A volumised low-bun
If you want something clean and fresh-looking but still romantic and elegant, this wedding hairstyle is the way to go. It's simple but not blunt around the edges, creating a
soft frame around the face
.
Perfect for: all kinds of necklines. It's also an ideal bridal look for those who prefer a more laid-back look that can last from the ceremony to the reception.


2. Pinned up-do with dramatic side bangs
Here's another simple but elegant hairstyle to try. The pinned back creates a sophisticated vibe that's perfect for the occasion. Meanwhile, the dramatic side bangs not only soften any face shape but also draw attention to the eyes. This also works even if you have short to medium-length hair but would want to change things up for the occasion.
Perfect for: all kinds of necklines. It's also recommended for brides who wouldn't use a veil or who prefer a low veil to a traditional one since the hanging fringe adds drama to the look. Try to consider this 'do if you have a round face, too.
3. Half-do with a bold hair accent
Going minimal for your dress? Add a little oomph to your wedding look by dressing up your hairstyle instead. This half-do trails down your backline beautifully while preserving the simplicity of the look. Meanwhile, the bold accent (in this case, a ribbon) would give just the right amount of dramatic effect.
Perfect for: shoulder-baring necklines on simple dress cuts. This look also allows you to easily swap your bold accent with something else (or remove it completely) once you're set for the after-ceremony dancing.


4. Volumised high-ponytail
Not a fan of complicated looks? Power up that hair curler and go for this simple but fun wedding hairstyle. It's the perfect embodiment of 'business up front and party at the back' with its sleek top and
voluminous trail
.
Perfect for: no-veil looks or boat-neck dresses. This hairstyle is great for showing off the bride's neck and nape line while still keeping things chic, creating the right mix of sexy and elegant.

5. Side-parted loose soft waves
When in doubt, go loose. Soft waves are always a great look for any occasion and that goes for your wedding, too. The side part adds volume on top and gives the illusion of an elongated face while the sides help soften the contours of your temples and cheeks for that all-around romantic vibe. This is a hairstyle that works for most hair lengths, too.
Perfect for: boat necks, strapless dresses, and asymmetric shoulder lines. A great choice for brides who want to look extra sexy and sophisticated on their special day.


6. Sleek and straight
Curls may be the first to come to mind when it comes to special occasions but going
sleek and straight
is a great way to go too. This wedding hairstyle gives a pristine vibe that perfectly complements that stunning white dress.
Perfect for: boat necks, strapless, or thin-strapped dresses. This look is a little bit harder to maintain especially with all the movement during the reception, but you can totally pull it off with the right products on hand.
7. Hairband and fluffy volume
Don't like stuffy hairstyles that would leave your strands sticky and crisp with product all day? Here's another easy wedding hairstyle to try out. Go with your usual hair texture or
diffuse the tips of your hair
after applying volumising products to create body. Top it off with a hairband that goes with your dress and you're done.
Perfect for: strapless or thin-strapped dresses. This lets your hair trail down your neck and shoulders naturally for a soft and charming look.


8. 'Messy' twisted bun
This wedding hairstyle is soft and wispy, yet still sophisticated. It's achieved by curling your hair with a huge barrel and pinning it strategically to create the twisted effect that elevates your usual low bun.
Perfect for: all kinds of necklines. This hairstyle has the right mix of elegance and playfulness that makes it versatile from the altar to the reception dance floor.
9. Low bun with big loose strands
This whimsical wedding hairstyle uses strategically placed loose strands to highlight details of the entire look while still being subtle. It softens the cheeks with the placement of the bun, draws attention to the neck and backline with the loose curls at the back, and also frames the eyes with the wispy side fringes.
Perfect for: strapless and thin-strapped dresses. Make this look work best by leaving it as it is and avoid adding any more accessories to prevent it from looking messy and over-the-top.


10. Voluminous single braid
Another classic wedding hairstyle on this list: voluminous single braids. This look is simple, elegant, yet something that can easily be dressed up or down with the help of accessories.
Perfect for: boat neck, strapless or thin-strapped dresses, and asymmetrical shoulder lines. Drama, elegance, sexiness, and more — this hairstyle covers it all.
11. Ribboned half-do
Ribbons are back in the spotlight thanks to Barbie's looks. A half-do is the perfect style to pair with a bow for an elegant yet playful vibe.
Perfect for: all kinds of necklines. Keep the accessories to a minimum to make sure everything's balanced.
12. Pinned and pearled
If you don't want something too complicated for your wedding, go for your usual part, set it in place with a beautiful pearled hairpin and you're good to go. This look is comfortable, classy, and simply timeless.
Perfect for: strapless or boat neck dresses. Your gorgeous locks cascading down your shoulders or decolletage would look really elegant.
Thinking of getting the chop on your big day instead? Here are beautiful short hairstyles for Asian women to consider.
Comments, questions or feedback? Email us at [email protected].