Who knew that matte makeup would make a comeback this year? While K-beauty continues to captivate skincare enthusiasts with trends such as #GlassSkin, I've been drawn to #CloudSkin, a makeup trend that features more of a matte-meets-radiant finish.
To achieve this look, I decided to try out Make Up For Ever's Rouge Artist Velvet Nude Lipsticks. This lip product promises a comfortable matte finish and claims to flatter every skin tone and undertone. Will its creamy, matte formula work well on my dry, chapped lips? How will it fare against my olive skin? Read on to find out.
*The products were sent as a press gift. The views and opinions of the reviewer are independent and purely editorial.
Make Up For Ever Rouge Artist Velvet Nude Lipsticks: ingredients and claims
The Make Up For Ever Rouge Artist Velvet Nude Lipstick is designed to offer 16 hours of "voluptuous" comfort and 10-hour wear. Available in seven shades, it contains spherical powders to give lips a soft matte finish and hyaluronic acid to infuse lips with hydration for a plumper-looking appearance. It is also formulated with elastomers to create a smooth and soft texture that 'melts' into your lips.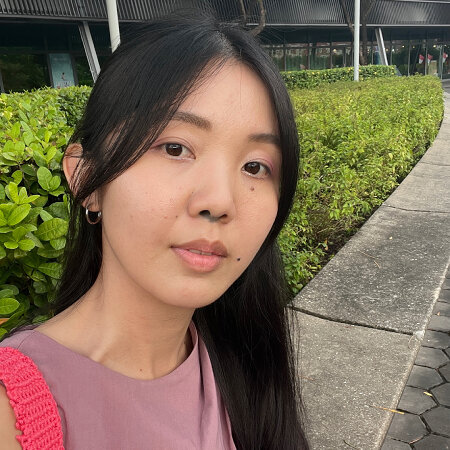 The packaging of the lipstick resembles a marker while the lipstick itself features a smooth, powdery-like texture. The product also has a slight scent that reminded me of gummy candy. I picked up two shades: 103 Warm Mocha, a warm coral nude shade, and 320 Cheerful Goji, a terracotta nude shade.
Trying on the Make Up For Ever Rouge Artist Velvet Nude Lipstick in '103 Warm Mocha'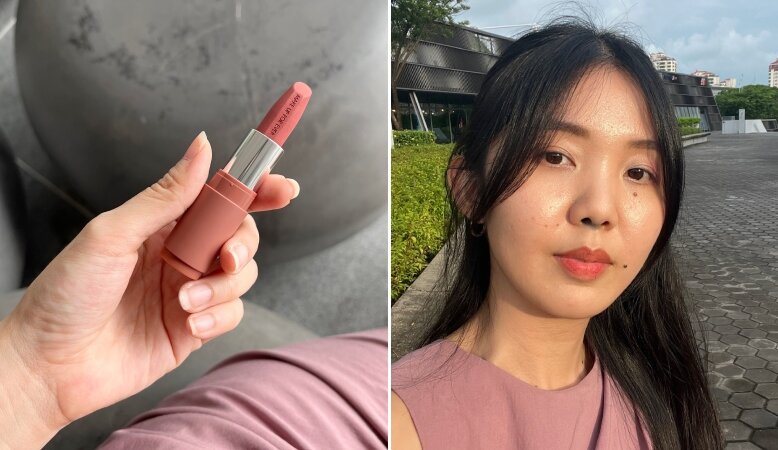 I chose the shade '103 Warm Mocha' as it looked like the perfect mix of an everyday nude hue and a rosy coral-pink shade. I noticed that the lipstick had created a soft, 'blurred' effect on my lips. I also used a lip brush to further soften the lines around the lips. You can consider using a lip liner if you'd prefer a more seamless blend.
I have extremely dry and cracked lips, and unfortunately, they were still visible even after I applied this product. I must note, though, that the product did not dry out my lips at all. Instead, it provided my lips with a comfortable, weightless finish while delivering a dose of colour to brighten up my matte makeup look.
If you're facing the same issue as me, consider exfoliating your lips with a gentle lip scrub before applying a thin layer of lip balm or lip primer — this helps you to create a more vibrant and even-looking lip look.
Trying on the Make Up For Ever Rouge Artist Velvet Nude Lipstick in '320 Cheerful Goji'
My next pick was '320 Cheerful Goji' as I was curious to see what a bolder red-meets-brown lipstick shade would look like on me. The result? A vibrant lip colour that enhanced my olive complexion. I would highly recommend this shade to those of you who aren't ready to rock a full red lip but still wish to wear a hue that makes a statement.
Final thoughts on the Make Up For Ever Rouge Artist Velvet Nude Lipstick
I am not the most adventurous person when it comes to experimenting with vibrant lip colours. I should also be working on my lip care routine and my lipstick application technique! That said, I believe this lipstick did a great job in offering a well-curated variety of 'My Lips But Better' shades with a slightly richer and bolder finish.
What's your go-to lip colour?
While the lipsticks aren't transfer-proof (I tested this by gently patting my lips using my fingers), their colour payoff is pretty decent — I wore this lipstick to a concert and my lips still looked rosy after five hours. I also appreciated how comfortable and weightless it felt on my lips. It did not have as much of a drying or cakey effect compared to your regular matte lipstick.

Make Up For Ever Rouge Artist Velvet Nude Lipsticks are great for beauty fans who would like to take a break from their high-shine glosses, and are on the hunt for something that's a little more classic. The lipstick is priced at SGD39 per 3.5G and is available via Lazada and Zalora.
What's makeup without proper skincare? Discover our curation of serums that will give you that beautiful glow.
Comments, questions or feedback? Email us at [email protected].