If you have oily skin, chances are you've tried and tested several products and found that they cannot hold up to the oil-slick your skin turns into by mid-day. That's why products like the KVD Beauty Good Apple Serum Foundation always pique my interest.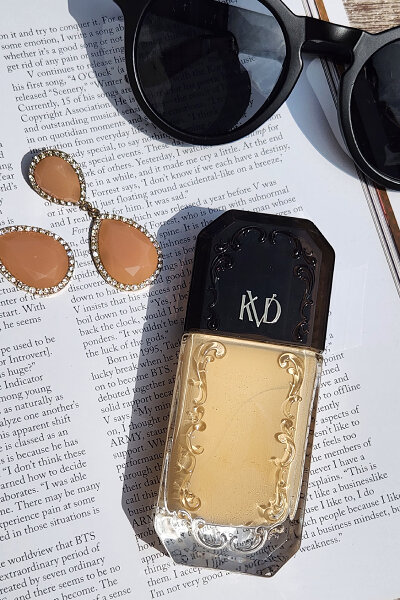 It promises to be a maximum coverage yet still a lightweight product that's made for oily, acne-prone skin and can stand up to sweat and humidity. Will it be a match made in makeup heaven for my oily-combination skin? Read on to find out.
*The product was sent as a press gift. The views and opinions of the reviewer are independent and purely editorial.
KVD Beauty Good Apple Serum Foundation packaging
If packaging can be a work of art, the KVD Beauty Good Apple Serum Foundation seems to be a masterpiece. The clear glass bottle has beautiful embossed detailing that elevates its look. It has a small pump, which I liked for its hygienic benefit. However, you still need to wipe off the small "nozzle" so no product is left behind.
The brand also says the bottle is recyclable, but do check your local recycling facility's guidelines.
First impressions, claims, and ingredients
I've heard good things about KVD Beauty's popular Good Apple Skin-Perfecting Foundation Balm, so when the brand released a liquid foundation version I admit I was intrigued.
Quince leaf extract is the hero ingredient that interests me the most. According to the brand, it helps keep the shine in check "instantly and all day". Though the formula dries matte, it contains nourishing apple extract and glycerin to help keep skin looking fresh and hydrated.
The brand also claims that the formula is vegan and cruelty-free.
Applying and using the foundation
Shade matching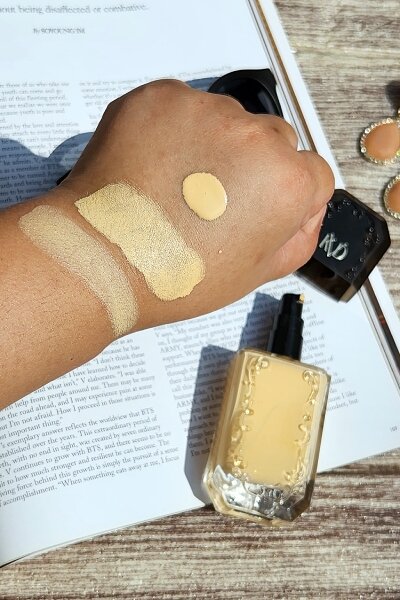 The brand is very transparent about the difference between how the foundation looks when wet versus dry. I picked the shade L021, which is recommended for light-medium skin with warm golden undertones. For your reference, I use the shade NC25 in MAC Cosmetics. It looks very light — almost a shade or two too pale to match — upon first application. Once it dries, the foundation oxidises to a slightly deeper shade. So if you're thinking of picking this product up, it's best to swatch it in person before buying.
Best application method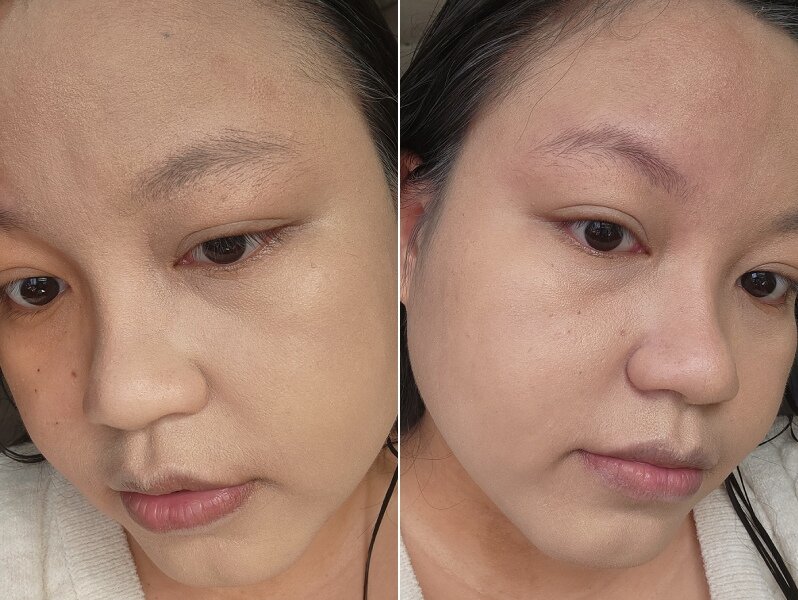 I tried two methods of application. The first way is with a flat-top brush and the second way is with a beauty sponge.
With the flat-top brush, it's easier to cover my face with foundation in the shortest amount of time. While I liked how time-efficient this method is, I noticed that the foundation dries down too quickly. You'll have to spray a face mist to rehydrate it enough and avoid any brush streaks.
It's the same effect when using a sponge. In fact, you'll notice some separation just a few minutes after applying. So you have to be patient and take the time to ensure that everything blends well. A combination of the two methods will give you the best result. Skincare prep is also a must to avoid dry patches, so don't forget to apply hydrating products and a hydrating primer too.
How do you prefer to apply your foundation?
I find that you don't have to use a setting powder to achieve a matte finish, though it claims to have a natural finish, so you can use it sparingly to keep shine at bay or skip this step altogether.
Wear test
KVD Beauty's complexion products are known for their staying power, so how did the foundation perform in a wear test?
Despite the learning curve that came with finding the best way to apply the product, there are a lot of things I like about its performance. For one thing, it's very lightweight. I feel like I'm wearing a skin tint or a tinted moisturiser — but with significantly more coverage — once it has fully dried.
It also holds up well to any excess sebum my skin produces throughout the day. While it doesn't keep my skin shine-proof, it stays more matte compared to other products I've tried. Just keep some oil blotting sheets and a lightweight powder in your purse for touch-ups.
While it claims to be transfer-proof, I notice that it comes off on my protective face mask and when I blot with a tissue. But in terms of being non-comedogenic, I'd say it delivers since I don't notice any breakouts after every time I use it.
Final verdict on the KVD Beauty Good Apple Serum Foundation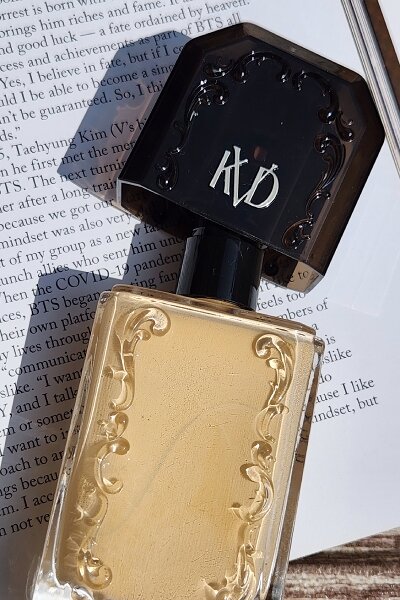 The KVD Beauty Good Apple Serum Foundation is one of those products that you'll either love or hate depending on your makeup preferences. As someone with oily-combination skin, it's one of the better ones I've tried. However, there are some that are still better.
If you're looking for a high-coverage foundation that still feels lightweight on the skin, this may be something you're interested in.
Price and where to buy in Singapore
Want to see if this foundation is a good apple for your skin? You can find it at Sephora Singapore where it's priced at SGD64 per 30ML.
Next, see how we achieved the cloud skin makeup look with Make Up For Ever's Velvet Nude Lipsticks.
Comments, questions or feedback? Email us at [email protected].