What does your mask-free makeup routine look like? I've been favouring multi-use products that can help me build that effortless-looking, 'girl-on-the-go' kind of look. That's why I knew I had to try out Laura Mercier's new blush formula iteration of its iconic moisturiser, the Tinted Moisturiser Blush because it's safely tested for use on cheeks, lips and eyelids. Will this product help you achieve that highly coveted, 'no makeup' makeup look? Read on to find out.
*The product was sent as a press gift. The views and opinions of the reviewer are independent and purely editorial.

Laura Mercier Tinted Moisturiser Blush: packaging
Applying makeup feels like painting on a canvas sometimes — agree? This came to mind when I first saw the Laura Mercier Tinted Moisturiser Blush's squeeze tube packaging. The tube is largely opaque except for a small portion that gives users a peek at the product's exact shade.
To dispense the product, you simply need to twist open the cap and squeeze the tube. With each tube holding 15ML of product, I'd say the product's packaging size makes it easy for you to pop it into your makeup pouch or purse.
Laura Mercier Tinted Moisturiser Blush: first impressions and claims
I'm a fan of skincare-makeup hybrid products because they not only deliver skincare benefits but are also designed to complement our makeup moments.
The Laura Mercier Tinted Moisturiser Blush does just that since it is formulated with "ultra moisturising botanicals" that claim to deliver "12 hours of weightless tinted hydration". Think ingredients such as raspberry seed oil to condition the skin and prickly pear, which contains water-building compounds to hydrate the skin. The product also claims to be fragrance-, sulfate-, and paraben-free.
Applying the Laura Mercier Tinted Moisturiser Blush in the shade 'Southbound'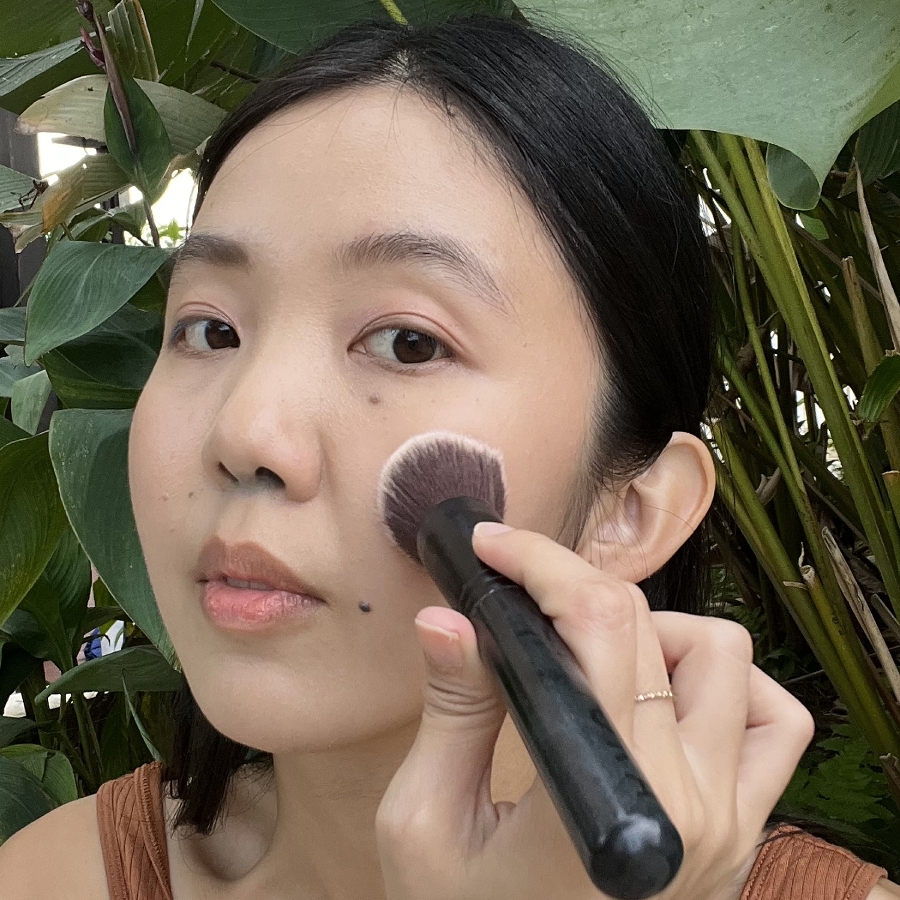 To create that 'blushing beauty' makeup look, I decided to go with the Tinted Moisturiser Blush in 'Southbound', a peachy pink shade. When I first dispensed the product onto the back of my hand, its shade looked pretty bright hence I was worried that it wouldn't suit my olive skin tone.
Fortunately, I was proven wrong. The blush looked subtle, beautiful and effortlessly natural against my complexion. It has a smooth creme finish that 'melts' onto the skin. After setting my base makeup with liquid foundation, concealer and brow powder, I used my ring finger to apply the product onto the apples of my cheeks before using a gentle tapping motion to spread the product across the top of my cheekbones. For better control and for a more 'diffused' look, I touched up my blush with a powder brush as well.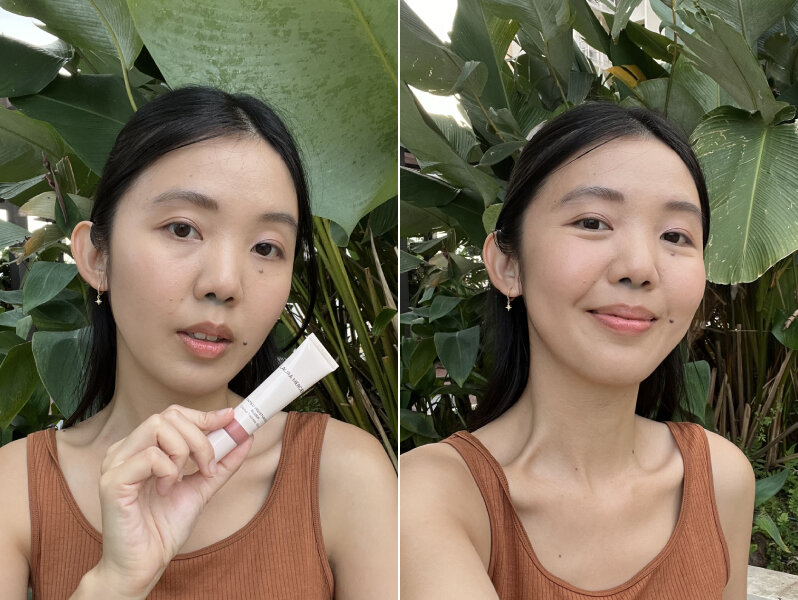 I decided to create a Patrick Ta-inspired monochromatic rose makeup look by applying the product to my eyelids and lips. I capped off the look with glitter eyeshadow and a swipe of my lip oil to give my makeup a little more radiance. I love this makeup look because it's very easy to re-create especially for occasions when I need to look natural yet put together.
Wearing the Laura Mercier Tinted Moisturiser Blush in the shade 'Coastline'
The next Laura Mercier Tinted Moisturiser Blush shade that I tried was 'Coastline', which the brand describes as a cappuccino-coloured hue. I've never really tried brown or mauve-themed makeup looks so I wasn't quite sure if this shade would suit my complexion and style. Following the same base makeup routine comprising foundation, brow powder and concealer, I proceeded to apply the blush onto my cheeks. I was surprised to see that the shade looked very natural against my olive skin.
Just like the Laura Mercier Tinted Moisturiser Blush in the shade 'Southbound', this shade also gives users a beautifully smooth, creme finish. To complete the look, I went with a light brown powder eyeshadow and burgundy under eyeliner. I dabbed the Laura Mercier Tinted Moisturiser Blush onto my lips too before using a lip brush to even out my application.
I'd say this makeup style still looked very natural, but I'd prefer to go with this for classier occasions, such as evening get-togethers or dinner dates.
Which blush shade would you pick?
Final thoughts on the Laura Mercier Tinted Moisturiser Blush
I've always assumed that I only looked good in peach-coloured blush. But after trying out Laura Mercier's Tinted Moisturiser Blush in the shades 'Southbound' and 'Coastline', it made me motivated to step outside of my neutral colours comfort zone a little more. It pays to be a little experimental sometimes and don't knock it until you've tried it!
Switching from my usual powder blush to a creme finish liquid blush was also a pretty interesting experience as different formulas can help you to create different types of makeup looks. In all, I'm a fan of the texture, finish and colour payoff of Laura Mercier's Tinted Moisturiser Blush.
My blush still looked pretty fresh after eight hours of wear, but those who prefer strong makeup looks can apply a few more layers of the product to achieve their desired shade.
Where to buy Laura Mercier's Tinted Moisturiser Blush
Ready to look like a blushing beauty? The Laura Mercier Tinted Moisturiser Blush is priced at SGD48 per 15ML and it comes in 10 shades. Find it at Sephora.sg and Lazada.
Can't wait to remove your makeup after a long day? Here's the 411 on Fenty Skin's 'Melt Awf' Jelly Oil Makeup-Melting Cleanser.

Comments, questions or feedback? Email us at [email protected].