Every week, there's a new TikTok beauty trend that piques my curiosity. The latest one? The Strawberry Makeup Look that's all about getting a natural sunkissed flush without necessarily hitting the beach. This gave me the perfect opportunity to whip up and try the Nudestix Nudies Matte All Over Face Bronze to see if I can achieve that burnt blush look that all the it girls on my For You Page are currently wearing. Curious about the results? Read on to find out.
*The product was sent as a press gift. The views and opinions of the reviewer are independent and purely editorial.


Nudestix Nudies Matte All Over Face Bronze packaging
The Nudestix Nudies Matte All Over Face Bronze comes with a tin box with a mirror on the lid. Inside is the product in a dual-ended tube with the bronze stick on one end and an applicator brush on the other. The brush twists off so you can clean it after use.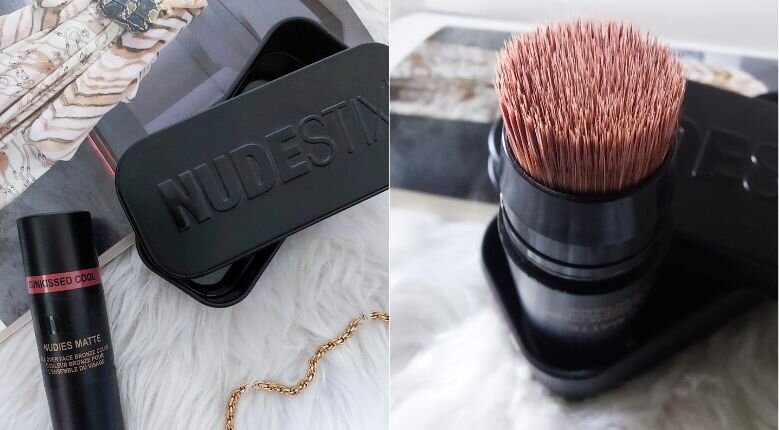 According to Nudestix's
website
, several of their products come in reusable and recyclable tin packaging to encourage sustainability and reduce single-use paper and plastic. However, I'm personally not a huge fan of it since it is a bit clunky and there's really not a lot you can put inside it other than the product itself to be considered 'reusable'. The brand does offer tips on how to reuse or recycle the tin cases, but overall, I'm just not sure how that's going to be viable for every consumer so I'd rather do without it.
As for the tube itself, I like that the product circumference is the perfect size to get the right amount of product on the cheek. The side with the bronzer is also retractable, which gives me better control of how much product I'd like to swipe on. The tube size isn't too big or small and can fit my travel bag or my daily purse easily. The caps are also pretty sturdy and secure so I don't have to worry about accidental unsealing when I put the product inside my bag.
Finally, the brush. It's nice, soft, and dense and I understand the practicality it offers. However, I think the product is fine without it, especially for reasons I'll elaborate later in the review.
First impressions, claims, and application
The Nudies Matte Bronze claims to be a multi-use stick for the eyes, cheeks, and lips as with most Nudestix products. I got the shade Sunkissed Cool which is a cool medium terracotta shade. It leans more towards red than brown which makes it feel more like a blush than a bronzer, in my opinion. However, since I'm aiming for that sunkissed burnt blush look, I do think it fits the bill just right.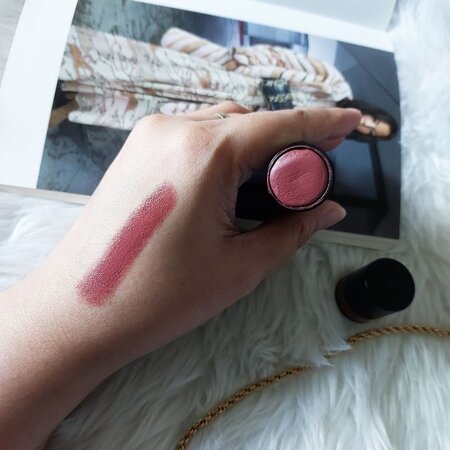 To achieve the Strawberry Makeup Look, I first did my base very lightly, using only a hint of skin tint and some concealer. Once done, I swiped the product directly onto my base, wondering if it will lift my skin tint and concealer in any way. Thankfully, it didn't. It glided on smoothly and gave me great colour payoff even with just one swipe. It also isn't tacky and doesn't need a lot of pressure for the pigment to show on the skin.
I usually blend cream products on my cheeks using my fingers and then finish things off with a sponge so I used the same technique for this product on one side of my face. The result was a nice flush, which definitely sheered out the initial pigment a bit but still delivered amazing colour. I wanted a more sunburnt look so I tried to build the colour even more and I find that it's perfectly buildable.
On the other side of my face, I tried blending the product using the brush it comes with. I wasn't a fan of this application method as the brush distributes the product unevenly onto my skin, leaving some areas looking patchy. It's a good thing the product leaves enough time for blending before it sets into a matte-but-not-flat finish, allowing me to fix the patchy areas with my fingers and my beauty sponge.


What do you usually look for in a cream bronzer?
I also used the product on my eyelids. I was surprised at how well it blended and set on my lids without any harsh lines or creases, especially considering it's a cream product. It's not as pigmented on my lids compared to my cheeks, but it is effective in giving the lids some dimension.
For the lips, it's a bit too sheer for my liking, but people who prefer a more natural my-lips-but-better shade would surely find this appealing as well.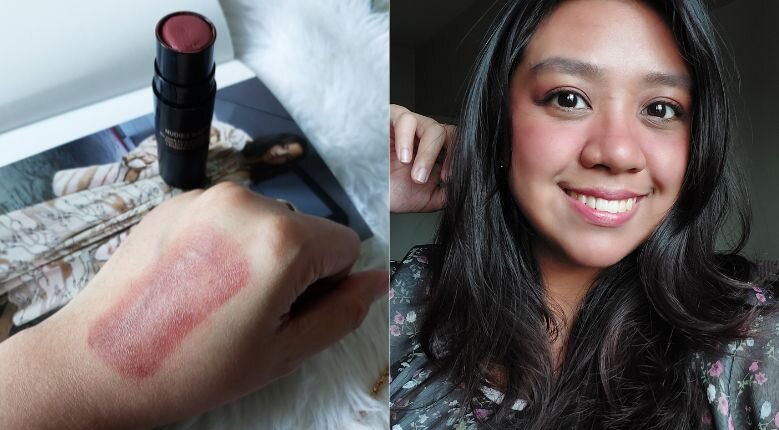 Longevity-wise, the Nudestix Nudies Matte lasted a good six hours on my cheeks and lid with very minimal colour fading without using setting powder or setting spray. I found that it lasts a bit longer (seven to eight hours) if you set it. Overall, for a cream product, I'd say it has a pretty solid staying power.
Final verdict on the Nudestix Nudies Matte All Over Face Bronze
As someone who's fallen in love with cream bronzers and blushes over the past couple of years, I'd say the Nudestix Nudies Matte All Over Face Bronze clawed its way into my favourites pile effortlessly. It's easy to use, buildable, and great to carry around for travel or in my everyday purse. It doesn't come with a super-friendly price tag, but a little goes a long way and it performs wonderfully as a multi-use product.
The shade Sunkissed Cool isn't exactly a bronzing shade, but there are nine shades in total to choose from. For someone with a medium skintone like me, Deep Maple, Eh (warm bronze-brown tan) or Manila (warm rose brown) may be the best choices for a brontour effect.


Price and where to buy it in Singapore
Ready to achieve the Strawberry Makeup Look or any kind of sunkissed look with this product? Get the Nudestix Nudies Matte All Over Face Bronze at
Sephora
for SGD57 per 7G.
Comments, questions or feedback? Email us at [email protected].