In a world where there are a lot of blush options for every beauty lover, beauty brands still find a way to give us more. More colour, more formulas, and more benefits. Recently, Gucci Beauty threw its hat in the blusher game with its first powder blush, the Blush de Beauté. And according to the brand, it's made for pure creative expression.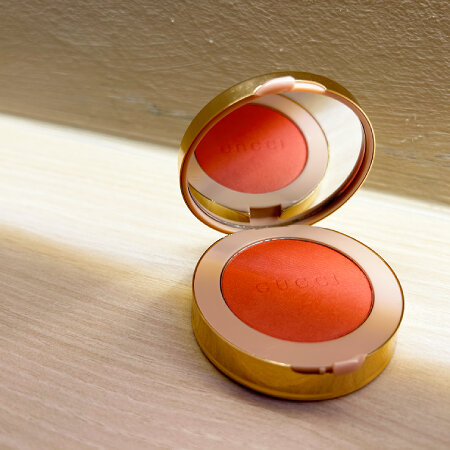 To see if it's worth the splurge, #TBLBureau Campaigns Manager and powder blush enthusiast Chloe tested it out in her daily makeup. Curious to know how it performed? Read on.
*The product was sent as a press gift. The views and opinions of the reviewer are independent and purely editorial.
Gucci Beauty Blush de Beauté packaging
Fun, cute, with a dash of retro will sum up the blush's packaging. "The packaging is very elegant and simplistic. It has a pastel pink cover with multiple star patterns," Chloe shared. "There are gold-toned designs on the borders so it gives off a very vintage feel too!"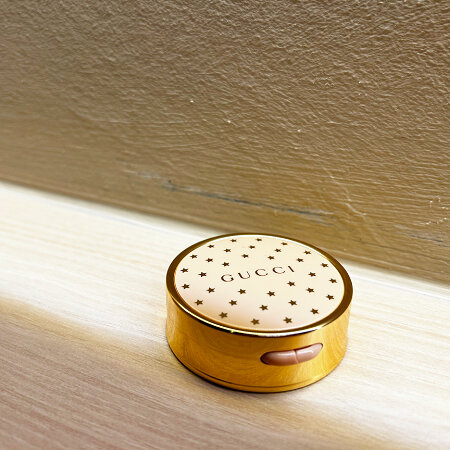 It's not a coincidence that there are vintage details on the component. According to Gucci, the blush's packaging is created to be a treasured compact. Plus, its travel-friendly size should be ideal for on-the-go applications.​
First impressions, claims, and ingredients
"Personally, I prefer powder blush so that's the first thing I look out for. I also want a high pigment blush that blends easily and more importantly, a natural-looking colour that flatters my skin tone," Chloe explained. "It's my first time using Gucci Beauty products so I'm excited and have high expectations because I've known Gucci for its high-quality goods."
What do you look for in a blush?
"When I first saw it, I was attracted to its cover followed by the embossed powder with the GUCCI logo within," Chloe said. "The pop of colours that are in the range — there are six currently — is really nice too. I find that the formula is quite multi-purpose and versatile since it can be applied to cheeks and eyes."
The blush is formulated with an ultra-thin powder that's chosen for its smooth application. It also has emollient waxes and pigments, as well as shea butter that help prevent dryness. Hyaluronic acid delivers hydration, while black rose oil lends its soothing properties to the formula. The result? A buildable, long-lasting luminous matte blush, that you can use to create a versatile range of looks.
According to the brand, the blush has been dermatologically tested and promises to be non-comedogenic, so it should be suitable for all skin types, even sensitive skin.​ However, it does have a floral scent called "Vintage Peony" which may be a hit-or-miss for some people. So definitely patch test the product before buying.
Applying the blush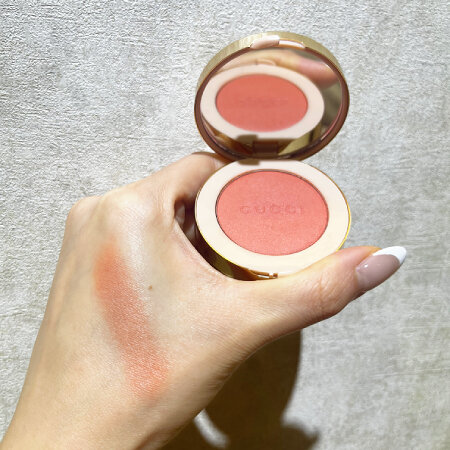 So how does it look on the skin? Smooth like butter, according to Chloe who has dry skin. "I find the blusher's formula very smooth and you can build it up for a more intense look without looking too heavy or cakey. It's easy to blend with it's soft and smooth texture." She also noticed that it didn't cling to any dry patches on her skin.
Chloe chose the shade 08 Soft Red for her fair skin tone. "It has the right mix of colour tones that complements my skin without being too coral, red, or pink. It's just nice!"
She also likes how it starts with medium coverage. "It took about three swipes to blend out the blush. Overall, it turned out to be a bright, natural glowy look."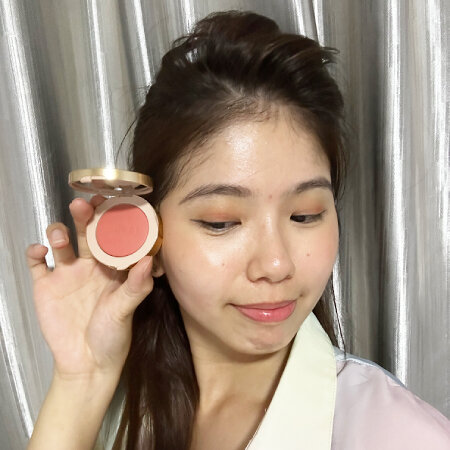 But what's the best way to apply the blush? For reference, Chloe used a blush brush throughout this review. "I feel that this way blends out colours on my skin tone better by giving it a natural look."
And if you're wondering how it holds up against Singapore's humidity, there's no need to worry. "It lasted about 8 hours while I was out in the hot sun and the colour stayed from day to night. It really impressed me to see that I still looked fresh at the end of the day."
Final verdict on the Gucci Beauty Blush de Beauté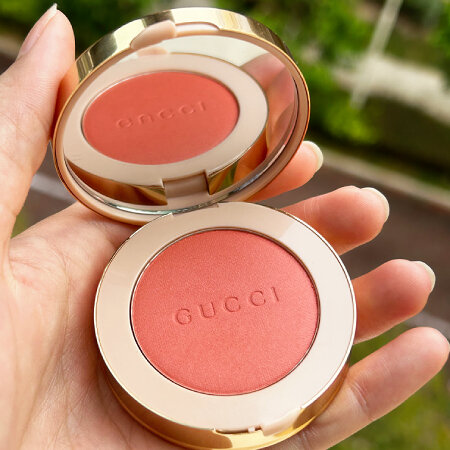 As a first-time user of Gucci Beauty products, Chloe was definitely not disappointed with the Gucci Beauty Blush de Beauté.
"I would recommend it to my friends who are into luxe beauty and don't mind paying a premium price for a high-quality product," she explained. "It's good to know that it has hydrating ingredients, but it's the luxe feel that they'll really enjoy. It's an intangible feeling that cannot be replaced."
So if you have the means to splurge, you should definitely consider picking up Gucci Beauty's first powder blush.
Price and where to buy it in Singapore
Want to try the blush too? It's available at the Gucci Beauty counters and Sephora Singapore for SGD95.
Looking for a new foundation? Check out our review of the KVD Beauty Good Apple Serum Foundation.
Comments, questions or feedback? Email us at [email protected].