As someone who rarely goes out of the house, I admit that I can be very lax about applying body sunscreen. The only times I remember to apply one are during weekend beach trips. I've been trying to change this bad habit, so I've been looking for a lightweight, dual-purpose, and water-resistant SPF product that will help.
I was curious to try the Ultra Violette Extreme Screen SPF 50+ because it's an Australian-made product — they're known to be more strict with their SPF products — and a skinscreen (sunscreens with skincare actives). To put it to the test and see if it could protect my skin without greasiness, I brought it to a beach getaway. Read on to know more!
*The product was sent as a press gift. The views and opinions of the reviewer are independent and purely editorial.
Ultra Violette Extreme Screen SPF 50+ packaging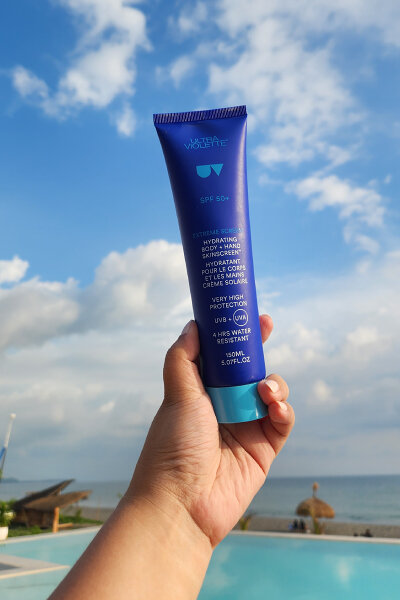 Like a lot of Ultra Violette's products, the Ultra Violette Extreme Screen SPF 50+ comes in a striking royal blue-coloured tube. The packaging is soft to squeeze but feels sturdy and not too firm. What I liked most about it is its twist-up-style cap that cleanly dispenses the product to your skin. It's easier to clean than more traditional body sunscreen packaging. Just wipe off the excess on your hands and you're good to go.
First impressions, claims, and ingredients
Its pretty packaging definitely caught my eye but its promise of being super hydrating and water- and sweat-resistant sealed the deal. Since I have slightly more sensitive skin on my body than my face — I sometimes get rashes or have body acne breakouts — I'm more cautious about my bodycare products. I also dislike applying a lot of body care products especially if they end up turning into a sticky, heavy mess due to the humidity which can also trigger my skin sensitivity. Luckily, this sunscreen seems to address all of that!
The formula is powered by several chemical sunscreen filters — octocrylene, homosalate, butyl methoxydibenzoylmethane, and octyl salicylate — that block UV rays from the skin. While physical sunscreens are more recommended for sensitive skin, I find that my skin doesn't get irritated with this formula. However, it's still best to do a patch test before slathering it on!
Other ingredients include pentavitin (a super moisturising plant-based ingredient), aloe vera (great for soothing sunburn and irritation), and vitamin E (an antioxidant that neutralises the effects of free radicals our skin is exposed to).
Do note that I didn't try the sunscreen on my face, since I prefer to use a different product. I read some reviews on the brand's website that they also don't recommend it as a facial sunscreen, since it may sting your eyes.
One of my pet peeves with body sunscreens is their signature chemical scents, so I was very happy that this has a very subtle coconut scent. If you're sensitive to fragrances, this may be a turn-off. But the smell doesn't linger once the sunscreen has fully dried down.
Applying the sunscreen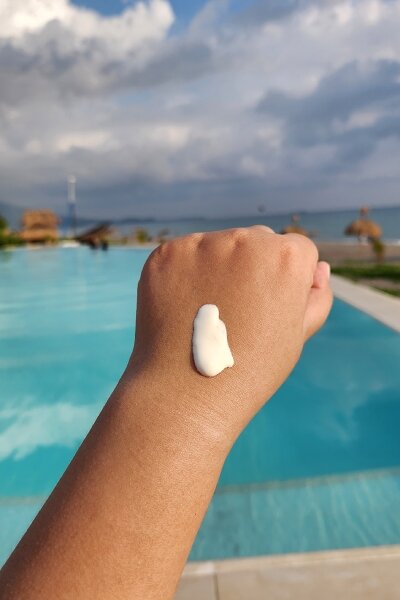 The sunscreen has a slightly runny consistency that reminds me of lightweight body lotions. Because of its more fluid texture, you'd think that you're using too much product. However, the brand recommends using at least 5ML of product per limb. How do you measure this? Each squeeze from the tube is just the right amount.
I noticed that there were small golden flecks that made the light bounce off my skin in a very flattering way after applying the sunscreen. Think body bronzer but with a very subtle sheen. I'm more cautious about applying the product outside of pool and beach days, but I didn't notice any staining or discolouration on my regular clothes whenever I use it.
I didn't notice any pilling on my skin after letting the sunscreen do its thing for a few hours. My skin felt hydrated, plump, and not sticky. I didn't see any significant darkening or reddening in my skin tone either, but I did reapply the product several times throughout the day.
And in case you're curious, it's also become my go-to hand sunscreen for my gel manicures. My hands feel softer and less rough since using it.
Final verdict on the Ultra Violette Extreme Screen SPF 50+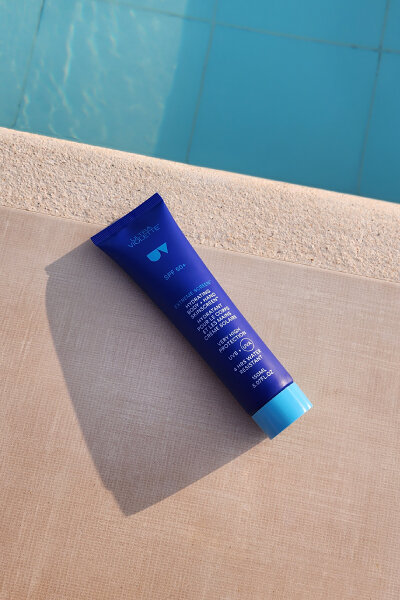 All in all, I liked the Ultra Violette Extreme Screen. It has a no-fuss and sophisticated formula that combines the lightweight and skin-caring benefits of skincare with the much-needed sun protection of sunscreens. The fact that it leaves a sheer glow on the skin is a plus, especially when you want to take swimsuit photos!
The only downside is that I wish it came in a slightly smaller format that's carry-on-friendly. The current 150ML size is too big for air travel without check-in luggage, while the 30ML version is only available on the brand's Australia website and seems a little too small for consistent reapplication. I'm crossing my fingers that a 100ML version will be made available in the future.
Price and where to buy in Singapore
The Ultra Violette Extreme Screen SPF 50+ Hydrating Body & Hand Skinscreen™ is available at Sephora Singapore for SGD39 per 150ML.
If you're looking for something similar for your face sunscreen, check out our review of the Ultra Violette Supreme Screen.
Comments, questions or feedback? Email us at [email protected].