Singapore and Australia are two sides of the same coin. Both experience hot and sun-loving climates all year round, with rainstorms bringing in humidity every so often. But Australia has one of the strictest standards in sunscreens due to its weather conditions. So how can we benefit from using sunscreens from Australia? We chat with Ava Matthews, the founder of the Australian SPF brand Ultra Violette to find out what the big deal is about Australian sunscreens, why their "skinscreens" are perfect for Singapore, and more.
How are Australian sunscreens different from the rest?
I typically gravitate towards Asian sunscreens largely for their cosmetic perks. They don't leave your skin with a white cast or turn greasy by mid-day and sit well underneath makeup. But since each country has a different set of testing procedures and standards, not every Asia-made SPF will pass other regions' sunscreen standards. Australia is one of them, as it has one of the most stringent protocols (aside from the European Union) surrounding sun protection formulations.
"It is very hot in Australia and Australia has the highest rate of skin cancer in the world. So for that reason, Australian sunscreens are really rigorously tested and have to jump through a lot of hoops, because it's not easy to get a sunscreen pass and it's really treated like a medical product," Ava shared.
Australia caps its Sun Protection Factor (SPF) rating to 50, but some products go over and beyond that limit. The SPF rating tells how much time it takes for your skin to "burn" when exposed to UVB rays while wearing sunscreen versus without. "To get an SPF50+ rating, which is the highest you can go in Australia, your product must have an SPF60 content. You don't know it but most of us are over the 70 mark," she said.
While it's generally recommended to use a sunscreen with at least SPF30, you may benefit more from using an SPF50+ sunscreen if your skin tends to burn quickly under the sun — which is generally the case for those with fairer skin — since SPF50 will give you twice as long the protection compared to SPF30. But you still need to reapply it every two to three hours to get maximum protection.
Sunscreen vs. skinscreens: what's the difference?
We've previously covered the difference between sunscreens versus sunblocks, which are casual ways to refer to chemical and physical sunscreens and how they work to protect your skin. But Ultra Violette is introducing a new form of SPF formulation, which is one that fuses the benefits of skincare and sunscreens in equal measure in one formula.
"'Skinscreen' is a combination of the words skincare and sunscreen," Ava explained. Don't be confused — their products are still primarily sunscreens. They just come with extra skin-loving perks. "They're SPF first and foremost, but they're infused with skin skincare actives. We've added vitamin C, hydrators, and other antioxidants. It also helps boost the SPF rating."
One of the key benefits of using a 'skinscreen', Ava shared, is it cuts down on the amount of product you layer on the skin. Not everyone will appreciate a 10-step beauty regimen, so a sunscreen-skincare hybrid offers a good option for those who want to protect their skin from UV rays but still keep their routine to the basic steps.
Ultra Violette Skinscreens: what Singaporeans will love about them
So what are the ingredients that make Ultra Violette's skinscreens? "At the moment we're using Kakadu plum, which is a really potent source of vitamin C that's found native to Australia," Ava shared. "We also love to use a hydrator called Pentavitine which is kind of like a hyaluronic acid but pumped up and it helps to hydrate the skin for up to 72 hours. Those two are the key ones we use.
Ultra Violette's sunscreens are also cruelty-free. Most of their skinscreens are also vegan, except for the Extreme Screen and Sheen Screen which both contain beeswax.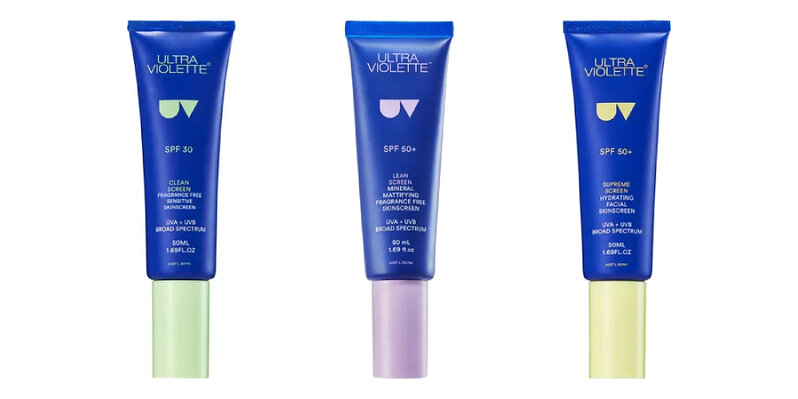 Ready to slot in an Ultra Violette skinscreen into your routine? Here are Ava's recommendations. "Depending on your skin type, I would recommend the Clean Screen which is a really great product for the Singaporean climate. It's very watery, cooling, and kind of like a gel. If your skin is oily, acne-prone or sensitive, that could be more for Lean Screen. If you're more dehydrated, dry, or normal, I will take Supreme Screen."
Ultra Violette is now available in Singapore through Sephora stores and its website.
(Cover photo from: @avamatthews)
Have you heard about TCM? Here's how it can improve your beauty routine.
Comments, questions or feedback? Email us at [email protected].