The Laneige Water Bank Blue Hyaluronic Cream is the brand's newest moisturiser and we're sure that fans of Laneige's bestselling Sleeping Mask will want to try it. It is one of the nine products in the brand's reinvented Water Bank collection, which is formulated with hyaluronic acid to target skin dehydration caused by prolonged screen use and poor lifestyle habits.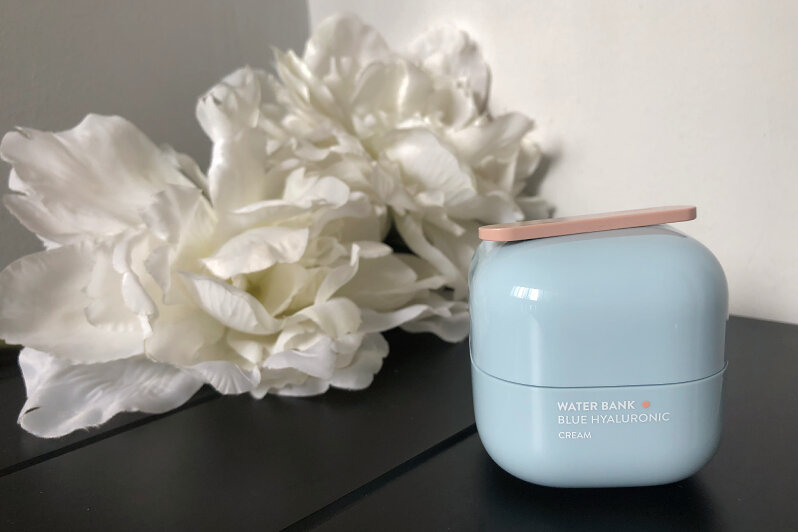 We tapped #TBLBureau Campaign Manager Chloe, who has been a longtime user of Laneige products and has dry sensitive skin — not to mention a job that needs her to be in front of a screen for long periods — to see if this new moisturiser will keep her skin hydrated throughout the day.
*The product was sent as a press gift. The views and opinions of the reviewer are independent and purely editorial.
Laneige Water Bank Blue Hyaluronic Cream packaging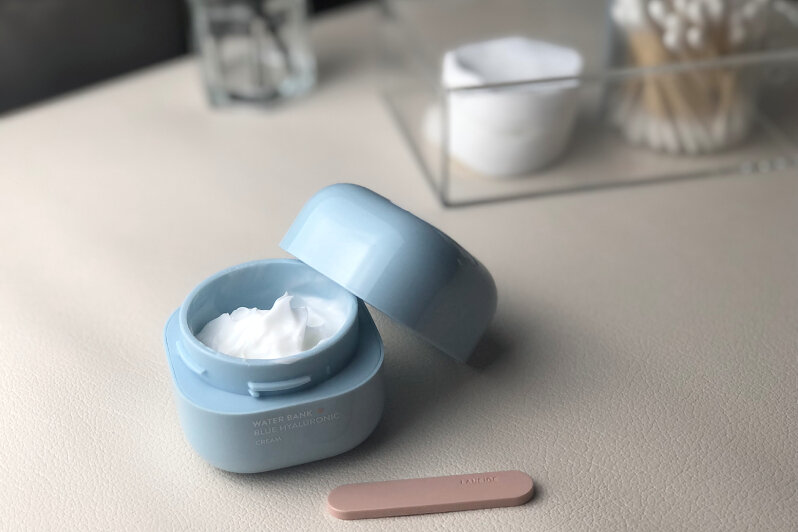 Upon first glance, you'll immediately notice the moisturiser's aesthetically pleasing packaging. "It comes in a cute and compact blue cube packaging that's easy to open," Chloe said. The cap snaps shut with a press. It doesn't have the typical screw cap, so it may take some time to get used to. "How it opens has to be the same way to close it — with the Laneige logo facing front — so it takes a conscious effort to close it back properly."
You can use your fingers or the pastel pink spatula applicator to scoop up the product. "It's very hygienic to use," Chloe added.
First impressions on and claims of the Laneige Water Bank Blue Hyaluronic Cream
"I have always enjoyed using Laneige's skincare products," Chloe shared, saying she's very "particular" with her skincare products. "So I was very happy to see this blue hyaluronic acid range and very excited to try this moisturiser to see the effects." Chloe also shared that hyaluronic acid is her non-negotiable ingredient when it comes to picking a moisturiser.
So it's a good thing that the Laneige Water Bank Blue Hyaluronic Cream, like the rest of the products in the reinvented skincare line, contains blue hyaluronic acid (HA) as its hero ingredient. For the uninitiated, traditional HA is widely used in hydrating skincare products due to its ability to draw and bind moisture particles to your skin cells. To put simply, it makes dry parched skin bouncier and more hydrated. The brand said they opted to use blue hyaluronic acid for the new collection since it's 2,000 times smaller than typical HA. The blue HA's smaller size allows it to penetrate deeper into your skin (up to the 10th layer) and keep it hydrated for longer.
Aside from promising to deliver lasting hydration to thirsty skin, this cream moisturiser also promises to repair the skin barrier, reduce redness, and exfoliate and remove dead skin with its Triple Care of Damage technology.
There are two moisturisers currently available in the range, one for normal to dry skin (which Chloe tried) and another for combination to oily skin. The normal to dry skin variant has a white cream consistency while the one for oily skin looks more like a clear gel.
The moisturiser is also formulated with a Zero Irritation Technology, so it's made for those whose skin is prone to heightened sensitivity to certain skincare formulations. The product is slightly scented, but it's barely noticeable once applied.
What intrigues you about this moisturiser?
Applying the Laneige Water Bank Blue Hyaluronic Cream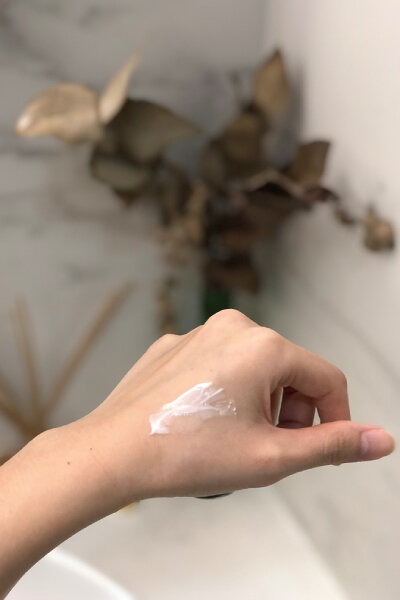 The Laneige Water Bank Blue Hyaluronic Cream made a good first impression, so how does it perform on the skin? Contrary to its rich, creamy appearance, the moisturiser is surprisingly very lightweight. "It has a lotion-like consistency that's not as thick or heavy as I thought," Chloe said. "It is easy to apply and it felt very moisturising, not sticky or tacky at all."
Chloe used the moisturiser in the morning and evening to see if it can keep her skin hydrated throughout the day. "Under the hot sun, after padding off sweats gently and cooled down indoors, my face still looks good with no dry patches," she observed. "Even after a long day, my skin still looks hydrated in the evening."
According to Chloe, the moisturiser also layered well underneath a full face of makeup. "It does not feel or look oily even after applying full makeup on it. My skin looks smooth and I'm thankful that it didn't have any bad reaction with my makeup."
Final verdict on the Laneige Water Bank Blue Hyaluronic Cream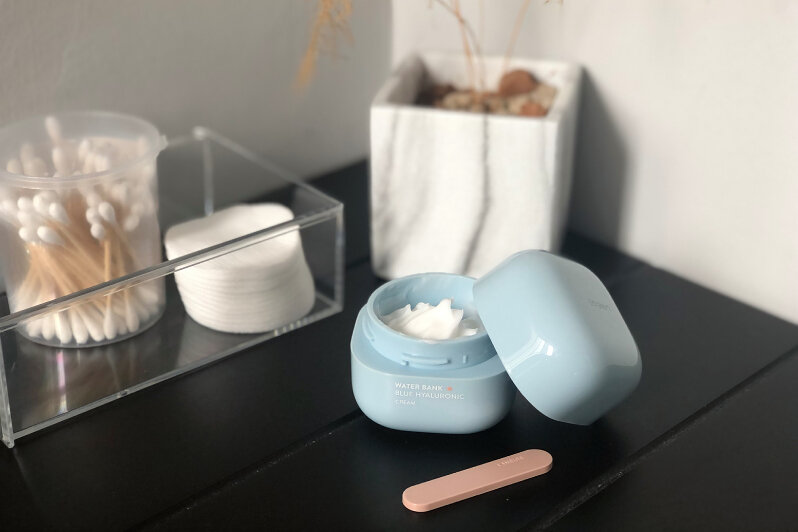 After using the product every day for two weeks, Chloe observed that her skin's appearance noticeably improved. "The redness has slightly reduced and my face doesn't feel dry even after waking up in an air-conditioned room," she shared.
The only things she'd wish the product would have is packaging that's easier to close and no fragrance at all. Aside from those minor details, she's convinced to repurchase the moisturiser once she's used her stash up. "I feel this moisturiser is something different," she shared. "I may even want to try out the full Blue Hyaluronic range for better results."
Want to give this cream moisturiser for dry skin a whirl? You can find it at Laneige Singapore stores, Shopee, Lazada, and Sephora for SGD60 per 50ML.
Want to brighten up your eye area? The new Aesop Eye Serum might be for you.
Comments, questions or feedback? Email us at [email protected].