Aesop's recently released Exalted Eye Serum promises to help change the look of tired, dark eye areas. Sounds like something you could use?
If you've been spending prolonged periods of time in front of a digital screen, you may notice some eye strain or your eyes looking more tired than they really are. Habits like rubbing your eyes, staying up late, and not drinking enough water can also make your eye area appear duller than you'd like.
Aesop claims that its eye serum can hydrate the eye area and deliver a potent brightening blend to even out its appearance. Can it?
We tapped #TBLBureau Features Writer Sheryl, who deals with dark eye circles and tired-looking eyes due to poor sleeping habits, to see if this serum lives up to its promises. Read on for her honest review.
*The product was sent as a press gift. The views and opinions of the reviewer are independent and purely editorial.
First impressions on and claims of the Aesop Exalted Eye Serum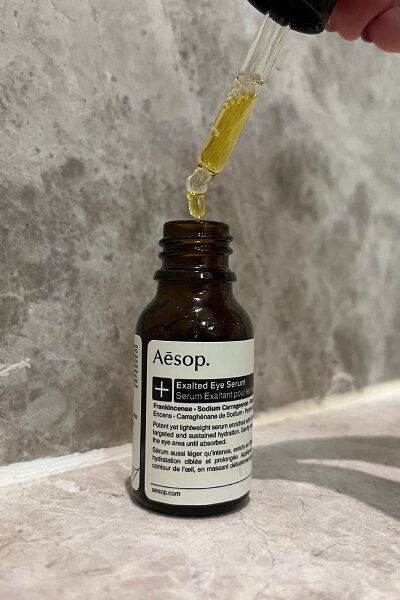 The Aesop Exalted Eye Serum, which is formulated and certified to be vegan, is the brand's first eyecare product since 2005, in line with its ethos of being a slow beauty brand. The brand doesn't create products based on trends, but rather creates them when its customers express a need for something new. Excessive digital screen use has become the norm, so there's definitely a need for a skincare product that counters its effect.
Sheryl observed that the eye serum, which comes in a dark glass bottle with a dropper, has a honey-coloured liquid that is very lightweight and non-greasy, resembling a "nourishing facial oil". It also has a unique, warm, woody aroma that comes from the frankincense in its formula. "It instantly puts me at ease," Sheryl shared.
The serum's brightening blend is formulated with vitamins B, C and E as well as niacinamide, castor oil, citric acid. It also has a rich blend of botanical oils, which can potentially be skin-irritating to some people, but the brand claims that the eye serum is suitable for most skin types, even sensitive, mature, dehydrated, dull or patchy skin.
To err on the side of caution, Sheryl decided to do a patch test first since she has sensitive skin. All was well and she proceeded to use the product for three weeks.
Applying the Aesop Exalted Eye Serum
Sheryl said she started with one drop for the first few days, before working her way up to the recommended three drops per application. She used her ring fingers to gently dab and tap the product into her eye area, including her brow bones and eyelids. "I used it both in the morning and evening, after my cleanser and toner," she shared. She then applied heavier skincare products — moisturiser and sunscreen – on top of it.
After using the product for three weeks, Sheryl noticed that her eye area looks "more hydrated and smoother than before". However, her dark eye circles are still very visible so she wants to keep using the product to see if it will prevent further discolouration and visible signs of ageing.
One aspect of using the eye serum that she didn't expect is its aromatherapy benefits. "Using this serum has become a tiny moment of luxury and pampering for me as its scent always makes me feel at ease and more rested, especially after a long stressful day."
How do you prefer your eye care products?
Final verdict on the Aesop Exalted Eye Serum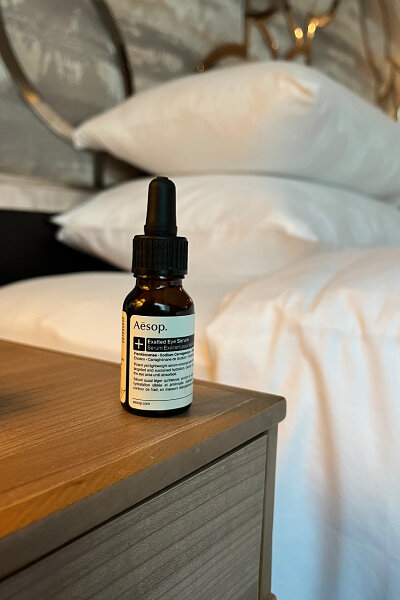 Priced at SGD145 for 15ML, the eye serum will be a splurge for a lot of people, according to Sheryl. However, she thinks it's worth the "skinvestment" if you wish to build a solid skincare routine with vegan skincare products.
"I'd recommend this as a special gift for skincare lovers because of its vitamin-enriched formula," she added.
The Aesop Exalted Eye Serum is available in Singapore through its stores and website.
Want to amp up your skin radiance? Check out our review on the Drunk Elephant C-Firma Fresh Day Serum to see if it's the vitamin C serum you're looking for.
Comments, questions or feedback? Email us at [email protected].