ICYMI, Drunk Elephant has reformulated its C-Firma Day Serum to be personally mixed by you before first use and it's now called the C-Firma Fresh Day Serum. According to the brand, the serum will maximise the active ingredients' potency and deliver better skin brightening and firming than the original formula. It's now also formulated to be vegan.
Is new really better than old? We tapped #TBLBureau Program Manager Roanna, who deals with uneven, pigmented skin tone due to her acne-prone skin, to find out.
*The product was sent as a press gift. The views and opinions of the reviewer are independent and purely editorial.
First impressions, claims, and packaging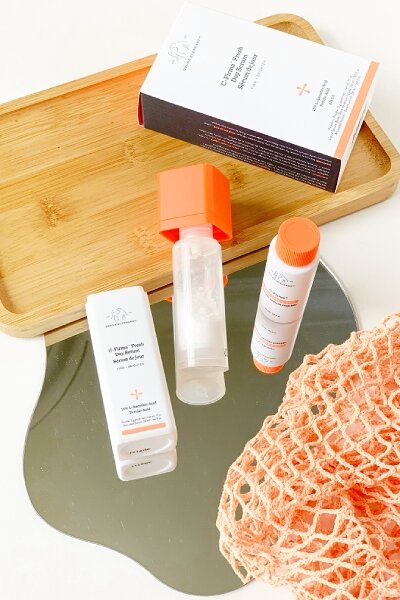 "I really like that this new 'Fresh' version allows you to mix the ingredients so that the product does not oxidise in the bottle before use, in line with the new name 'Fresh,'" Roanna shared. In case you didn't know, Drunk Elephant's C-Firma formula contains 15% l-ascorbic acid (LAA), one of the potent forms of vitamin C used in skincare, but also one of the most finicky ones. But with the new deconstructed formula, the LAA comes to you fresh and will be more shelf-stable. With vitamin C combined with 0.5% ferulic acid and 1% vitamin E, this serum promises to firm up and brighten your complexion while reducing signs of skin photoageing.
The new vegan formula also contains pumpkin ferment and pomegranate extract that chemically exfoliates the skin, which allows for better product absorption. It's also formulated with sodium hyaluronate crosspolymer, a hydrating ingredient that acts similarly to hyaluronic acid. It's also formulated at 2.5 pH, so it doesn't need to be refrigerated to maintain its potency and extend its shelf life.
The bottle itself doesn't differ from the old C-Firma packaging that's known for its sealed and airtight design that keeps the serum shelf-stable and potent, except that you must assemble it on your own after combining the powder and liquid serum base together. You simply have to snap on the twist-open pump lid and shake it well. Voila! Your Drunk Elephant C-Firma Fresh Day Serum is now ready to use.
Application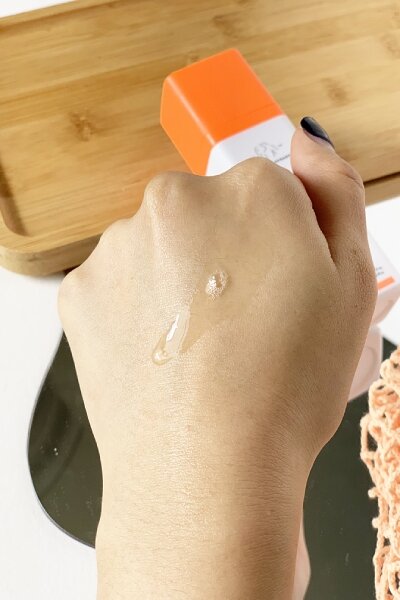 As a loyal user of the old formula, Roanna immediately noticed some differences between it and the new Fresh formulation. "The new formula smells pretty much the same as the old one, a bit woody but slightly lighter," she said. "The colour of this Fresh version is also lighter in hue with a pale tint of orange, whereas the previous version was a dark brown with yellow undertones." This is an improvement, she says, since the old formula tended to stain her fingers whenever she applied it.
But how does it feel on her skin? "Overall, the texture is light and absorbs easily into the skin without a prolonged sticky feel as compared to many Vitamin C products in the market." Roanna comfortably used the serum once a day in the morning, after her toner and before her moisturiser and SPF. If you're using a vitamin C serum, it's best to wear sunscreen on top of it to maximise its benefits.
After using the serum for two weeks, Roanna says that she's impressed with the new formula. "My skin was visibly more even and brighter. I also noted that some of my post-acne marks lightened much quicker than before I used the serum."
Final thoughts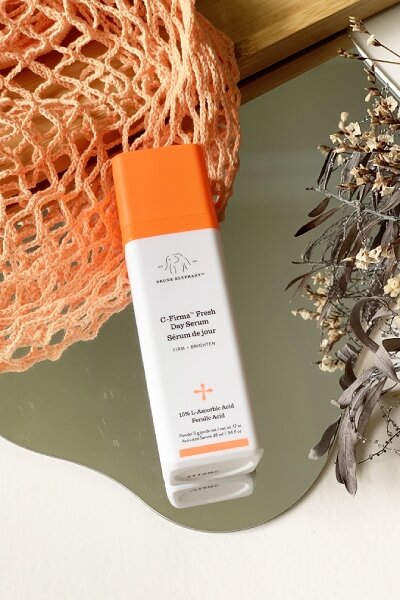 As someone who has used a lot of brightening skincare in the past, Roanna thinks that the C-Firma Fresh Day Serum really delivers on its promises and is worth the investment of SGD112 for 28ML. "I could see results in a week and it didn't irritate my sensitive skin, which makes me excited to continue using to enjoy the benefits."
If you have sensitive and dull or uneven skin tone, Roanna recommends picking up the Drunk Elephant C-Firma Fresh Day Serum. It's available in Singapore at Sephora stores and on Sephora.sg.
Don't forget to apply moisturiser after your serums. Read our review on the Clinique Moisture Surge moisturiser to see how it fares on combination sensitive skin.
Comments, questions or feedback? Email us at [email protected].