American actress and comedian Betty White once quipped, "Get at least eight hours of sleep. Nine if you're ugly." This witty remark never fails to make me chuckle because it always reminds me to curb my midnight Netflix binging tendencies and prioritise my beauty rest instead. Speaking of beauty rest, one of the major wellness trends for 2021 focuses on setting intentional restful regimes, where we're encouraged to recite meaningful mantras before bed as well as invest more in soothing essentials that'll help us to achieve better quality sleep.
With this in mind, I decided to reacquaint myself with an evening K-beauty favourite: LANEIGE's Water Sleeping Mask — now known as Water Sleeping Mask_Ex following its recent reformulation – to ensure that my skin receives all the protection and hydration it needs as I get myself some shut-eye at night. Read on to discover what's new in this latest iteration of the brand's global bestseller as well as my honest thoughts after using it for almost two weeks.
First impressions, claims and packaging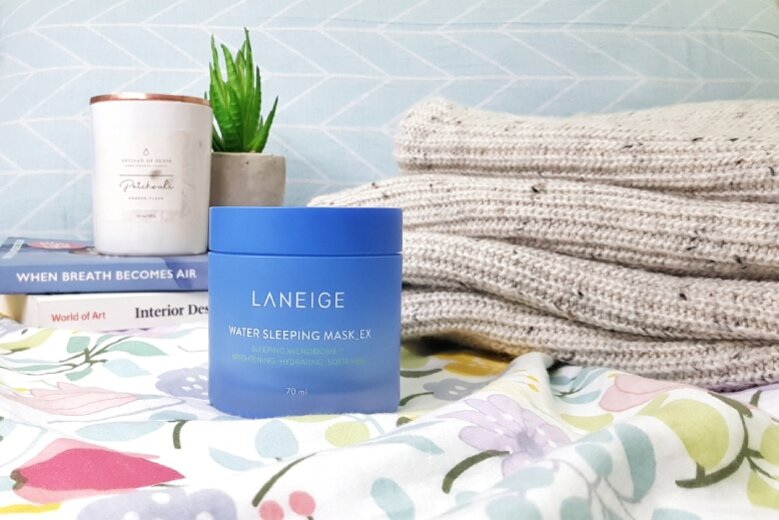 K-beauty fan or not, there's no doubt that LANEIGE's Water Sleeping Mask has been a mainstay in many skincare enthusiasts' evening beauty routines ever since it was launched almost two decades ago. The overnight mask has earned over 2,700 reviews on Sephora's US site (with more than half giving it a glowing 5-star rating) and even counts Girls' Generation's Tiffany Young among its fans.
I was given a sample size of this product around eight years ago and remembered being quite impressed with it. I loved its pleasant, relaxing scent, but was left feeling less than satisfied by how it sat on my skin. It wasn't as fast absorbing as I wished it would be, and that made me anxious about how I might've stained my sheets if I had gone straight to bed with it.
Concerns aside, these are some noteworthy features in this latest iteration. The Water Sleeping Mask_Ex has been enhanced with squalane (moisturising), probiotics complex and the brand's unique Sleeping Microbiome™ technology to improve the skin's texture and keep the skin's microbiome healthy. Packaging-wise, the brand has largely retained its signature blue bottle design, where you scoop up the product using your hands or with an applicator. How did the product fare this time around?

Application and usage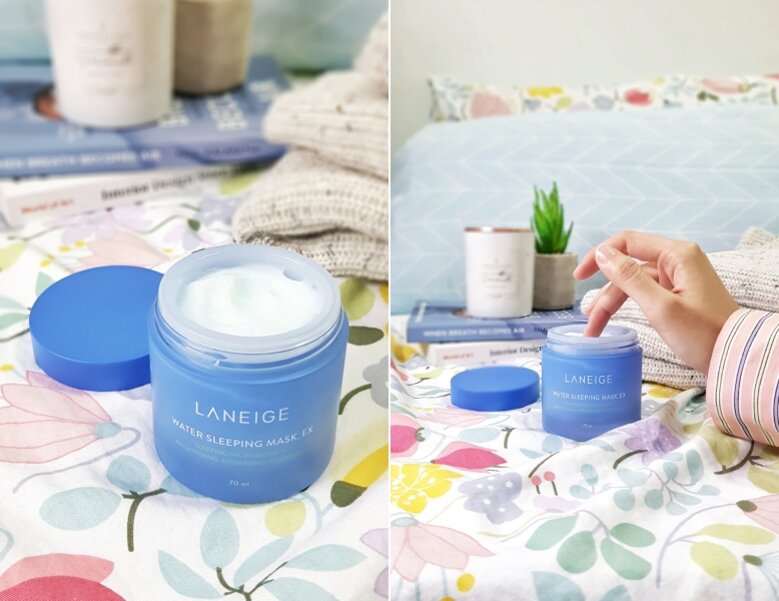 According to LANEIGE, you are recommended to use this product two to three times a week as the last step of your skincare routine. You are to leave it on overnight as well, and only wash off any residue the next morning. Similar to its predecessor, the Water Sleeping Mask_Ex boasts a light turquoise-coloured gel-cream texture and features the same relaxing scent too — two sensorial plus points which I'm glad they remained true to over the years.
For hygiene-conscious folks, you're welcome to use the applicator to help yourself to a generous portion of the product before applying it at the back of your hands. Thereafter, with your fingers, gently spread the cream across your face. For myself, I prefer dipping my clean fingers directly into the product as I love taking in its scent before applying it across my face using both of my hands. I was reminded of how it instantly puts me in a calmer and more relaxed mood.
As previously mentioned, I had my concerns in terms of its absorption rate when I first tried it a few years ago. However, I was relieved to find that this new iteration had absorbed really quickly into my skin and it didn't make my skin feel tacky or sticky at all. Rather, it made it feel more supple and hydrated than before.
Final thoughts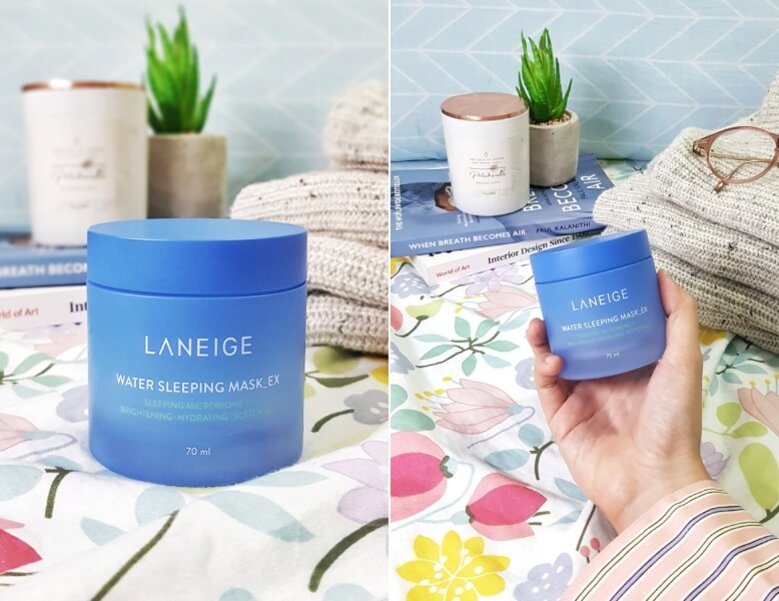 After using the LANEIGE Water Sleeping Mask_Ex for almost two weeks now, I have nothing but good things to say about it. My skin feels much smoother and less flakey than before. Plus, it has become less prone to redness too – a pesky issue which I face from time to time.
A major plus point of this sleeping mask is its lightweight, gel-cream texture as it's well-suited for our hot and humid climate while delivering moisturising and skin-calming benefits to our skin. This makes it a great option if you're slightly averse to heavier facial moisturisers and creams. As for its scent, I believe I have sung enough praises for it – it truly has the power to put you in a more relaxed mood to help you look forward to getting your eight (or nine) hours of beauty sleep.
Keen to give this pampering pre-slumber essential a go? The LANEIGE Water Sleeping Mask_Ex (70ML) retails at SGD45/~USD34 and is now available in-stores and online, including LANEIGE's Official Mall on Shopee, Lazada, Zalora and Sephora.sg.
*The product was sent as a press gift. The views and opinions of the reviewer are independent and purely editorial.
Looking for a luxe exfoliating mask? Click here to discover if KORA Organics' Turmeric Exfoliating Mask is worth the splurge.

Comments, questions or feedback? Email us at [email protected].