As someone with combination-oily skin, I tend to skip the highlighter and just let my skin's natural "dew" do its thing. If I really want some type of glow, I'd pick a luminous base and top it off with a shimmery blush to achieve the look. But I was nevertheless intrigued when Charlotte Tilbury came out with the limited edition Pillow Talk Multi-Glow Highlighter inspired by her bestselling lipstick shade that promised to give your skin a glass-like fairy glow. Will it change my mind and turn me into a highlighter fan?
*The product was sent as a press gift. The views and opinions of the reviewer are independent and purely editorial.
Charlotte Tilbury Pillow Talk Multi-Glow Highlighter packaging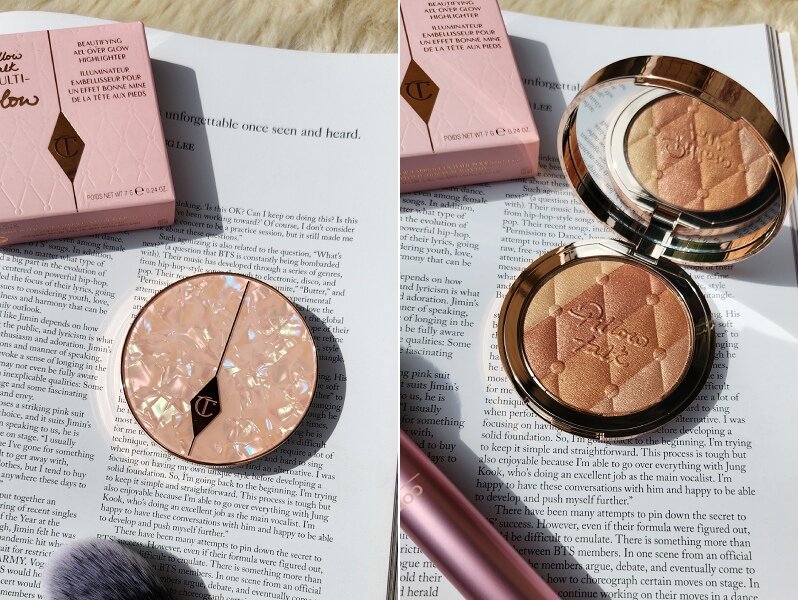 The highlighter comes in a cute pink box with rose gold embellishments. The compact has this beautiful pink mother-of-pearl design that looks chic and elegant. Both the box and compact feature a quilted pattern. The same pattern is embossed in the highlighter powder too. It also comes with a big mirror with a cute star in the upper right corner. It's definitely one of the prettier packagings I've seen on a highlighter and it made me excited to actually start using it on my face.
Charlotte Tilbury Pillow Talk Multi-Glow Highlighter first impressions and claims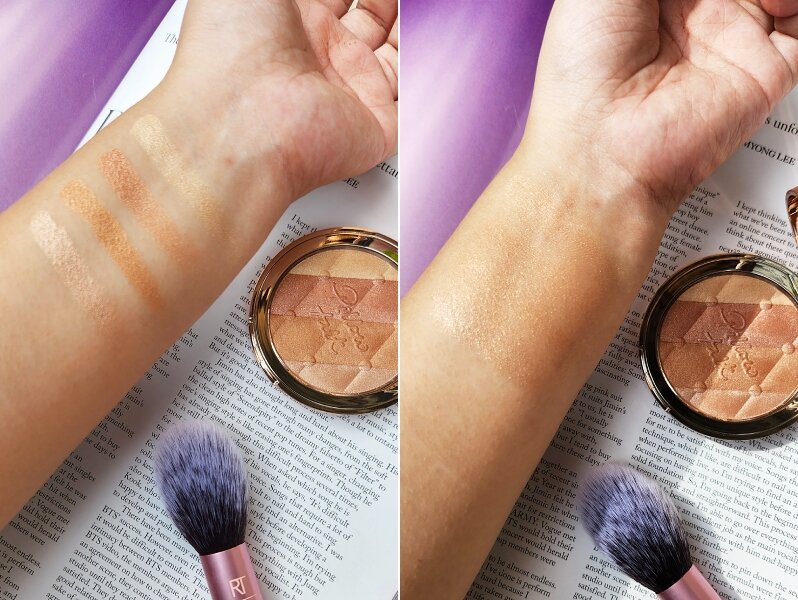 The brand claims that the highlighter will have the shine of a liquid formula with the ease of use of a powder. I've tried the liquid highlighter version which I also liked, but I was curious to see if the pressed powder will be more forgiving on my skin.
The highlighter is formulated with mica powder to give it that silky smooth application, smoothing polymers that create a soft focus effect, and finely milled pearls to give your skin the promised glass-like fairy glow filter. It also has an emollient oil that makes it buttery smooth to apply.
I was sent the shade Dream Light, which the brand describes as a warm pink hue that suits warmer complexions. I was pleasantly surprised that there were four shades inside — a soft pink, a warm bronze, a rich rose gold, and a muted gold — but also confused. Should I use all four shades together or pick one that I believe suits my skin tone? After researching the recommended application, I found that you're supposed to swirl all the shades together.
Applying the Charlotte Tilbury Pillow Talk Multi-Glow Highlighter
Charlotte Tilbury recommends using a brush and applying the product on the cheekbones, temples, eyes and cupid's bow. After swirling my fluffy highlighting blush around the pan, I proceeded to apply the highlighter to these areas.
I prefer applying my blush on my cheekbones and temples, where the highlighter tends to go, so I proceeded to do the same. I noticed that the highlighter emphasises my skin texture in this area a bit. If you have the same concern, it may be better to use less highlighter or skip the area altogether. But it does leave a beautiful sheen that catches the light at every angle.
I also think the highlighter looks better when paired with a matte cream blush, at least with my medium skin tone. If you have fairer skin, you may be able to get away with using it as a glow-adding blush on its own.
I especially loved the highlighter on my eyes like an eyeshadow. It's subtle but has enough shimmer to be seen. If you want it to have more colour pay-off, you can spritz on some setting spray to your brush before swirling it in the pan. It's nice for the eyes and on the cheekbones for nighttime looks.
It didn't end up looking cakey or greasy by the end of the day, so I'm happy to see that it holds up to SEA's humidity.
Final verdict on the Charlotte Tilbury Pillow Talk Multi-Glow Highlighter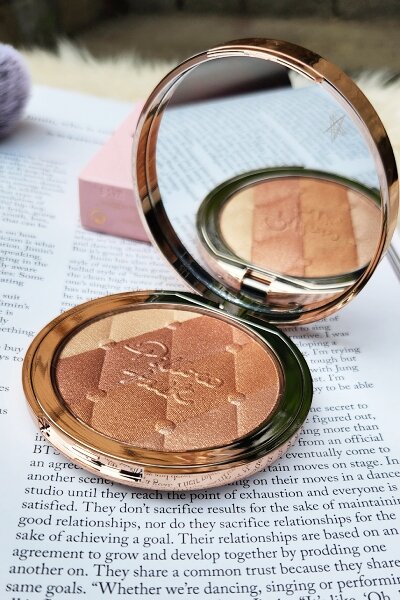 Overall, I loved this powder highlighter. It does take some getting used to and a light hand but it's nothing a little practice won't fix. I also think using a fluffy highlighter brush, instead of a fan brush, is the way to achieve a seamless blend when using this product.
If you have a cool complexion, you may want to go with the Romance Light variant instead. It's a cool-toned nude pink, which may suit your skin tone more.
The highlighter is priced at SGD78 and is available at Sephora Singapore stores and website.
Are you more of a glowy blush lover? Check out our review of the Rare Beauty Soft Pinch Liquid Blush.
Comments, questions or feedback? Email us at [email protected].