Charlotte Tilbury has expanded her bestselling Pillow Talk collection to include a liquid highlighter inspired by the popular lip shade. The Beauty Light Wand is a highlighter blush formula that promises to add colour to the cheeks and give a soft-focus, Hollywood-worthy glow. I've been on the hunt for a go-to highlighter that will also double as a blush. Is this hybrid formula the one I've been searching for?
*The product was sent as a press gift. The views and opinions of the reviewer are independent and purely editorial.
Charlotte Tilbury Pillow Talk Beauty Light Wand packaging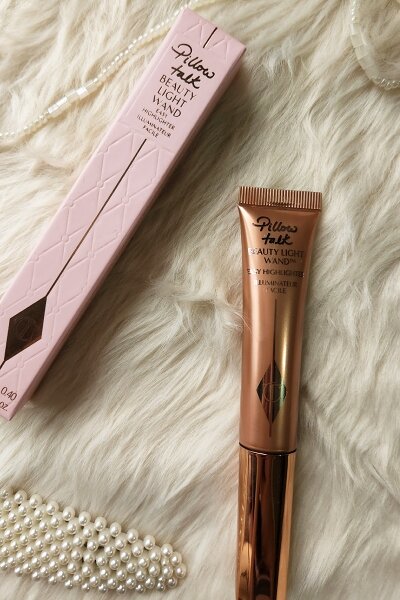 The Charlotte Tilbury Beauty Light Wand comes with a round cushion applicator that you can use to dot or swipe the product onto your skin. The squeeze-tube design makes it easy to saturate the sponge with the right amount of product you'll need. It also has a twist-open mechanism that prevents the product from leaking when not in use or dispensing more product while you dot it on your face. I like its compact size since it makes it easy to throw in a purse for touch-ups on the go.
Charlotte Tilbury Pillow Talk Beauty Light Wand first impressions and claims
I've heard nothing but good news about Charlotte Tilbury products, especially the iconic Pillow Talk lipstick. The Beauty Wands, which are quite popular on TikTok as liquid contour and highlighters, also piqued my interest. So I was eager to try out the Pillow Talk version since it has a peach-pink almost bronze hue that I think will be flattering on my medium skin tone.
I was also eager to see the luminosity-boosting polymers and brightening pigments in play on my skin. These, according to Charlotte Tilbury, are the main players that give the highlighter its light-reflecting properties. It also claims to be fast-drying and silky soft, with some oil-controlling and hydrating perks too.
Applying the Charlotte Tilbury Pillow Talk Beauty Light Wand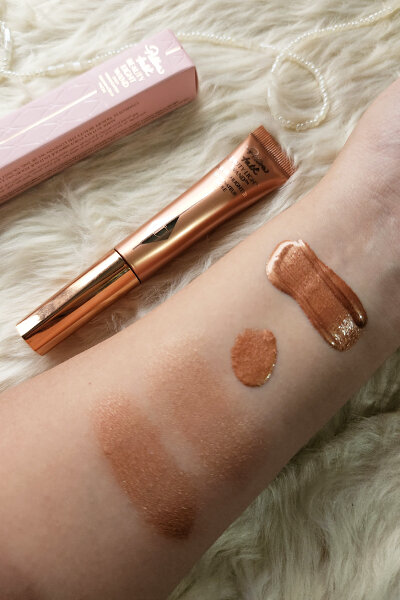 I tried applying the product in three ways: dotting it directly on my skin, swiping a dash on my cheekbone, and using a brush to get some product and blend it out on my skin.
The dotting method helped control the amount of product I actually apply. I find that one very light and tiny dot and blending it out with my fingers is enough to achieve that glowy skin look. Swiping the product creates a very intense highlighter moment, which can work for some people but it's personally not my style. You can also use a concealer brush to get some product from the sponge and blend it out but keep the colour concentrated. It does emphasise your skin texture so it's better to prime your skin well before applying it.
Once I finished blending it out and setting it with a setting spray, the highlighter set quickly and lasted throughout the day. The shade Pillow Talk Medium is a little too deep for my skin tone and is better suited as a bronzer than a highlighter. I prefer wearing it underneath my complexion products to sheer it out or using it for the "blush draping" method, which is basically "contouring" your skin with a blush to give it a more lifted look. I like that it's a flexible product — a highlighter, blush and even contour (with the right technique) in one.
Final verdict on the Charlotte Tilbury Pillow Talk Beauty Light Wand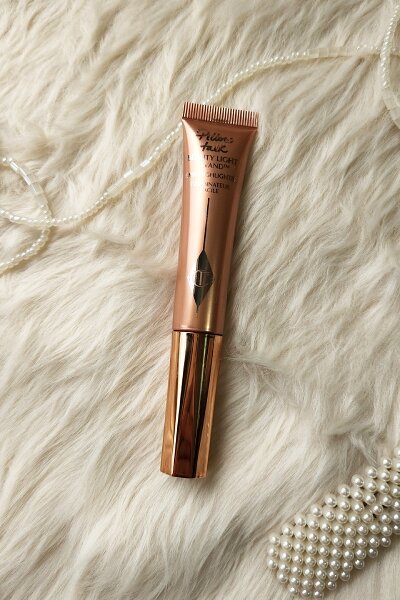 The Charlotte Tilbury Pillow Talk Beauty Light Wand will definitely become a staple in my makeup bag. It's a multitasking makeup product that will come in handy for any makeup look and you can customise how intense you want it to look once applied.
It's quite an investment at SGD62 per 12ML but I think you get what you pay for. I'd recommend the shade Pillow Talk Medium for tan-skinned gals, but I'm also curious to try the Original variant, which is said to suit fairer to medium complexions like mine.
Want to try it too? It's available in Singapore through Sephora.
Next, read our review on the Anastasia Beverly Hills Matte and Satin Lipsticks.
Comments, questions or feedback? Email us at [email protected].