Going for a clean girl aesthetic? We've rounded up the top three easy and simple nail designs to help you give off those sweet and innocent vibes.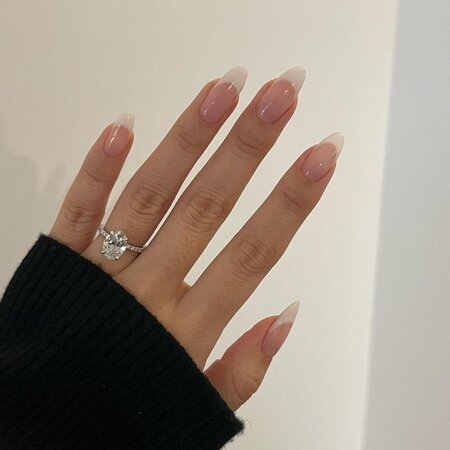 3 easy and simple nail designs
Today's trending beauty looks are getting new names inspired by our favourite comfort food and beverages (like the "
strawberry makeup
" and the "
latte makeup
" looks). The nails category is no exception to this popular phenomenon, as we'll see in the trends below.
1. Syrup nails
This look aims to look as if liquid goodness was poured over your nails. It's similar to the
jelly nails
trend but switched up with an ombré effect. You can do it by using just one colour and a glossy top coat. Here's how to do it.
First, use a soft and sheer colour for the base (a gel or regular nail polish is fine). It can be pastel, nude, or neutral. If you'd like to narrow down your choices for the base colour, the popular ones online are white, pink, coral, and purple (check out OPI's Purple Palazzo Pants).
To create that ombré effect, the base of your nail has to be the sheerest part and the tip should be the most opaque part. After letting your base dry, paint the top of your nails as you would with French tips, only avoid making the line even so that it won't show through when you put on the next layer. Let this first coat dry before applying another layer of polish on your tips then dragging it down a little towards the middle part of your nail. Let it dry again and repeat the process until it reaches your cuticle. Add a glossy top coat (like Butter London's Hardwear Shine UV Topcoat) to finish the look.


2. Vanilla french nails
This trend stems from your classic French manicure and gives off elegant, "my nails but better" vibes. All you need is a beige or pink colour (try
OPI's Put It In Neutral
shade) for your base. Then for your tips, look for a soft, toned-down white hue (like
OPI's Funny Bunny
) instead of the usual bold and striking ones you use for your French tips.
3. Milky mani nails
This trend lets you pick from a variety of creamy beverage-inspired looks. There's the dreamy lavender latte, the blueberry milk nails, and more.
If the vanilla French nails let you see the clear separation between the base colour and the white portion, milky manis mix them together to create their own lovely hue.
For the most basic kind of milky manis, you only need to put on one to two coats of polish (check out Essie's Nail Polish in Vanity Fairest) so that your natural pink nails can still be seen a little. Celebs like Selena Gomez, Kylie Jenner, and (G)I-DLE's Yuqi have been gravitating towards this effortless-looking trend, and you'll find that it's flattering for both long and short nails.

(Cover photos from: @nailsbyzola, @tombachik)

Comments, questions or feedback? Email us at [email protected].