Loving the dreamy and whimsical vibe of the lavender colour? We've got a feeling that you'll also fall into a love spiral with the digital lavender nails trend.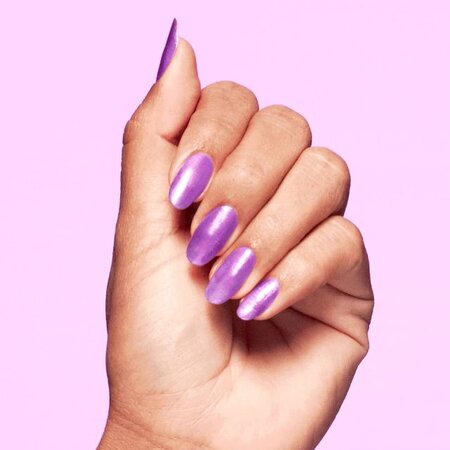 What we love about digital lavender is its soothing colour which reminds us of Taylor Swift's 'Lavender Haze' from Midnights as well as IU's 'Lilac'. It's a lovely colour to try out if you're entering a new season in your life and want to express it in a not-so-flashy way. Nude nails are one of the top nail trends of the year, but digital lavender is the way to go if you're leaning towards a more futuristic vibe.
Digital lavender nails trend
Coloro — a company dedicated to being an authority in colours and trends — predicted digital lavender as the colour of the year for 2023. In an interview with
Cosmetics Business
, the brand said that more people will seek to find solace and comfort as the influence of video games and virtual realities will grow stronger and blur the boundaries between our online and offline existence. And so digital lavender "signifies that stability, serenity and digital escapism that so many of us have built into our recuperative rituals to both protect and improve our mental health in challenging times."
So press the pause button in life's hustle and bustle, 'cause we've got you covered on how you could nail the look.


Digital lavender nails: how to do it
1. Start off with a milky lavender shade. It's recommended that it's not too blue or too pink (check out
OPI's One Heckla Of A Color
). Apply one or two coats.
2. Feel free to add a little bit of fun for the second part. You can apply a semi-sheer lavender gloss coat (try out OPI's Sheer Lilac Infinite Shine), or you can also use a sheer silver chrome on top of the lavender base. If you find another sheer colour that's more suited to your taste, then you can also go for it, and make this trend your own.
3. Lastly, apply a top coat, and watch your nails shimmer.
(Cover photo from: OPI)

Comments, questions or feedback? Email us at [email protected].