Would you believe it's only been three months since 2023 started? In a short amount of time, many nail trends have already come and gone.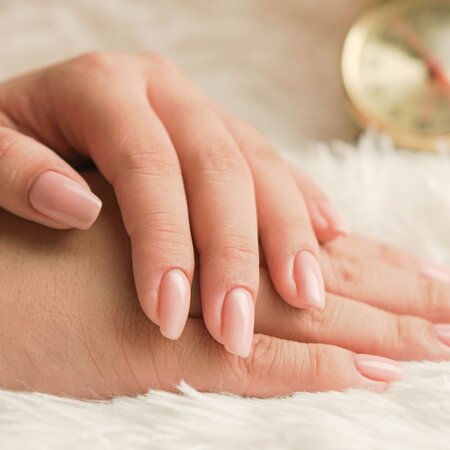 But don't worry if you haven't been updated with mani-news lately. Here's a rundown of 2023's hottest nail trends so far to use as a reference for your next nail salon visit.


1. Glazed, glazed, glazed!
Glazed nails, which rose in popularity in mid-2022, continue to be a top nail trend this year. The trend first started to get popular with its combination of a pinkish nude gel base mixed with iridescent chrome powders and a glossy top coat for that almost-metallic effect. In 2023, it earned several iterations using other light bases like pastel blue, lime, and more. Our favourite? This
glazed chocolate version
that swaps the pinkish nude base with a light brown shade.
2. Chrome it up
If glazed nails are a little too tame for your liking, level it up by going full-on chrome. Go for a silver, bronze or gold base, and pair it with high-shine chrome powders. Finish with a glossy top coat and let your nails make a shiny statement.
3. Natural nails with a little bit of pizazz
With the rise of nail salons offering gel or acrylic nail extensions as well as
press-ons
, natural nails have taken the backseat. But it looks like love for natural nails — especially those in short, reasonable lengths — are making a comeback this 2023.
Many nail artists in real life and for editorial and fashion runways skip the length and embrace trimmed 'tips. As you may have expected, practical working gals such as ourselves are loving it. And of course, who can forget miss Taylor Swift who always rocks short nails featuring manis inspired by her tours and releases?
Easily dress up your natural nails at home with nail wraps or simple french mani alternatives.
4. Clear with a twist
Do clear, glossy nails feel basic to you? Upgrade them with marble-like accents like this swirly blue mani. This 2023 nail trend is like a trippy twist on the french mani and uses 'negative space' as a base for more exciting and peculiar nail art. The key is using a transparent or translucent base that still allows your natural nail colour to peek through. In love? So are we.
5. Bubble nails
Nail art lovers' beloved bubble nails are getting a huge part of the limelight in 2023 because of TikTok's influence and pull. This trend uses hard-gel polish to create 3-D nail designs that have a bubble-like look, giving them a lot of texture and character.
6. Cute 'tacky' accents matched with bold neon colours
On the opposite end of all the 'clean girl' nail trends, cute 'tacky' accents like cartoonish florals, mushrooms, ribbons, and hearts on top of bold neon bases like pink, lime green, and yellow also make it to 2023's nail trend list. Like a fighting force against the very curated appeal of the glazed and chrome nail trends, this manicure style is all about embracing our inner child and just having fun with wild and colourful 'tips.
7. The classic red polish
Unless you forgot your TikTok password and haven't logged in for a couple of months, you've probably seen people on your For You Page talking about the
Red Nail Theory
. The idea suggests that wearing red nails will make you more attractive and get more compliments since red is the colour of love, passion, and strong femininity. Whether or not you believe the theory, nothing can dispute the classiness a red polish can bring to any look and its spot on 2023's nail trends list so far is inarguably well-deserved.
Comments, questions or feedback? Email us at [email protected].