This article was first published on 6 July 2022.
Have your cuticles or old manicure grown untamed already? It's time to schedule your next nail appointment.
When should you visit a nail salon?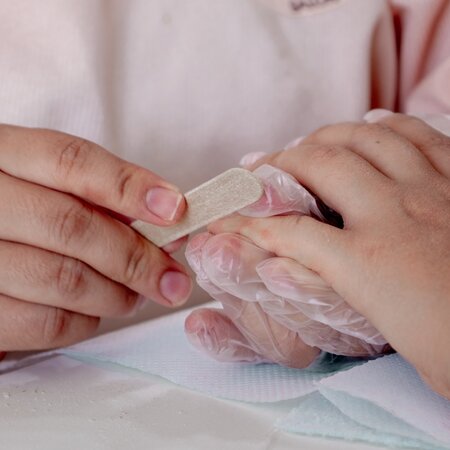 While you can definitely DIY simple manicures and nail art, going to a nail salon is a complete treat for yourself. They have trained professionals who can do gel extensions, 3D nail art and even nail repair treatments within a matter of hours. You may also prefer to head to a salon prior to special occasions like weddings or upcoming trips so your nails a picture-perfect and ready for the 'gram.
Ready to have your nails done? Here are the best nail salons in Singapore that you can visit for every mani need, from simple cleaning to gel manicures to out-of-the-box nail art and extensions.
1. The Nail Social
This socially conscious nail salon chain has several locations scattered around Singapore. They're the perfect spot for folks who only want to use eco-friendly polishes for their manicures, since they only use Zoya & Coat Nail Lacquers and AngelPro and Jacqueline Burchell gel polishes for their services. These are formaldehyde-, DBP, toluene- and camphor-free, making them safe for use on children and expectant moms.
Address: 42A Haji Lane, Singapore 189235
Book an appointment here.
2. The Nail Artistry
As one of Singapore's most renowned nail salons, The Nail Artistry specialises in manicures and pedicures that cover traditional nail polish, gel polish and nail extensions. They also offer rejuvenating spa treatments like nail repair, massages, and facials so you can experience a spa day in one salon.
Addresses: 27 East Coast Road, Singapore 428749 and 1 Maju Avenue #01-23, myVillage, Singapore 556679
Telephone: 6386 2722 (East Coast), 6966 1919 (Serangoon Gardens)
Book an appointment by giving them a call through the numbers above.
3. Nail County
Nail County Singapore is the local HQ of a nail salon originally based in Busan, South Korea. They come armed with 16 years of experience and offer top-notch Korean nail art services. They also offer nail repair treatments for your fragile nails, plus a whole assortment of beauty services such as lash extensions and lifts, brow embroidery and waxing.
Address: Millenia Walk, #02-20, 9 Raffles Boulevard, Singapore 039596
Telephone: +65 81890780 (WhatsApp), +65 67790014 (Landline)
4. Bellus de Charme
This beauty salon uses halal-certified nail polishes that are enriched with argan oil and vitamins C and B5 to help promote healthier nails. Aside from typical nail services like manicures and nail extensions, they also offer other beauty services such as IPL hair removal and skincare treatments.
Address: 14 Scotts Road, Far East Plaza, #04-105, Singapore 228213
Telephone: 6733 6958.
Book an appointment by giving them a call through the number above.
5. The Nail Artelier
Located in the Kampong Glam neighbourhood, this art-centric nail salon specialises in customised nail art services where your nails become the canvas of beautiful and unique artwork. Their artists can recreate characters from your favourite shows or go off of a particular theme you have in mind. Just bring some reference photos and they'll do the rest.
Address: 666 North Bridge Road, Singapore 188800
Book an appointment here.
6. Nailush Spa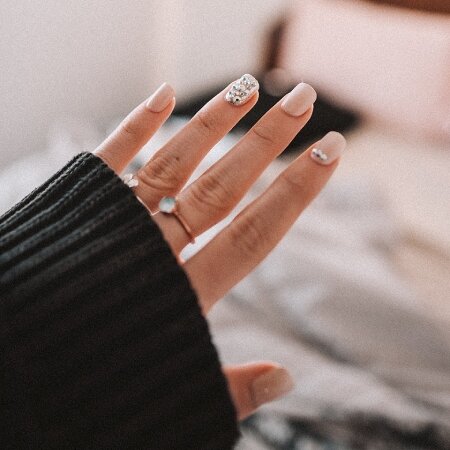 Nailush Spa is a nail salon found in Punggol that offers very affordable manicures and pedicures. They also offer gel nail extensions for SGD8 per nail. Want some more creativity? You can also ask for add-ons like 3D sculptures and glitter dust to make your manicure truly unique. Plus, they have free WiFi and offer you your choice of beverage (coffee, tea, or a cold drink).
Address: 663B Punggol Drive #14-254 Singapore, Singapore 822663
Book an appointment here.
7. Hanah Nails
This Bugis Street nail salon has a full range of nail services that include 3D nail art, gel extension and customisable nail art designs. Their salon is cosy and chic, making you feel right at home and ready for an afternoon of pampering.
Address: 3 New Bugis Street, #03, 42B, Singapore 188867
Telephone: 9888 4567
Book an appointment here.
8. Privacy Beauty Lab
Though this beauty salon focuses more on services like lash extensions, eyebrow shaping, and hair removal, they also do manicures and pedicures. It's an all-in-one stop for your beauty needs.
Address: Far East Plaza #04-144, Singapore 228213
Book an appointment here.
9. Lazy Cat Nails Lounge
If you're a fan of fun nail art, this cosy and dependable nail salon tucked in Liang Seah Street is a good place to visit. This nail salon is manned by two artists and offers affordable services. express manicures go for SGD23 and include up to three colours, while a combination of manicure and pedicure is priced at SGD46. A pretty good deal if you ask us!
Address: No. 1 Liang Seah St, #02-14, Singapore 189022
Telephone: 8726 2692
Book an appointment by messaging them on Instagram or calling them through the number above.
10. 8Twenty8 Nails
If you absolutely love nail art, it's time you meet 8Twenty8 Nails. Illustrations, jewels, and marble are just some examples of their work. This nail salon also offers classic, gel, and spa mani-pedis so you can go to them for any type of occasion.
Address: 50 Tras Street (Tanjong Pagar), Level 2 #02-01, Singapore
Telephone: +65 6225 1828
Book an appointment by giving them a call or messaging them on Instagram.
11. Summer Nail Salon
If you want a one-stop shop for all your beauty needs, head over to Summer Nail Salon. It merged with Wax Factor and now offers waxing, face and body care services on top of its manicure services. They use Shellac, a breathable, oxygen- and water-permeable gel base, in their manis so your nail beds stay hydrated.
Address: 7 Wallich Street, Guoco Tower, #B1-13, Singapore 078884
Telephone: 6223 1428, 8837 8668 (WhatsApp)
Make an appointment by giving them a call through the numbers above.
12. Nails & Good Company
Established in 2018, this nail salon promises to give you a comfortable, clean and fuss-free non-toxic nail care experience. The nail artists use plant-based and toxin-free products as much as possible. Plus, its services include classic and gel manicures and pedicures, nail art, gel extensions, waxing, lash care, eyebrow embroidery and more!
Address: Various locations
Telephone: +65 86348781
Book an appointment by messaging them on WhatsApp via the number above.
Don't have the time to go to the nail salon? Check out these Hello Kitty press-on nails!
Comments, questions or feedback? Email us at [email protected].