TikTok has given birth to another aesthetic trend. Meet Clean Girl. She always looks neat and put-together with little effort. Think of it as the That Girl lifestyle meets French Girl chic. It has the polished yet understated appeal of both concepts but none of the strict routines associated with the former. Read on to know how to have the Clean Girl aesthetic, from the minimal makeup to the easy hairstyles.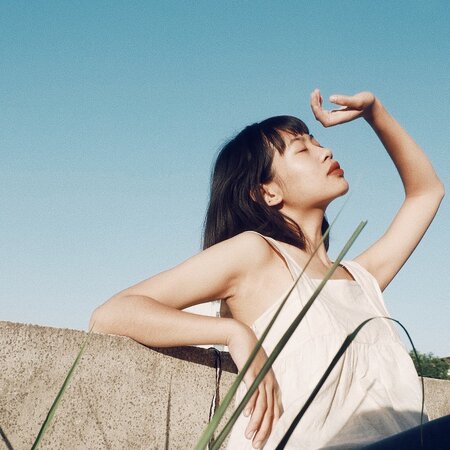 Clean Girl makeup look
Clean Girl began as a makeup trend that was started by TikTok beauty influencer @xolizahbeauty in mid-2021. Her now-viral TikTok clip showed how you can achieve the look of "those girls that always look clean" and "never ever look like they're wearing too much makeup".
The first step is to apply creamy concealer to key spots such as the area between your eyebrows, the skin around your eyes, the skin near your nostrils and lips, and on the chin. Blend upwards using a damp concealer and you're done with the base. No foundation needed!
Next is brows. @xolizahbeauty advises to brush your brows upward but in a diagonal direction with a clear brow gel like Pixi's Brow Tamer Brow Gel (SGD19 per 4.5ML) instead of brushing upward and straight. This creates a natural-looking full bushy look.
After that, dab on some translucent powder using a Beauty Blender in areas you usually see makeup creases like the upper eyelids and around the mouth.
Moving on to the lashes, @xolizahbeauty recommends coating the lashes with Aquaphor Soothing Balm (SGD14.90 per 110ML) before curling them and adding light mascara.
For cheeks, cream blushes are preferred for a seamless natural flush. Next, add an "angelic glow" by putting on a creamy highlighter on top of the cheeks and the nose.
Finish the Clean Girl makeup look by lining your lips with a nude lip liner like Charlotte Tilbury's Lip Cheat Lip Liner in Pillow Talk (SGD37 per 10G) and smudge it inwards for a "just-kissed" appearance. Top off with lip gloss and you're good to go!
Clean Girl hairstyle
Claw clips are having a moment thanks to the Clean Girl aesthetic.
Clean Girl's hairstyle is kept pretty simple. Most who subscribe to the trend put it in a bun or tie it neatly with a low ponytail. Another popular variation is using a claw clip to keep the hair up.
Clean Girl outfits
Clean Girl style always involves a crisp button-down shirt.
Although it started as a beauty trend, the Clean Girl aesthetic has also expanded into fashion territory. A Clean Girl wardrobe consists of neutral pieces that will remind you of that effortlessly chic "French Girl" style that features functional yet fashionable ensembles.
Would you try this look?
Next, check out the top aesthetic trends of 2022.
Comments, questions or feedback? Email us at [email protected].