This article was published on 9 August 2021.
Who's "That Girl"? To all the New Girl fans out there, sorry but it's not the clumsy, dorky Jess. In fact, she's quite the opposite. "That Girl" aesthetic — her outfits and lifestyle routine — is all about being polished and put-together. She wakes up early, starts the day by meditating, exercises every day, and eats only healthy food. Whether you admit it or not, at least a tiny part of you want to be like her. The question is, should you?
A better version of "Cool Girl"
Each era has its own image of the ideal woman, and "That Girl" is certainly having her moment right now. Born on Tiktok and lives on YouTube and Instagram, "That Girl" is an aspirational figure young women look up to today in the same way women admired the "Cool Girl" in the past decade. Here's a hot take: we think she's an improvement. How so?
While the "Cool Girl" was meant to appeal to men, "That Girl" caters to women and promotes self-improvement. Instead of taking pride in eating pizza and burgers while effortlessly maintaining a 24-inch waist, the new ideal is proud of her healthy eating habits and exercise regimen. At the heart of the "That Girl" concept is being the better, if not the best, version of you — and that is an admirable goal to have.
Through the years, similar concepts of "That Girl" have popped up but never has the idea been so detailed than it is today. Unlike other feminine ideals, she's not an enigma and there's no shortage of guides on how you can be her. You can even find schedule templates to follow to become "That Girl".

Along with the routine, a certain aesthetic also comes with the "That Girl" starter pack. She has a minimalistic bedroom, an aesthetically pleasing breakfast each morning, a collection of cute workout gear and a chic wardrobe.
It's a look that's certainly enviable, but the thing is, you don't have to have these to be the best version of yourself. You don't even have to look like "That Girl". You can get your life together even if you don't have avocado for breakfast or yoga pants when you workout.
Embrace the mindset not the aesthetic
Even though we think that "That Girl" is a step-up from "Cool Girl", it doesn't mean that she doesn't have her own set of problems. The key here is to embrace the positive aspects and abandon the negative. Here's how you can be "That Girl" even if you don't look the part. Because "That Girl" should be seen as a mindset and not simply an aesthetic.
1. Work out for your health
Scroll through the hashtag page of "That Girl" on TikTok and it wouldn't take you long to figure out what she looks like — a super pretty, slim woman with a flat stomach. Because the concept is big on fitness, visuals of this aspirational figure feature almost exclusively fit women. The problem with this is that there's no single picture of health. Weight (nor waistline) alone isn't the only indicator of being in "good shape". In a nutshell, having a flat stomach doesn't always equate to being healthy. You can be "That Girl" simply by exercising properly according to what your body needs, instead of working out to chase an ideal.
2. Look after your living space
You also don't have to be pressured to have an ~aesthetic room. While it's nice to live in a plush space, having a nice living situation doesn't automatically mean being a better person. Renovating your room to make it look chicer isn't a requirement to be "That Girl". You can always make your living space better by making sure it's clean and neat. There are also simpler and more economical ways you can try to make your space a sanctuary of your own.
3. Know that it isn't always a pretty process
Life is messy and the journey of becoming a better version of yourself isn't always going to be a pretty process. Your journals don't have to be filled with letterings and cute post-its, they just need to be a safe space to release your inner thoughts. You don't always need coordinated workout outfits, you just need something comfortable for exercising. Many significant moments of your life won't be instagrammable and that doesn't mean they're negligible. You can look like a mess express and still make progress.
Upgrade your "That Girl" essentials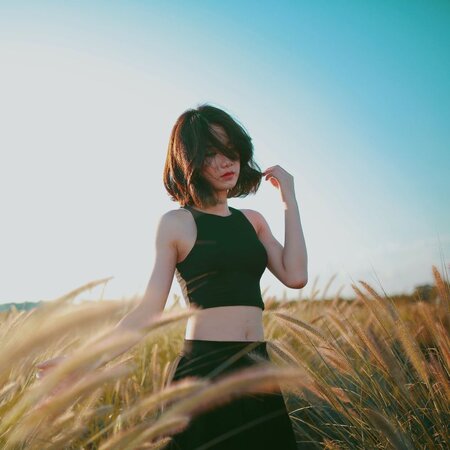 As we mentioned earlier, being "That Girl" is ultimately about the mindset and not the aesthetic. Still, making that mindset more tangible to fit your lifestyle is all about having the essentials to make it happen.
First, why not get a scalp massager to ease away the stress while keeping your scalp and locks healthy? Next, practice ways to enhance your metabolism to make sure you're in top shape. You should also try to back up your skincare routine with supplements that will boost your health from the inside out. Don't forget to get some trusty yoga pants to help you power through your "That Girl" routine effectively and in style.
"That Girl" is a motivational and inspirational figure to aspire to, but somewhere along the way, her original message of self-improvement and empowerment became a little skewed. We may have gotten carried away by the captivating look of "That Girl", but it's time to refocus on her essence. After all, aesthetics should be the by-product of your lifestyle and personality and not the other way around.


(Cover photo from: Teona Swift via Pexels)
Comments, questions or feedback? Email us at [email protected].