Yoga first comes to mind when we think of a workout and a relaxation routine meshed into one. And through the years, different types of yoga practices emerged to fit almost every preference and lifestyle. One that recently captured our attention is aerial yoga, also known as flying yoga or anti-gravity yoga.



What is aerial yoga?
On the surface, aerial yoga may seem like any other novelty twist to your usual wellness routine. However, it ups the ante of your usual yoga practice by helping better blood flow to the brain, improving flexibility and focus, and is great for those looking for a great upper body workout. How? It's all in the extra resistance provided by the aerial suspension.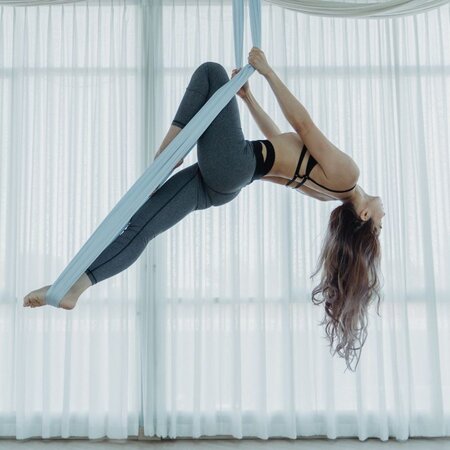 How does aerial yoga work?
As the name suggests, aerial yoga is done while you're suspended mid-air through a combination of hammocks, support chains, webbing straps, and carabineers. However, you're still close enough to touch the floor, encouraging beginners and those who have fear of heights to still give it a try. Routines mixing basic yoga, pilates, and dance elements complete this practice.
Ready to give aerial yoga a try? Book your session at these 10 Singapore studios that offer this experience.


1. FlyWith Fitness
This aerial yoga studio offers various classes on yoga, pilates, TRX Suspension, and aerial arts training. Instructors also make sure to help assess your comfort and skill levels to ensure the most tailored and beneficial routines depending on your needs.
Address: 8 Woodleigh Park (The Arena), Singapore 357844
Book here or via +65-9150-1156


2. Hale Yoga
Hale Yoga offers aerial yoga classes at various timings throughout the day, allowing even the busiest bees to book a session depending on their best availability. Each class varies in intensity and difficulty level, allowing you to enjoy your routine depending on what fits you the most. This studio also allows guests to try two different types of fabric used in aerial yoga — parachute trapeze and stretchy silk — to give a better understanding of this practice. This aerial yoga studio also has bathing facilities which allow you to go about the rest of your day fresh even post-workout.
Address: Various locations
Book via +65 8909 3580, +65 6581 3200, and at [email protected]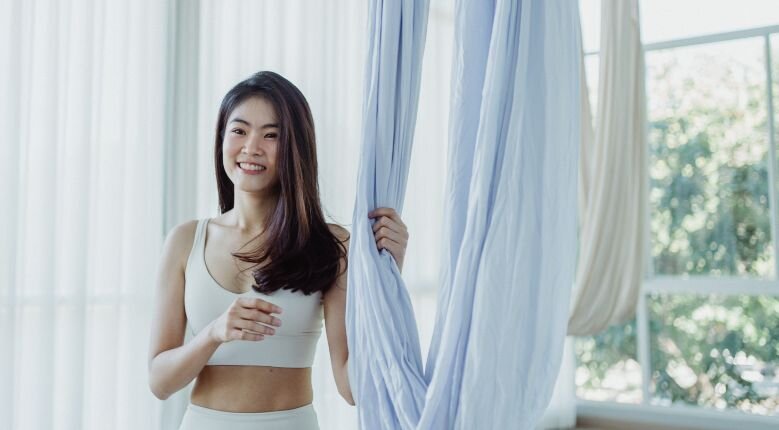 3. Mindful Movement
If you're worried about large cramp classes, Mindful Movement's small and personalised classes are for you. This kind of method allows for better training and instruction per client, giving you the most out of your booked class. This studio also offers one-on-one classes for your convenience.
Address: 11-07, 24 Raffles Place, Clifford Center, 048621, Singapore
Book here.


4. Yoga Mala
This aerial yoga studio has the benefit of small class sizes and flexible membership plans that would suit your lifestyle and budget perfectly. The main focus of each class is to allow you to master the art of maneouvering the aerial yoga hammock, helping you improve your balance and core strength.
Address: 49A, Circular Road, Singapore 049404
Book here or via +65-8498-1649.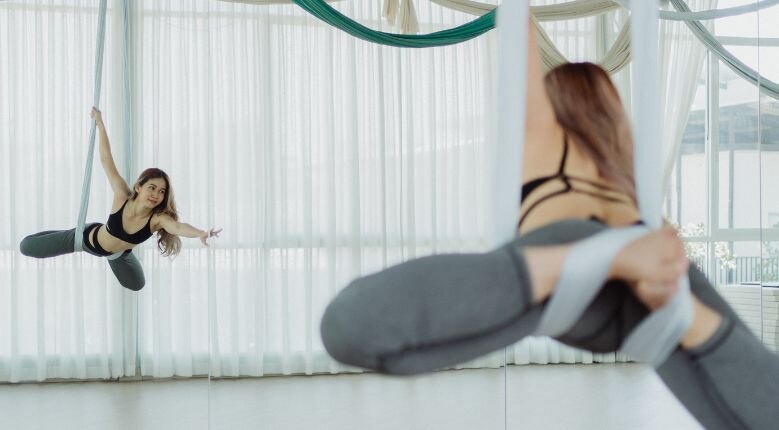 5. Trium Fitness
If you want a luxe aerial studio experience, Trium Fitness will surely fulfill those needs and more. Their six aerial yoga routines focus on pain relief and spinal decompression, done in their brightly lit and chic studio rooms. Guests also get to enjoy showering facilities, as well as complimentary towels and drinks.
Address: 12 Kallang Ave, #03-01/02 Aperia Mall, Singapore
Book via +65-8782-8633.


6. Dream Dance Yoga
Not sure if aerial yoga is your thing? Dream Dance Yoga allows for a 'no commitment' free trial to allow you to gauge if it's for you. This aerial studio welcomes beginner to seasoned yogis to try ou their aerial yoga sessions which focus on body toning and improved yoga technique.
Address: Various locations
Call desired location for bookings.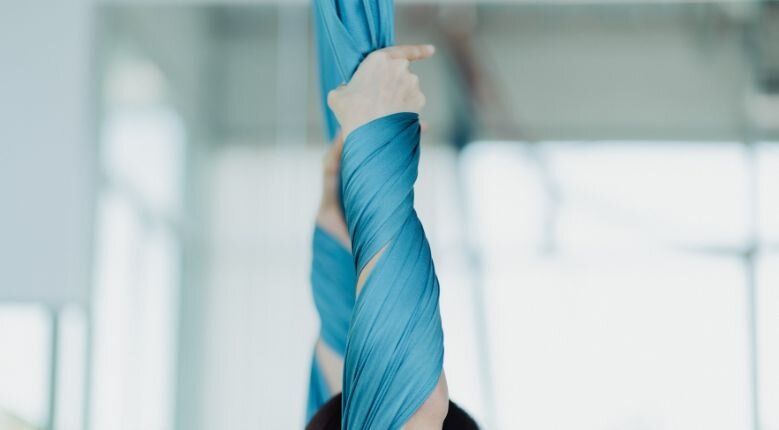 7. Mindful Spaces
Looking to try aerial yoga not just for you but for your kiddie companions? This studio in Singapore has an aerial yoga programme where you can enjoy classes of various difficulty levels that can double up as a bonding session for the entire family. The sessions are carefully conducted and focus on fitness and agility, all done in a fun and exciting environment.
Address: 10 Winstedt Rd, Block A 02-02, Singapore, 227977
Book via +65-9783-731.


8. Adedance Aerial
This aerial yoga studio in Singapore combines dance and aerial yoga to create an engaging and grace-filled session that will improve your strength, flexibility, and creativity. Their sessions make use of aerial hoops, poles, and silks to give you well-rounded wellness sessions matched with choreography.
Address: Oxley Biz Hub 65 Ubi Road 1, #01-94, Singapore
Book via +65-9787-6948.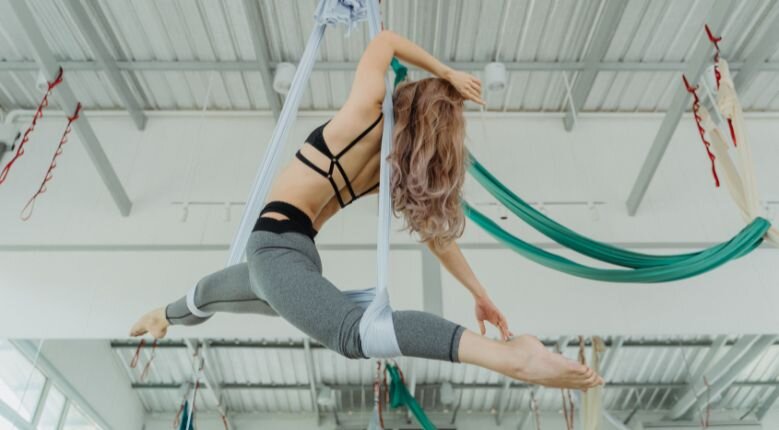 9. Motionwerkz Yoga
This yoga studio calls its aerial yoga sessions Swing classes, which incorporate gliders, resistance bands, and weights in their routines. Classes are conducted only in groups of eight max, allowing for a relaxing and focused learning environment. Single class options are also available, allowing you to take your own pace in learning depending on your skill level and schedule.
Address: 2 Kallang Ave #07-22 CT Hub, Singapore 339407
Book via +65-8811-1483.


10. Aerial Fitness Studio
This aerial yoga studio teaches a variety of style and techniques that covers dance, fitness, and even acrobatics. Their group of expert instructors ensures that you'll have a valuable takeaway at every end of the session whether you're a beginner or someone who has been doing yoga for years. Their instructors also assist you to create a programme fit for your mobility limits, skills, and other personal preferences to ensure a well-fitted session aligned with your comfort level.
Address: CT Hub 2, 114 Lavender Street #01 – 42, Singapore 338729
Book via +65-8952-5483 or [email protected].
11. Club Yoga
This yoga studio is founded by a cancer survivor and offers different types of yoga classes, including aerial, rope, and chair. The aerial yoga classes focus on combining strength and balance as you go through the advanced poses.
Address: 28B Hong Kong Street, Singapore 059667
Book here.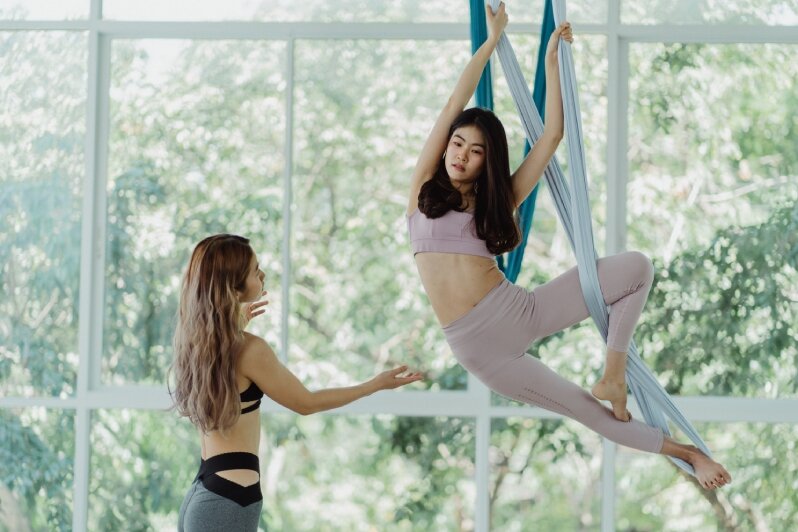 12. Refindery Fitness
Refindery Fitness aims to provide its clients with a safe and nurturing environment and a menu of classes that includes aerial, Pilates, and yoga. It currently offers four levels of aerial fitness classes that are a fun fusion of yoga, Pilates, dance and acrobatics.
Address: 413A River Valley Road, Singapore 248311.
Book here.
13. Aerial and Floor
This aerial fitness space nestled in the heart of Chinatown is the brainchild of two lovers and pioneers of the aerial and acrobatic arts scene in Singapore. Because of their unique backgrounds, the studio they own uses hoops, hammocks, and trapezes in its aerial fitness classes.
Address: 7B Trengganu Street, Singapore 058461
Book here.
Comments, questions or feedback? Email us at [email protected].