This article was first published on 18 August 2022.
Looking for a new workout to try out in Singapore? Challenge yourself by trying Pilates. The low-impact exercise is a whole-body workout with most of the movements and positions engaging your core, lower and upper body.
There are different types of Pilates, but people would be more familiar with Mat and Reformer Pilates. As their names suggest, these involve using a yoga mat and a Pilates reformer machine as your main "equipment".
Mat Pilates is more accessible to people as you only need a mat to cushion your body as you go through your movements. Reformer Pilates uses a specially designed Pilates reformer machine to assist you through the different movements and give you some resistance as you do your pulses.
The benefits of Pilates
Pilates has been proven to improve strength, balanced muscle development, flexibility, and increased range of motion. The basic movements and breathing exercises also make Pilates a great foundation for any type of movement. It can be modified according to your fitness needs, such as with older folks, professional athletes, physical therapy patients, and pregnant mums.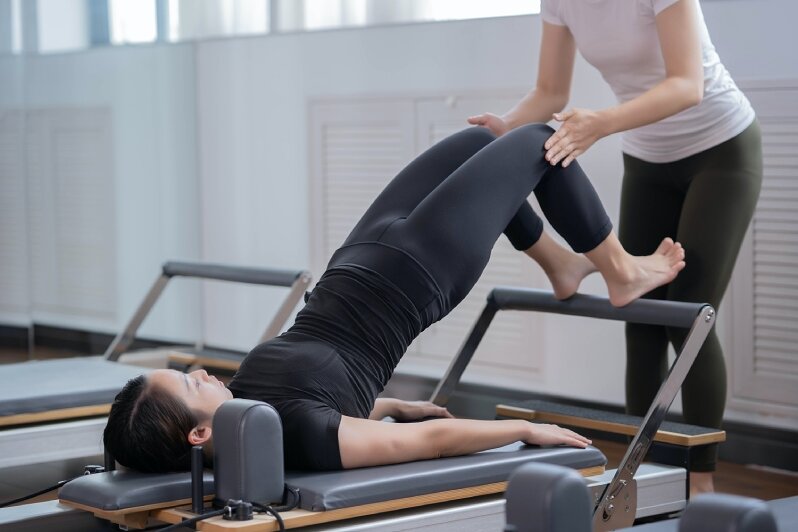 Now that you know more about the benefits of Pilates workouts, here are some Pilates studios in Singapore you can go to for guided exercises.
1. SmartFit Pilates
This boutique Pilates studio specialises in STOTT Pilates® and functional training. They offer both group and private Pilates classes headed by instructors that are trained in functional movement and sporting performance to pre/post-natal Pilates.
Address: 91 Tanglin Road, 01-01 & 04-03 Tanglin Place, Singapore 247918
Book a group class here.
2. Focus
This studio's Pilates instructors have undergone the Polestar Pilates instructor-training course, which is known to be the most comprehensive internationally recognised course in the industry. They offer Mat, Reformer, pre-natal, and other forms of Pilates classes throughout the week.
Address: Raffles Place, 22 Malacca Street, #08-00 RB Capital Building, Singapore 048980
Book a class here.
3. Sky Pilates
Located at the heart of Orchard, Sky Pilates prides itself on being one of Singapore's largest machine-based studios in the area. They offer Foundation Pilates (required before taking a Level 1 Reformer class), Reformer, Mat, and Kinstretch® classes.
Address: 583 Orchard Road, #09-01 Forum Office Tower, Singapore 238884
Book a class here.
4. Flow Pilates by Lab Studio
This reformer Pilates studio located in Joo Chiat offers newbie and class packages for their classes. They also offer private classes for pre-natal, post-natal, injury management, rehabilitation, athletic conditioning & sports performance.
Address: 437 Joo Chiat Road, Singapore 427650.
Book your classes here.
5. Pilates BodyTree
They call themselves the "Home of Asia's Best Pilates Teacher" so you're in good hands if you end up booking a class with them! They have a special Seniors Program that helps older students achieve movement longevity.
Address: Various locations
Book your personal training class here.
6. Idō Studio Singapore
If you prefer intimate, small group type of fitness classes, Idō Studio Singapore is the perfect spot. They use a more holistic approach to fitness through The Gyrotonic Expansion System, which focuses on creating a good mind-body connection and puts an emphasis on breathing techniques to create physical, mental and emotional stability throughout the body.
Address: 35 Selegie Road, #09-05 Parklane Shopping Mall, Singapore 188307
Book your class here.
7. Breathe Pilates Studio Singapore
Breathe is another Pilates studio that offers both private and small group classes. They also have a dedicated Post-Natal Pilates Program that new mums can do in the comfort of their homes. P.S. They're also a MERRITHEW™ Licensed Training Center for folks who want to become Pilates instructors themselves.
Address: Various locations
Book your class here.
8. Core Fitness
This physiotherapy and Pilates studio in Orchard Road is the HQ of some of the best physiotherapists and Pilates instructors on the island. They provide a combination, hands-on and active approach to injury rehab and prevention.
Address: 583 Orchard Road, Forum Office Tower #05-04, Singapore 238884
Book an appointment here.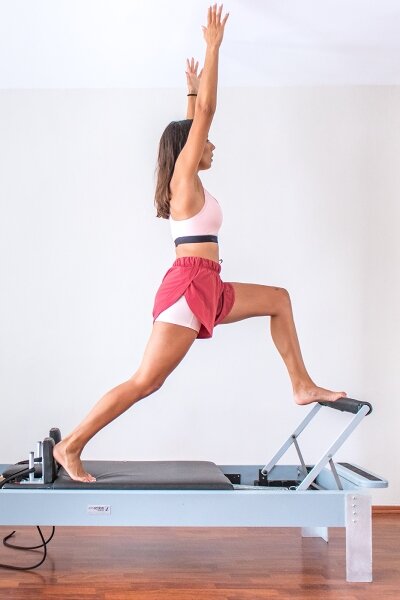 9. PowerMoves Pilates
If you want to have a scenic garden view as you pulse it out, this Pilates studio is the one to try. Aside from the view, the studio has also taken home awards for Most Beautiful Studios, Most Outstanding Service Standards, Most Comprehensive Pilates, Best Pilates Matwork, and Best of Singapore Pilates Studios from some of Singapore's publications.
Address: Dempsey Hill and Novena Hub
Book a class here.
10. Options Pilates Studio Singapore
Options Pilates Studio Singapore offers one-on-one, duet, and group Pilates sessions that you can take depending on the level of instruction you want. They're also the official training center for Pilates Academy International, one of the internationally recognised courses and certifications for Pilates instructors.
Address: Various locations
Book a trial session here.
11. Pilatique Pilates Studio
This cosy and sunny Pilates studio has independent areas for private and duet sessions, group classes on the Reformer, and workshops and courses for folks training for their Pilates instructor license. They have a lot of equipment available to cater to their students' fitness levels.
Address: Various locations
Book a trial session here.
12. Pilates Smith
If you want a conveniently placed studio in Chinatown, head to Pilates Smith. It also offers Reformer, Mat, or Chair Pilates classes and keeps each class to two people at a time so you get the instructor's full attention and guidance.
Address: 70A Smith Street, Level 2 Singapore 058968
Book a session here.
13. Pilates Fitness
Pilates Fitness is a lifestyle-oriented Pilates studio, so the instructors help you achieve your personal goals by curating your classes. Want to lose some weight? Take their Weight Loss Pilates class. Want to strengthen your core? Then sign up for Core Pilates. They also have a Couple Prenatal Pilates class to help parents-to-be prepare for birth.
Address: 85A Serangoon Garden Way, Singapore 555981
Book a class here.
Prefer more high-intensity exercises? Here are some HIIT gyms to hit up.
Comments, questions or feedback? Email us at [email protected].