Prebiotics was one of the biggest buzzwords in the beauty and wellness space last year. Now, skincare with prebiotics, or prebiotic skincare, is gaining even more popularity. So what can prebiotic-powered skincare products do for your skin?
In this episode of BeauTea Talk, hosts Roanna and Becks share many of the benefits of prebiotics for your skin. They also shared some skincare products with prebiotics from local skin and vulva care brand Two Lips that you can consider trying yourself. Read on to know why these products are must-haves.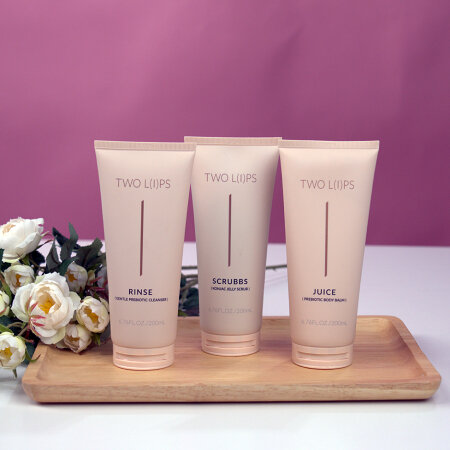 1. Two Lips Rinse Gentle Prebiotic Cleanser
Strong skin starts with clean skin. This skin cleanser with prebiotics can be used for your face and vulva to lift away dead skin cells. It's a pH-balancing cleanser, meaning it helps balance out your microbiome if it's inflamed (acidic) or too dry (alkaline).
Its prebiotic ingredients are lactic acid and saccharide isomerate. These work together to gently exfoliate your skin without stripping it of moisture.
It's priced at SGD55 per 200ML on the brand's website.
2. Two Lips Scrubbs Konjac Jelly Scrub
Speaking of exfoliating, this prebiotic-powered exfoliator is made to gently buff away dead skin cells on the surface without damaging your skin. It contains biodegradable Konjac Jelly beads and finely ground non-genetically modified organisms (non-GMO) olive stone powder to physically exfoliate your face, body, and vulva.
Its prebiotic ingredient is saccharide isomerate, a hydrating prebiotic and hyaluronic acid booster that helps fortify your skin barrier.
It's priced at SGD70 per 200ML on the brand's website.
3. Two Lips Juice Prebiotic Body Balm
After you've cleansed and exfoliated your skin, prevent your skin from drying out with a hydrating moisturiser. This lightweight prebiotic moisturiser is formulated with sugarcane-derived squalane, plant-derived trehalose, and shea butter to nourish and condition your skin.
Its prebiotic ingredients are inulin and alpha-glucan oligosaccharide that keep the ratio of good and bad bacteria in your microbiome balanced and healthy.
It's priced at SGD80 per 200ML on the brand's website.
Which of these skincare products with prebiotics are you most likely to try?
Next, discover some local industry secrets from the beauty experts themselves here.
Comments, questions or feedback? Email us at [email protected].