Regardless of how minimalistic your skincare routine is, there are some non-negotiables that deserve a spot on your vanity. This includes a gentle cleanser that effectively removes the day's makeup, dirt and impurities.
Speaking of cleansers, we tried the MAC Cosmetics Hyper Real Fresh Canvas Cleansing Oil, one of three new skincare products that the beauty brand has introduced recently to help users improve their skin and enhance their makeup. Was the cleansing oil suitable for my sensitive skin? Did it leave behind a greasy residue? Read our review below to find out.
*The product was sent as a press gift. The views and opinions of the reviewer are independent and purely editorial.
MAC Cosmetics Hyper Real Fresh Canvas Cleansing Oil packaging
A refreshing contrast to the brand's signature, bold and black packaging, the MAC Hyper Real skincare line, which includes the Fresh Canvas Cleansing Oil, features matte, off-white packaging.
The cleansing oil is housed in a bottle that has a twist pump. To prevent spillage, it also comes with a twist lock mechanism — something that I appreciate as oil-based products can be tough to clean up if they were to spill over onto your bathroom counter or vanity.
MAC Cosmetics Hyper Real Fresh Canvas Cleansing Oil: first impressions and claims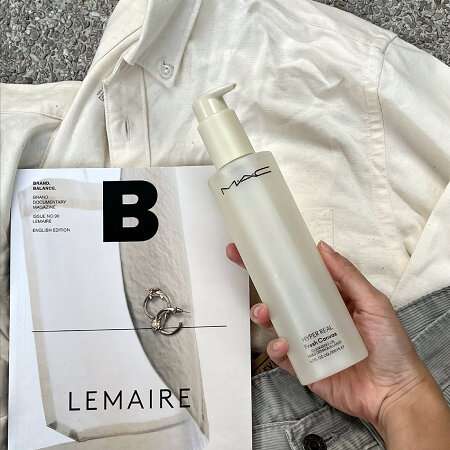 I was especially drawn to the cleansing oil's formulation. It claims to have a "cushion-like, luxurious formula" that helps to smooth the skin, maintain the skin's moisture balance and improve the skin's texture — all while helping to remove stubborn makeup, pollutants and micro-dust.
Its ingredient lineup includes Japanese peony extract, which has antioxidative and skin-soothing properties, ceramides to restore the skin's barrier, and hyaluronic acid to lock in one's skin moisture. It also has jojoba oil, which is particularly suitable for sensitive skin users like me.
While the brand claims that the cleansing oil "won't cause breakouts or clog pores" and is designed for all skin types, it did not explicitly state that it is non-comedogenic. Those with blemish-prone skin may wish to check in with a dermatologist to confirm if this product is suitable for them.
The cleansing oil also has a subtle floral scent that reminds me of jasmine — though it may be more accurate to attribute this to its ingredients, such as Japanese peony extract, tsubaki (Japanese camellia plant), jojoba oil and sunflower seed oil. I found its scent to be quite relaxing and it did not cause irritation to my skin.
MAC Cosmetics Hyper Real Fresh Canvas Cleansing Oil: usage and application
I've been diligently using a cleansing oil from a Japanese drugstore skincare brand for almost a year now and was curious to see if MAC's iteration of this skincare staple would match up or even exceed my expectations.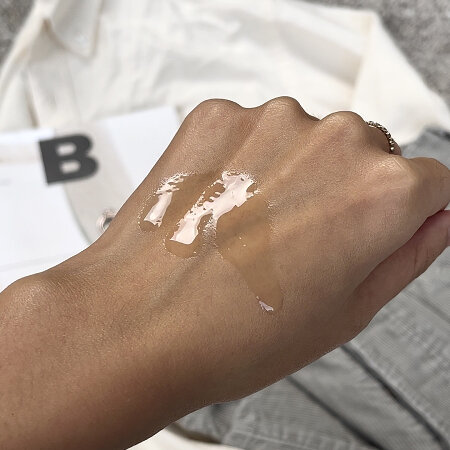 In terms of its texture, this MAC cleansing oil won, hands down. The product feels incredibly smooth and silky on the skin. It has a lightweight texture and it does not leave behind a greasy, film-like residue.
I apply two pumps of this product onto the back of my hand before using my ring finger to glide the product across my face. With both hands, I spend around a minute or so rubbing the product onto my face, including the crevices of my nose as they are prone to blackheads, over my eyelids and under my eyes. I then emulsify the product with water before patting my face dry with a face towel.
My skin felt incredibly smooth and my skin's texture looked more refined as well. While my skin appeared soothed, "well-rested" and ready for the next steps of my skincare routine, I also observed that the cleansing oil wasn't able to completely remove all traces of my makeup.
I could find traces of foundation when I wiped my face with a piece of tissue paper. This isn't a major issue for me though, as you should always follow this cleansing oil step with a gentle, water-based cleanser to ensure your skin is fully cleansed.
Thoughts on the double cleansing method?
Final verdict on the MAC Hyper Real Fresh Canvas Cleansing Oil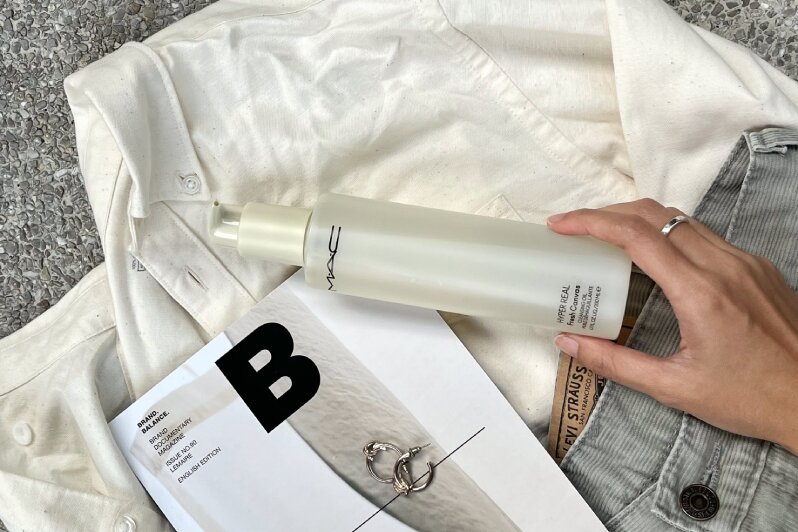 After using this cleansing oil for two weeks, I noticed that my pores have become less visible and my skin's texture has looked better. My skin has also been less prone to redness and inflammation hence I appreciate the product's skin-softening and soothing benefits.
Priced at SGD76 for 200ML, the MAC Hyper Real Fresh Canvas Cleansing Oil is a competitively-priced premium skincare product. (For reference, the shu uemura ultim8 sublime beauty cleansing oil costs SGD67 for 150ML.)
That said, it's a worthy splurge as its non-greasy, silky texture makes for such a relaxing, sensorial experience and its ingredients are beneficial for your skin's health in the long run. It's also been incredibly gentle on my sensitive skin so consider me impressed by MAC's latest venture into skincare.
Interested to pick this up? The MAC Hyper Real Canvas Cleansing Oil is available at all MAC boutiques in Singapore, MAC concierge service and at selected retailers including Sephora stores, Sephora.sg, Lazada and iShopChangi.
P.S. Your scalp deserves a deep cleanse too. Here's how to do it.

Comments, questions or feedback? Email us at [email protected].