If you have frequent acne breakouts, you may also find yourself dealing with redness, irritation, and eventual scarring. Luckily, a good soothing balm can help reduce these side effects so your skin can heal faster. One of the most popular options circling the internet is the La Roche-Posay Cicaplast Baume B5, which claims to be an effective soothing moisturiser thanks to its centella asiatica-powered formula. #TBLBureau Senior Integrated Solutions Manager Vicky tried it out on her combination and acne-prone skin to see if it can reduce the breakout-related redness and dark spots she experiences. Read on to find out if it delivers.
*The product was sent as a press gift. The views and opinions of the reviewer are independent and purely editorial.
La Roche-Posay Cicaplast Baume B5 packaging
"It comes in a tube packaging with a slightly big opening, hence there's often some residual product after each squeeze," Vicky said. "It would be nice if the opening is slightly smaller so that it's easier to control the amount needed for each use," she admitted.
La Roche-Posay Cicaplast Baume B5 first impressions and claims
Vicky was most intrigued by the product after seeing it being recommended on Chinese social media Xiao Hong Shu. "There are also many skincare experts and beauty influencers sharing their personal skincare tips for using B5," she shared.
Based on their recommendations, you can use the baume in two ways: 1) apply a thick layer over the entire face for 15 to 20 minutes to reduce redness and remove it afterwards or 2) apply a thick layer on an acne spot for 15 minutes and remove it afterwards. The brand also says you can use it twice a day to reduce dryness.
She also wanted to see the effects of the centella asiatica in its formula. "I heard it's great for skin soothing and healing, and also helps to prevent scarring and future blemishes. This popular ingredient is now commonly used in acne skincare products."
The baume is also formulated with soothing La Roche-Posay Thermal Spring Water and panthenol and anti-bacterial ingredients to help the skin recover from irritation.
Applying the La Roche-Posay Cicaplast Baume B5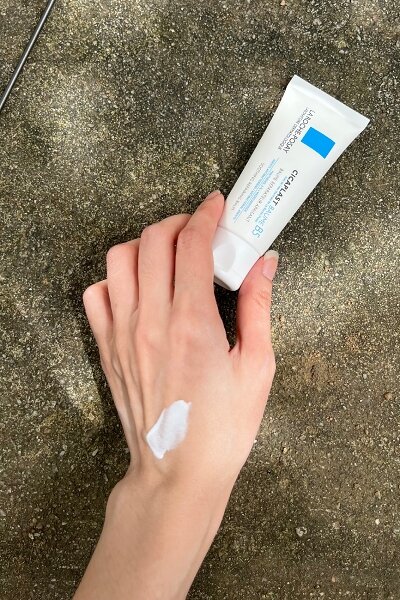 "The cream texture is rather thick, which honestly wasn't something I would prefer for my skincare." Vicky shared. "However, after using it multiple times and witnessing the magical results it has in lightening my scar, this cream has become a staple on my vanity."
She shared that applying the product on her red acne scars for three to five consecutive nights each time, she's noticed that it does help with redness and skin recovery. "It worked in lightening the redness and scars," she added.
So if you're like Vicky who isn't fond of thick, creamy skincare but occasionally needs extra soothing during skin emergencies, this soothing balm can come in handy. "Depending on your skin condition and the purpose of using the Cicaplast Baume B5, I would recommend using it for three to five days only or stopping whenever your skin condition has improved." However, avoid applying it on new breakouts and freshly popped pimples, she said.
How will you use this product?
Final verdict on the La Roche-Posay Cicaplast Baume B5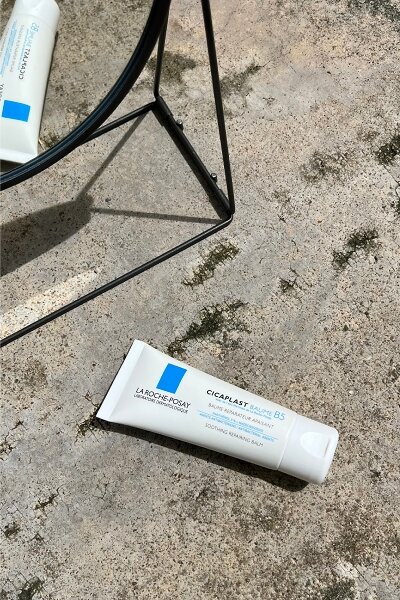 It goes without saying that the La Roche-Posay Cicaplast Baume B5 has Vicky's nod of approval. "I have been a regular B5 user for a few years now. It's a staple in my skincare stash and I definitely recommend others to use it." In particular, she recommends it for people with sensitive or dry skin, since it's great at soothing both conditions. Acne-prone skin users like Vicky can also use it as an acne scar treatment.
It also helps that it's quite affordable. "I think it is super affordable and it lasts long since I only use it occasionally for targeted areas."
You can find this multi-tasking balm at Lazada, Shopee, Watsons, and Guardian. It's priced at SGD10.90 per 15ML, SGD24.90 per 40ML, and SGD49.90 per 100ML.
Chapped lips? This Clarins lip oil can give them some moisture and colour.
Comments, questions or feedback? Email us at [email protected].