By now, we're sure you've already heard of Centella Asiatica in skincare products and how it supposedly has skin-caring benefits that are good for sensitive-skinned and acne-prone people.
Gals with sensitive skin are always on the hunt for skincare that can help soothe skin irritation. Their compromised skin barrier often manifests in dryness and increased reactivity to external factors such as cold temperatures, pollution, and even sun exposure. This has led more brands to offer formulations specially made for sensitive skin, a concern that's particularly relevant to Asian consumers according to the market intelligence agency Mintel. This is where Centella Asiatica comes in. It's quite a cult fave in the K-beauty realm, but what is this ingredient exactly?
What is Centella Asiatica?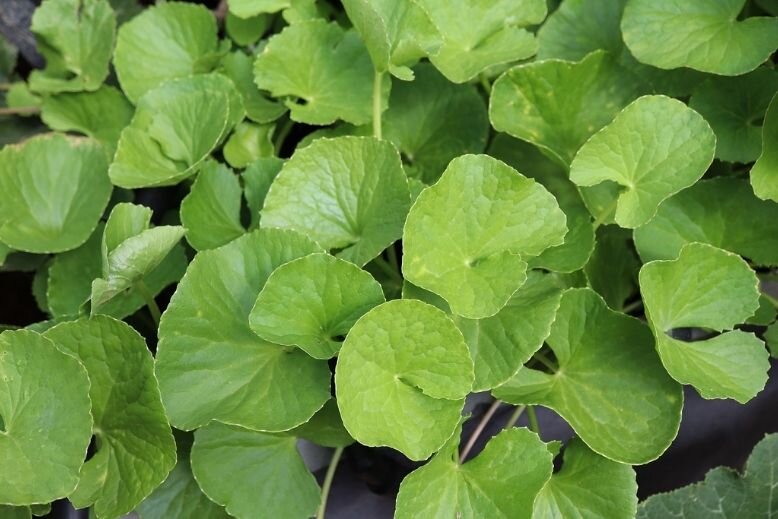 Centella Asiatica, also known as cica, Gotu Kola, Indian pennywort or tiger grass "is a tasteless, odourless plant that thrives in and around water with small fan-shaped green leaves and white or light purple-to-pink or white flowers," said Dr. Irene Gaile Robredo-Vitas, a licensed dermatologist and fellow of the Philippine Dermatological Society.
"It has been used in traditional Asian medicine in treating small wounds, scratches and burns and as an anti-inflammatory agent in eczemas," she continued.
"There is a story that when a tiger was injured, it rolled over a centripetal grass," shared Korean dermatologist Dr. Ahn Gun-Young, the CEO of Gowoonsesang Cosmetics or Dr. G Skincare, a leading Korean skincare brand now available in Watsons Singapore. "Centella Asiatica has wound healing properties, and is a botanical ingredient for skin regeneration, anti-inflammatory, and antibacterial effects." Other studies also suggest that it can be used to treat photoaging skin and cellulite.
Some advice to take note of
Despite these advantageous claims, both dermatologists believe that more research should be done on its effects once made into a cosmetic product. "Further research on the efficacy of Centella asiatica extract as a cosmetic product (when applied to the skin) seems to be necessary," according to Dr. Ahn. "I would appreciate, though, if there would be literature that would discuss or focus on a particular derivative of the herb, since it has many, and not a lot talk about [these] or address specific skincare issues," Dr. Robredo-Vitas added.
Since Centella Asiatica is a plant-derived ingredient, it's highly likely that some individuals will experience some irritation to it. "As with all the other ingredients, natural or not, there is always a risk of an allergic reaction," Dr. Robredo-Vitas explained. "Also, plants are finite sources and using too much of them too fast can lead to depletion," she added.
If you're worried whether it's safe to use on the skin, current research showed that it's quite safe to use. "Based on published data, Centella Asiatica has an excellent safety profile, is non-toxic with very few side effects reported. However, it is still best to exercise caution when using something for the first time," she advised. "It is always advisable to start slowly, use low concentrations of a particular ingredient and/or do product patch testing before using it."
Dr. Ahn agreed. "All natural ingredients can cause various side effects and slight irritation and troubles to sensitive skin. Not only Centella Asiatica extract but also vegetable oils," he said. However, Dr. Ahn also noted that "the concentration used in cosmetics is not that high, so the probability of causing skin trouble is minimal."
The true power of Centella asiatica
So what makes centella an increasingly popular ingredient in skincare? After all, it's now commonly found in cica repair creams that people use to heal skin sensitivities and flare-ups. The answer? It's in the active compounds found in it.
"According to some studies, the most important isolates from C. asiatica are the triterpenoid saponins or centeloids, such as asiaticoside, madecassoside, asiatic acid and madecassic acid," explained Dr. Robredo-Vitas. "Madecassoside is known to aid in burn wound healing, through its antioxidant property and its ability to stimulate collagen remodelling or renewal and to influence angiogenesis (formulation of new blood vessels from pre-existing ones)."
"Madecassoside is one of the effective ingredients contained in Centella asiatica extract. It is the most difficult to extract from Centella asiatica extract and can only be obtained through many purification processes," explained Dr. Ahn. "It has the best effect on skin regeneration, soothing and wound healing."
So all those claims of being a good soothing agent for compromised skin can be largely attributed to the presence of this active compound. In French skincare, centella products are often called madécassol creams (from the word madecassoside) and are used for a more targeted application in irritated areas. On the other hand, in Korean skincare, centella products are used all over the face.
Where to look for it
"There is no specific formulation, but it seems that essence and toner or cream with light formulations are more effective than heavy cream formulations," Dr. Ahn shared. Dr. Robredo-Vitas noted that "gel formulations are said to have better penetration" but also said that "it also matters which compound of Centella Asiatica is present in the product, what concentration and what other ingredients are in the product that may work synergistically with Centella Asiatica."
Your Centella Asiatica starter pack
Now that you know more about Centella Asiatica, here are some products that contain this ultra-soothing ingredient.
Kiehl's Centella Sensitive Facial Cleanser
First up, let's talk about cleansing the face. The wrong facial cleanser can leave your skin stripped of moisture, a no-no if you already have a compromised skin barrier. Instead, choose a mild cleanser that's fragrance-free, alcohol-free, soap-free, and surfactant-free. The Kiehl's Centella Sensitive Facial Cleanser (SGD59/~USD44.10) happens to tick all of those boxes and is formulated with Centella Asiatica to leave your skin feeling moisturised and soothed after cleansing.
Dr. Jart+ Cicapair Toner
Dr. Jart+ is well-known for its Cicapair range, which features Centella Asiatica as its hero ingredient. If you're looking for an alcohol-free toner, this refreshing Cicapair Toner (SGD45/~USD33.63) has Centella Asiatica extract, madecassoside, Asiatic acid, asiaticoside, madecassic acid as well as niacinamide which can help bring your skin back to tip-top shape.
Evereden Golden Belly Serum
For pregnant and postpartum mums, family-focused skincare brand Evereden uses Centella Asiatica extract to create products that reduce the appearance of stretch marks. Similar to a facial serum, the Golden Belly Serum (USD32) is chock-full of reparative actives to resurface the skin. Aside from Centella Asiatica, it also has 12 other nutrient-rich botanical actives like marula and rosehip oil that work to further improve your skin's complexion. Tip: you can use it as an all-over body oil too!
Dr. G R.E.D Blemish Clear Soothing Cream
Now if you want to help your skin recover from redness and irritation, the Dr. G R.E.D Blemish Clear Soothing Cream (SGD51.90/~USD38.78) harnesses the anti-inflammatory properties of Centella extract in its 5-Centella Complex to moisturise and calm sensitive skin caused by external aggressors. You can use this as a daily moisturiser in the morning or as a sleeping mask before you go to bed.
Luxe Organix SPF 50+ PA+++ UVA/UVB Protection Aqua Daily Sunscreen
Don't forget your sunscreen! The Luxe Organix Aqua Daily Sunscreen (PHP349/~USD7.26) also contains aloe vera and calendula extracts which are also known for their respective soothing and hydrating aspects. Its water-resistant formula will add a level of protection against UVA (photo-ageing) and UVB (burning) rays.
Disclaimer: The products mentioned in the story are not endorsed by the dermatologists and are shared as general recommendations by the writer based on the knowledge shared by the experts.
(Cover photo from: commons.wikimedia.org)
Next, here's a simple three-step skincare routine for sensitive skin.
Comments, questions or feedback? Email us at [email protected].