K-beauty brand innisfree has delved into retinol skincare with its new Retinol Cica Repair Ampoule. It combines the quick-exfoliating properties of pure retinol with the instant-soothing power of centella asiatica a.k.a. cica. The unique formula promises to prevent skin woes from appearing. Will it hold up to its promise? We tapped #TBLBureau Campaigns Manager Rebecca, who's always looking for brightening and anti-ageing skincare to help manage post-breakout marks, to find out.
*The product was sent as a press gift. The views and opinions of the reviewer are independent and purely editorial.
innisfree Retinol Cica Repair Ampoule packaging
The serum has a pretty minimalist design that's easy to figure out. "The design of the bottle is very convenient and hygienic," Rebecca said. It comes with a fool-proof pump bottle design that keeps the formula tightly sealed within the packaging.
"I love the design of the bottle because it comes in a pump instead of a dropper. This reduces the exposure of the serum to the environment," she added. "Also, it comes with a twist-lock feature, so it's good for travelling or bringing out for staycations."
First impressions on and claims of the innisfree Retinol Cica Repair Ampoule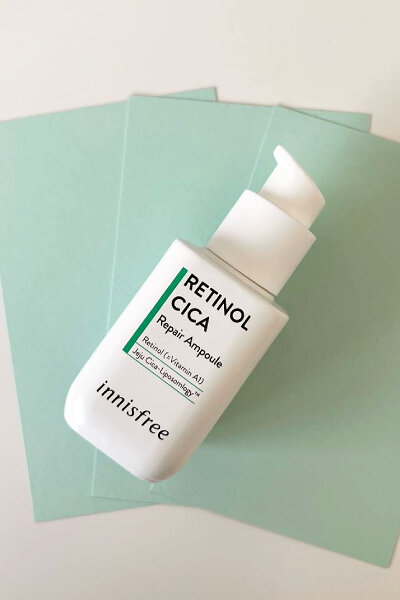 Rebecca was excited to try the innisfree Retinol Cica Repair Ampoule since she wants to boost her skin's acne recovery process. The serum's ingredients seem to tick all the boxes of a must-have serum for her: "I love that this product contains both retinol and cica. Retinol is known for its anti-ageing properties and it's always good to start young with it," she explained. Retinol also helps minimise the appearance of pores. "Cica is known for its anti-inflammatory properties which are great for acne-prone skin or any acne caused by mask-wearing a.k.a mask-acne."
Innisfree formulated the serum's hero ingredient, Jeju Cica Lipsomlogy™, with retinol, centella, ceramide and Jeju green soybean hyaluronic acid. According to the brand, this formula lessens the chances of skin irritation from retinol sensitivity.
Applying the innisfree Retinol Cica Repair Ampoule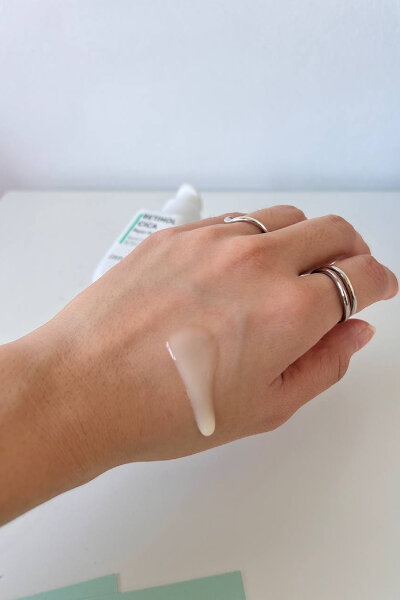 The innisfree Retinol Cica Repair Ampoule has a "gel-like watery texture" that Rebecca says is very lightweight and fast-absorbing. If you compare it with other retinol serums, the innisfree serum comes out runnier and has a slightly tacky finish. "When you first apply it, it might feel a little sticky as per with most retinol products," Rebecca observed. However, she did notice that her skin felt very smooth after letting the serum gets absorbed into her skin.
After using the product for two weeks, Rebecca noticed that her pores looked smaller and her skin felt smoother. She also observed that some of the dark spots from previous breakouts look lighter.
Would you try this retinol serum?
Final verdict on the Innisfree Retinol Cica Repair Ampoule
All in all, Rebecca is very pleased with this retinol serum and recommends it to retinol newbies. "It's a good product for people who haven't used retinol or any acids before since it's mild enough for daily use." She's also considering repurchasing the serum to see its long-term benefits. Rebecca also said she'd appreciate it if innisfree would add to the range with serums that have higher concentrations of retinol "so users can pick the retinol percentage according to their preference and usage."
She also says she can see people with normal to combination and acne-prone skin liking its soothing and redness-reducing benefits. Plus, she thinks it's quite a budget-friendly retinol product.
The innisfree Retinol Cica Repair Ampoule is available in Singapore for SGD51 per 30ML through innisfree's outlets, e-store, Lazada and Shopee.
Curious about your retinol options? Check out our review on the Kiehl's Retinol Skin-Renewing Daily Micro-Dose Serum.
Comments, questions or feedback? Email us at [email protected].