As someone with really sensitive skin that's prone to hyperpigmentation, I've always found it difficult to find products that would help me solve my skin woes without irritating my skin. Dealing with active ingredients like vitamin C has always been tricky since these kinds of products usually deliver promising results but at the expense of drying out my skin or making it sting. Still, since I'm already in my late 20s, my search for a great skincare product is on. So I was excited to try the Dr. Dennis Gross 15% Vitamin C Firm & Bright Serum.


I've tried the
Dr. Dennis Gross Alpha Beta® Universal Daily Peel Pads
many years back and they're pretty solid when it comes to performance. This definitely set my expectations high for another one of the brand's products. Read on as I share my honest thoughts about the serum below.
*The product was sent as a press gift. The views and opinion of the reviewer are independent and purely editorial.


Packaging, main ingredients, and claims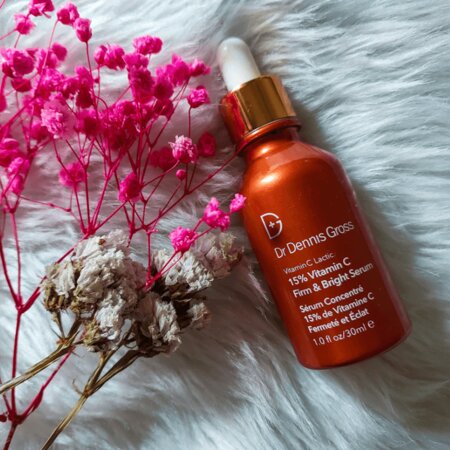 The Dr. Dennis Gross 15% Vitamin C Firm & Bright Serum comes in a bright copper dropper bottle that has a nice premium feel to it. According to the packaging, the bottle (with the exception of the dropper) is recyclable, which immediately earned it a point in my book.
The product's star ingredient is 15% L-ascorbic acid (vitamin C), a powerful antioxidant that protects and repairs the skin by aiding increased collagen production. This serum also contains lactic acid which helps with better product absorption and stimulates the skin's natural ability to replenish and revitalise. The promised result of this is a strengthened skin barrier. The formula is further enhanced by licorice and alpha-tocopherol which have anti-inflammatory properties and combat free radicals.
This serum also promises firmer and brighter skin by improving skin elasticity, as well as targeting fine lines and wrinkles and hyperpigmentation. Sounds exactly like what I was looking for!
Which Dr. Dennis Gross 15% Vitamin C Firm & Bright Serum claim do you find the most appealing?
Scent, consistency, and application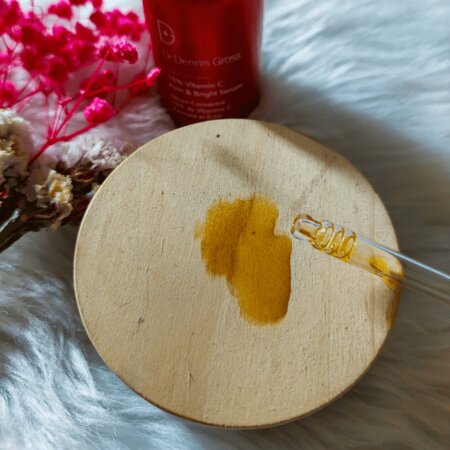 According to the brand's
website
, the product is recommended to be used once daily; you need to dispense and apply four to six drops on clean and dry skin. Following this, I incorporated the serum into my night routine, after I used a gentle
face lotion
and before my usual moisturiser or hydrating sheet mask. They said that a slight tingling sensation might be felt upon application, but I didn't feel this at any point in my use of the product.
I was really happy that the dropper was easy to work with. It also didn't feel flimsy, and the squeeze tip maintained a good grip even after weeks of use.
The serum comes out orange (similar to many vitamin C serums) and has a smooth runny gel-like consistency that spreads and absorbs easily onto the skin. It's lightweight and not tacky but does leave a slight sheen on the skin. I don't really mind that it makes my skin look shiny since I use it prior to hitting the hay anyway, but it's still something to take note of if you prefer your nighttime skincare products to look traceless.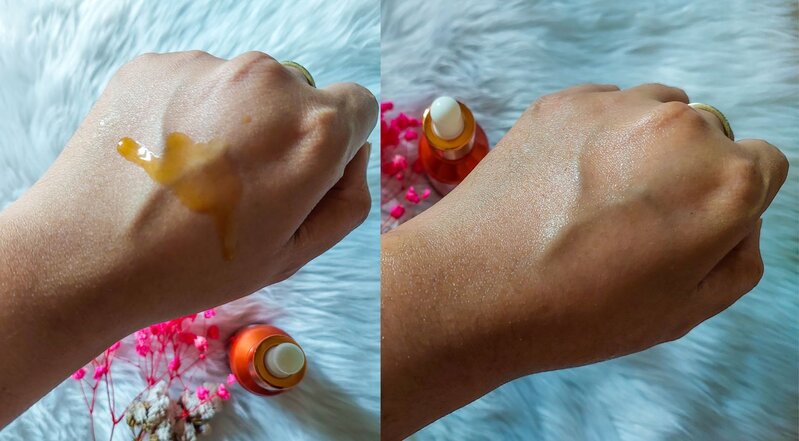 Plus, make sure not to let this product drop directly on your clothes or sheets while you apply, since it does leave an orange stain on fabric or any liquid-absorbing material. Thankfully, it washes off but it's not something you really want to deal with right after freshly changing your bedsheets (take it from me!).
This product also has a really strong scent that's a cross between citrusy and metallic. I'm usually amiable when it comes to products' smell and was quite aware that many vitamin C serums have a slight citrusy smell to them, but this product's scent was definitely sharp, making it my least favourite thing about it. The scent also lingers on the skin for minutes after you've already blended it which may be off-putting to some.


Final thoughts
The morning after I first applied the Dr. Dennis Gross 15% Vitamin C Firm & Bright Serum, I immediately noticed how smooth and soft my skin felt. I also didn't experience any breakouts while using this product, which was noteworthy considering how my skin usually reacts whenever I try strong actives such as vitamin C.
After using the product for two weeks, I already noticed that it significantly helped fade some breakout scars I had on my cheeks, forehead, and jaw area. Despite having really dry skin, visible flaking also lessened and I noticed my makeup was applying so much better.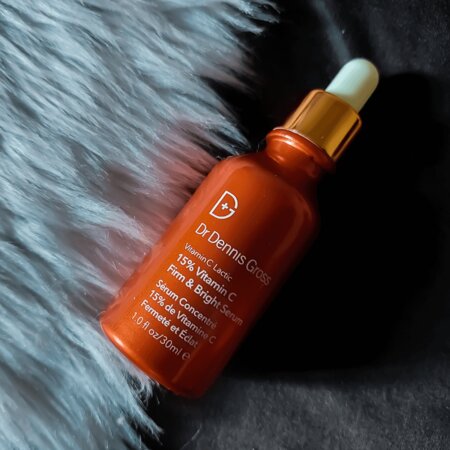 I was also dealing with hyperpigmentation and scarring around my legs so after the promising results I saw on my face, I decided to test this serum on my legs too and was surprised that it visibly lessened the discolouration in that area as well.
I still have a lot of the product left to use but I'm already glad about the results I've gotten from the Dr. Dennis Gross 15% Vitamin C Firm & Bright Serum. I'm still careful about how it stains on fabric and still not used to its strong smell, but I consider them little trade-offs for this product's efficacy.


Price and where to Dr. Dennis Gross 15% Vitamin C Firm & Bright Serum in Singapore
Want to try it for yourself? You can get the Dr. Dennis Gross 15% Vitamin C Firm & Bright Serum in Singapore for SGD130 per 30ML on
Sephora
.
Next, should this Laneige moisturiser have a place in your current routine? Our full review of the Laneige Perfect Renew 3X Cream here.
Comments, questions or feedback? Email us at [email protected].