When we think of neutral eyeshadows, we think of "universal" colours like brown and pink. After all, these are the colours that look "basic" enough to wear any time of the day. But can there ever be a new take on neutral eyeshadows?
The Anastasia Beverly Hills 'Nouveau' Palette claims to be just that. With a name derived from the French word meaning "modern" or "up to date", the eyeshadow palette offers twelve "reimagined neutrals" that you can use to create instant, effortless and summer-ready looks.
#TBLBureau Campaigns Manager Chloe put the palette and her creative makeup skills to the test to see if it's flexible enough for both everyday and glam looks. Read on to find out if it is.
*The product was sent as a press gift. The views and opinions of the reviewer are independent and purely editorial.
Anastasia Beverly Hills Nouveau Palette packaging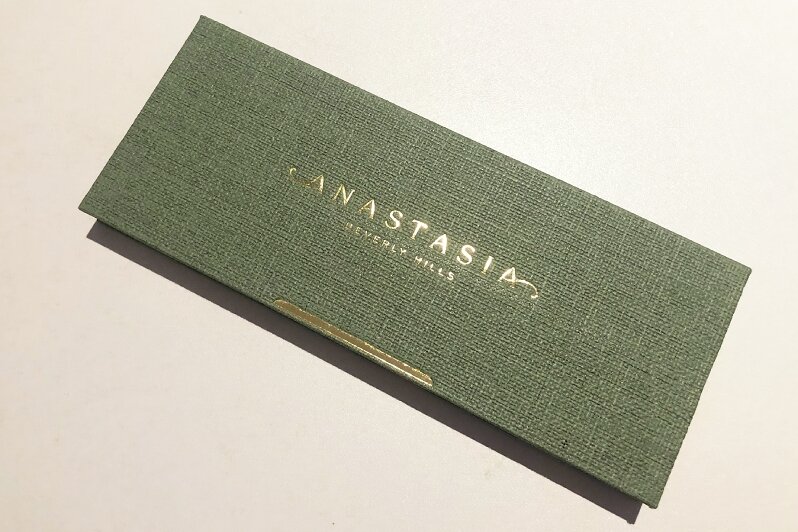 The palette comes in moss green-coloured and luxuriously textured packaging with gold accents. Like any of the full-size Anastasia Beverly Hills (ABH) palettes, it comes with a large mirror that comes in handy for doing your makeup. According to the brand, the eyeshadow pans also contain almost 200% more of every shade than its original palettes.
Claims
As for the eyeshadow shades, the "summery" palette contains 12 highly pigmented reimagined neutral shades that promise to deliver an intense colour payoff. It primarily consists of natural, warm colours and unique olive tones with finishes that range between high-shine metallics and rich mattes. With these colour options, ABH claims you can easily create endless day-to-night looks. It also claims to be cruelty-free.
First impressions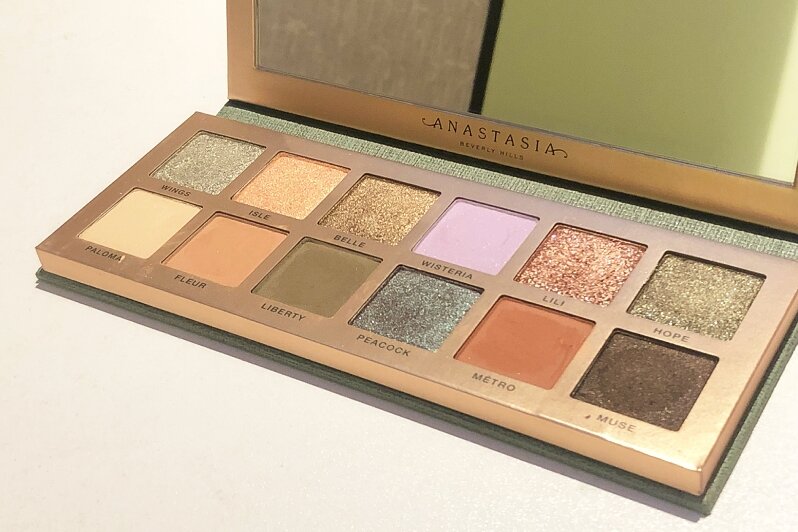 "I'm excited to try out this palette since it's my first ABH eyeshadow!" Chloe shared. "This palette is very eye-catching since I really like shimmery formulas."
She was a bit intimidated by its unique colour story. "It is more green-themed than I expected and there are a few interesting pop colours — like Wisteria, Wing, and Hope — that I don't usually see in my palettes," she observed, saying there's a good mix of colour for creating daytime and evening glam looks. There are a lot of metallic formulas too.
"However, I don't really get a summer vibe from the palette's colour story when it's said to be a summer palette," she added. Will she change her mind?
Using the palette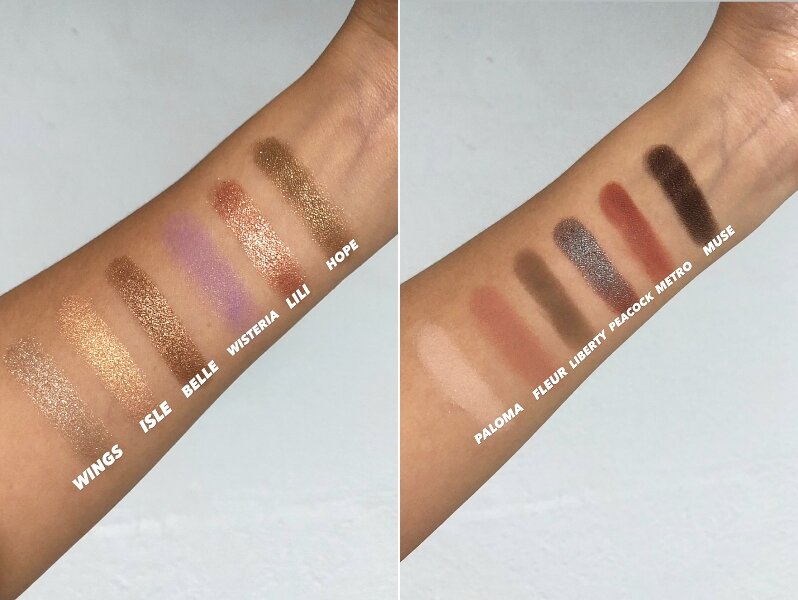 Was it love at first swatch? Pretty close, if you ask Chloe. "The colours are really highly pigmented, just a little goes a long way." You definitely won't have any problems getting the colours to pop up on your skin.
If you prefer more subtle looks, however, you need to go in with a light hand. "I have to be careful with how much powder my brush picks up so there's not too much I will apply. It will take extra effort to blend it out."
It's not unusual that you'll experience any fallout (excess powder falling to the under eyes) with pigmented formula, but Chloe said it's pretty minimal. "There's a bit of fallout but not as much compared to my other palettes," she observed.
Chloe also said that the eyeshadows applied smoothly even the first time she started experimenting with them. The metallic colours were very prominent too.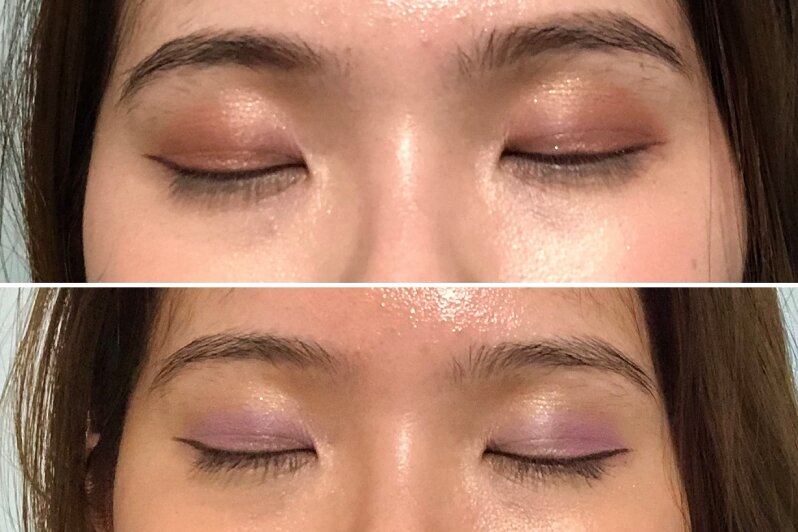 Worried about how the colours will look as the day or night goes on? You won't have that problem with this palette. "Usually by mid-day, my eyeshadow will not be as vibrant but this palette really lasts!"
But if you do have a fairer skin tone, like Chloe, you may experience a learning curve in figuring out the colours you'll wear. "It may be slightly more challenging for people with light fair skin since it took me a while to get the right colour combination for a daily look since the colours are mostly metallic and hard to match," she explained. "Wisteria looks pretty light on my skin so I have to mix it up for it to pop."
Would you buy this palette?
Final verdict on the Anastasia Beverly Hills Nouveau Palette
Quality-wise, Chloe has nothing but good things to say about the eyeshadows. "The colours are highly pigmented and blend really well," she shared. "But since the colours are not truly neutral tones, I spent some time figuring out the best combination that works for my skin tone so I don't look too 'glam' for a daily look."
The colour theme isn't for everyone — especially those who prefer true everyday makeup looks. Love the glam makeup look? It's definitely something to consider picking up. "It's a good quality palette but I will recommend it to my friends who prefer a more glam look due to its colour story. They will definitely love it more than I do."
Want to try it yourself? It's priced at SGD88 and is available at Sephora Singapore stores and online.
Glam beauty lovers, check out our review of the Hourglass Ambient Soft Glow Foundation.
Comments, questions or feedback? Email us at [email protected].