If you're growing fond of ribbons, lace, and pretty pink hues, this is your sign to jump on the coquette aesthetic taking over TikTok.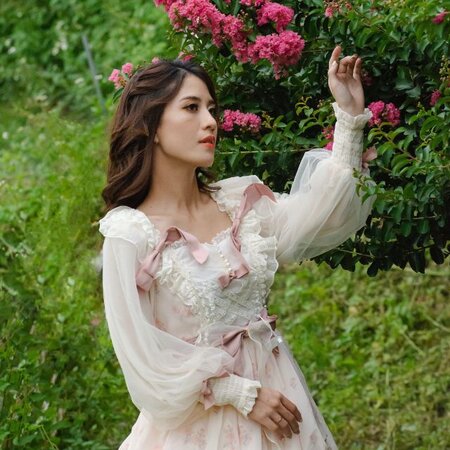 Coquette aesthetic
The coquette aesthetic is an umbrella term which covers fashion, beauty, and even your mood. In French, the word simply means, "a woman who flirts". So the aesthetic is all about what's giving romantic, angelic, and soft girl vibes. What's captivating about the trend is that you can switch it up and make it your own (like what celebrities
Ariana Grande
or
Sydney Sweeney
did). But first, let's dive into some of the basics of this broad trend.
Coquette aesthetic: how to do it
For beauty, your sweet, rosy cheeks are a must. Put on your favourite pink blush (like
Gucci's Blush de Beauté
) and use a highlighter (like
Charlotte Tilbury's pink highlighter
) for an ethereal look. You can also opt for an all-in-one product such as
Dior's Backstage Glow Face Palette which has blush
, highlighter, and a shimmery bronzer.
Doe eyes are also part of the aesthetic, so curl your lashes (check out our recommended eyelash curlers
here
) and go for a volumising mascara (like the
Dior Diorshow Maximizer 3D Mascara Primer-Serum
).
For lips, go for pink lipstick or shimmery lip gloss (like Fenty Beauty's Gloss Bomb Universal Lip Luminizer).


For fashion, feel free to accessorise to your heart's content. Go for pearl bracelets or necklaces, ribbons and bows, and pastel pink outfits.
Take a step further and let your nails join in the fun. All you need is a soft, shimmery base and nail art (with elements such as pearls, bows, or sparkles) that's perfect for every
Bridgerton
fan. If you're not confident in doing your own nails but really want to get those Instagram-worthy nailfies, check out our recommended nail salons
here
.
The core of the coquette aesthetic is to embrace your femininity and simply be yourself. It's a launching pad for you to experiment, mix, match, and find what makes you feel good and comfortable.

Comments, questions or feedback? Email us at [email protected].