Do you often get complimented on for your "chubby" cheeks? ICYDK, this is actually one of the features of round faces. Full cheeks and a non-prominent or elongated chin differentiate round faces from oval ones. Hairstyles for round faces aim to either elongate your face so it looks more oval. However, this definitely doesn't mean you must stay away from sleek 'dos.
Check out these celebrity-inspired hairstyles to see which one you can adopt!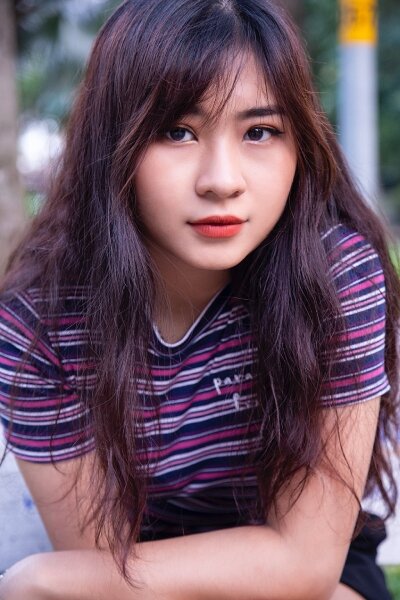 Elongate your face and take the weight from your cheeks
If you have a round face and want to elongate it to look not as round, you'll need a hairstyle that will create more dimension in your appearance and move the focus away from the sides of your face. Think blunt cuts, lots of texture, and some artfully placed tendrils of hair. Here are some examples.
1. Textured chin bob


A textured chin-length bob helps reduce the fullness of your face and put it on the waves of the hair framing it instead. It also makes your chin look a little sharper, as seen on the multi-awarded Jennifer Hudson.
2. Sleek blunt bob
If your hair can't hold a curl no matter how much hairspray you use, embrace your straight hair quality instead! Make TWICE's leader and main vocalist Jihyo your hair inspo. She's known for sporting a rough chop and keeps all her hair strands sleek and straight. You can spritz some sea salt spray on your roots and scalp so your hair won't look limp and lifeless.
3. Long loose waves
Creating loose waves is another way of introducing texture to your hair. You can try heatless curls — wrapping sections of your hair around leggings or silk curlers — or simply pick up a hair curling wand. You can run a brush through the curls to loosen them up and give them a more lived-in appearance, which is how MAMAMOO's Hwasa prefers to wear her hair.
4. Retro waves
Want to experiment with unconventional hairstyles? Try retro-inspired curls like actress Kirsten Dunst. It keeps all of the visual weight at the top of your hair and away from your cheeks, making your face look longer in a flattering manner.
5. Sleek side part
If you want a more fuss-free hairstyle for your round face, you can simply part your hair to the side. This creates the illusion that your face is more oval and can sometimes make your chin look sharper, as seen on Flowers singer Miley Cyrus. Give it a sleeker look by taming any flyaways with a spoolie and some hairspray.
6. High voluminous updo
Versace Global Brand Ambassador and Chinese actress Zhao Lusi of Hidden Love fame is known for her sweet round face. With this high updo, she's able to add height and create balance in her look. You can also leave a few strands hanging on the sides of your face for an even softer look.
7. Long straight hair with a middle part
To All The Boys I've Loved Before breakout star Lana Condor is giving model vibes with her sleek straight hair that goes past her shoulders. It's parted at the centre which creates a sharp feel and complements her soft features too. This hairstyle has a slimming effect and also works well with layers. Tip: for layers, the cut works if the shortest portions aren't higher than your earlobe.
Embrace the round face shape
Prefer to show off your facial features instead? Very sleek and tight hairdos are the way to go. These will make you look very elegant and polished, just like the celebrities below.
8. Sleek middle part bun
Former Victoria's Secret model and now beauty entrepreneur Miranda Kerr is known for her round face. Instead of hiding it with her hair, you'll often see her in a sleek updo that will draw attention to her eyes and eyebrows.
9. Middle part with wispy curtain bangs
If you want a softer approach to the previous hairstyle, take a cue from Selena Gomez and let some loose pieces of hair or your bangs frame your face.
10. Pixie cut
A pixie cut is very flattering for round faces since the added "height" on the top of your head subtly elongates the face. It's definitely not a hairstyle that most people with a round face would gravitate to, but in some cases like Once Upon A Time and Why Women Kill actress Ginnifer Goodwin's, it just works!
11. Soft full fringe
Having a fringe can help open up your face when styled correctly. Crazy Rich Asians actress Gemma Chan prefers to have some separation at the fringe to highlight her face further.
12. Half updo
A half-updo is one of BLACKPINK Jennie's favourite hairstyles to wear. It puts all the focus on her soft facial features and gives her a youthful vibe. Plus, it's pretty effortless to do and is wearable for every day.
This article was first published on 15 February 2023. Last updated: 14 November 2023.

(Cover photo from: @rooosyzh09)
Want your crowning glory to look sleek but still voluminous? Consider soft rebonding.
Comments, questions or feedback? Email us at [email protected].