This article was first published on 19 January 2023.
Selena Gomez is getting married — well, her character Mabel is, in the critically acclaimed TV series Only Murders in the Building.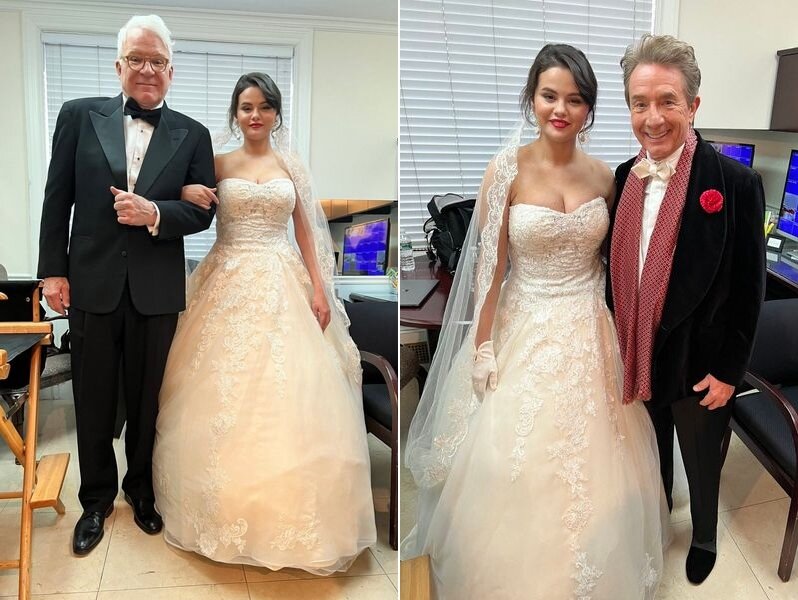 Selena Gomez and her co-stars took to social media to share behind-the-scenes photos of the mystery-comedy show. The actress wore a strapless, full-length ball gown with intricate, floral lace designs, a sheer veil, and satin gloves. Selena also had a low updo with a few loose strands to frame her face, bold red lips, and smokey eyeshadow.
More details about the show are yet to be revealed, so stay tuned.
Only Murders in the Building plot
Only Murders in the Building
is a series created by Hulu and tells the story of three neighbours — Charles-Haden Savage (Steve Martin), Oliver Putnam (Martin Short), and Mabel Mora (
Selena Gomez
) at an Upper West Side building called the Arconia. They share a love of true crime podcasts and end up coming across and solving the mysterious murders happening around them.
There's no dull moment in this series; Season 1 saw the trio uncovering the killing of their fellow resident Tim Kono, and Season 2 let them do the same for the building's board president Bunny Folger while they clear their name.


Only Murders in the Building Season 3 cast
Selena took to Instagram to reveal the news that Season 3 is in the works and will have Meryl Streep as one of the cast members. However, it has not yet been revealed whether she will be playing a cameo role or a series regular.
Meryl will be an extraordinary addition to the cast as the heavyweight actress has won three Emmys, three Golden Globes, and three Oscars. (If there was a meme award she would get it too as the internet adored her for her updating her meme-worthy shot of her yelling at an award show.)
She's also well-known and loved for her roles in the films The Devil Wears Prada (2006), Mamma Mia (2008), Julie and Julia (2009), and more. When it comes to the small screen, she's best known for Holocaust (1978), Angels in America (2003), and Season 2 of HBO's Big Little Lies (2019).
Marvel Studios' star Paul Rudd was also seen in Selena's video. (Spoiler alert!) He played Ben Glenroy in Season 2 but died in the finale, so Season 3 will pick up with the trio unravelling the mystery behind his death. Aside from him, actress Andrea Martin will be reprising her role as Joy, Charles' makeup artist and love interest.


Only Murders in the Building Season 3 release date
There's no release date for the third season, but it's rumoured to be out by the end of 2023. Stay tuned as we'll be updating this article when more details are revealed.
Where to watch Only Murders in the Building in Singapore
Only Murders in the Building
is available for streaming on
Disney+ Singapore.
(Cover photo from: @selenagomez)


Comments, questions or feedback? Email us at [email protected].